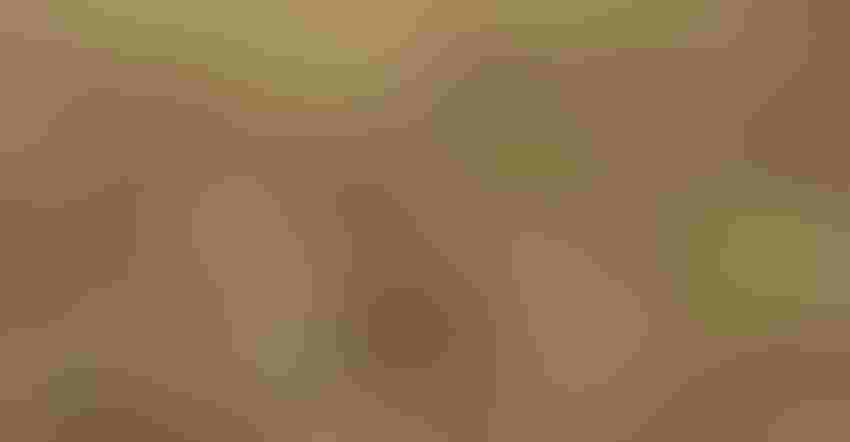 CHECK YOUR STAND: Agronomists are telling farmers to pay attention to corn seedling development and take stand counts. Cool, wet conditions after planting can hurt germination and increase risk of seedling disease.
The key to higher corn yield potential is to limit as many stresses on the plants as you can while maximizing the length of time the hybrids have to collect sunlight and turn that energy into sugars to fill the grain.
"This goal and practice has pushed the planting window earlier and earlier," says Tyler Steinkamp, an agronomist for WinField United. "This spring began with farmers planting in cold, wet soils, which can cause stress during germination. To reduce this stress, it's critical to understand the germination process."
Corn seed absorbs around a third of its weight in water early in germination. If the water is cold enough, bad things happen. The exact temperatures vary, but the upper 40s to low 50s in degrees F are the danger zone. Among the bad things that can happen is cell walls of the germinating seed or seedling can become brittle or even rupture.
Seedling development, stand counts
"This is called imbibitional chilling," explains Mark Licht, Iowa State University Extension agronomist. "Sometimes the seed just swells and never continues growth. Or sometimes we see corkscrewed corn seedlings, ruptured coleoptiles, corn leafing out underground, seedlings that are more prone to diseases, and seedling death."
Get more INSIGHT: Download 17 Ways to Improve Corn Yield now!
Farmers are encouraged to wait to plant until soils are 50 degrees and the five-day weather forecast is for a warming trend. With a lot of corn planted in soils cooler than that this spring, it's important to get out into fields, check for germination and seedling development, and take stand counts, advises Licht. "When seedbed conditions are poor, the risk of seedling diseases and stand loss increase substantially. Even if you used a seed treatment, you should take some stand counts," he says.
4 steps to germination
Four main steps are required to start the germination of corn seed, says Steinkamp. He provides the following explanation.
• Step 1. The seed must be rehydrated. This process usually occurs in 24 to 48 hours, and the goal is to raise the moisture in the seed from around 13% to 34% to start the germination process. This 24- to 48-hour window is critical to attain an even emergence, and the key is the water must be above 50 degrees. If soil temperatures fall below 50 degrees or a cold, wet rain below 50 degrees occurs, the corn plant's germination can be negatively affected. Once the seed starts to take in water, it begins producing gibberellic acid, a plant hormone that stimulates production of sugars from starches. This conversion is what supplies the seedling with the sugars it needs to grow.
• Step 2. The seed must take up phosphorus. Phosphorus is used in energy transfer and DNA production, so it is essential to early-season plant growth. Once starches in the seed have converted to sugars, the sugars must be broken down to provide energy to the plant. As the sugars break down, phosphorus is used to transfer energy to parts of the plant that need it for cell elongation and growth.
• Step 3. The seed must take up zinc. Zinc is also used in the conversion of starches to sugars. More important, it is used in production of auxins within the plant. Auxins are plant growth hormones that cause cells to elongate and divide, and they stimulate the aboveground growth of the plant.
• Step 4. The seed must produce cytokinins. The plant hormone cytokinin stimulates cell division and differentiation. It causes roots and shoots to elongate and grow. Without cytokinins plant cells would have no signal to replicate, divide and differentiate into separate parts of the plant.
Add support for early, strong germination
In cold, wet soil conditions these four steps will occur much more slowly, putting stress on the young corn seedling. "Anything farmers can do to help the germination process will lead to a better, more robust stand and, therefore, higher yield potential," says Steinkamp. "You need to provide this support especially during cold, wet weather."
• Use a starter fertilizer. Select in-furrow starters with phosphorus to give an added boost to the germination process by providing phosphorus to the plant when it needs it.
• Add chelated zinc, and a plant growth regulator like Ascend SL PGR, in addition to starter fertilizer. This helps give corn seed what it needs to germinate successfully, even in cold, wet soil conditions.
• Make sure in-furrow zinc is fully chelated because zinc can very quickly bind to the soil especially in high-pH soils. A fully chelated zinc like Ultra-Che zinc 9% is important to ensure enough zinc is available to a young corn seedling.
• Use plant growth regulators that contain cytokinins, auxins and gibberellic acid to speed up the germination process, so the seed doesn't have to produce as much of these compounds on its own. Plant growth regulators, such as the Ascend products, have the ideal concentration of each of these hormones to speed up germination, and help the corn plant come out of the ground faster.
"Germination is one of the most critical processes in a corn plant's life," says Steinkamp. "By adding things like starter fertilizer, chelated zinc and Ascend plant growth regulators, we can help increase corn's early-season plant vigor and increase the speed at which corn plants emerge from the ground."
Subscribe to receive top agriculture news
Be informed daily with these free e-newsletters
You May Also Like
---