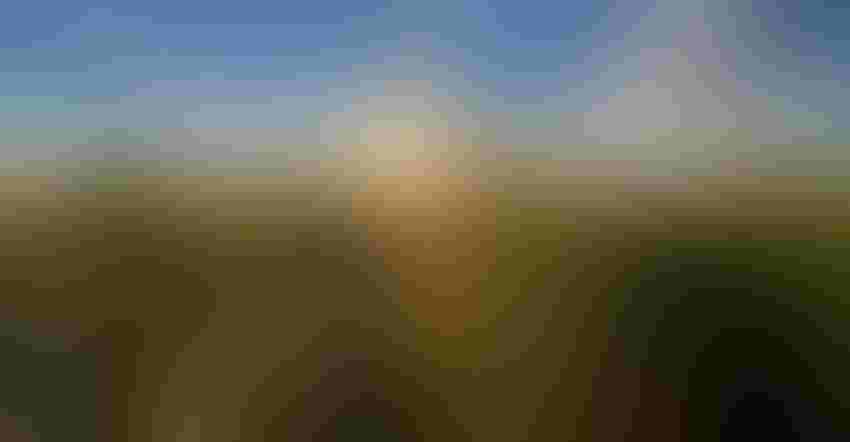 Two Texas farmers topped 300-bushel-per acre yields to earn first place state award in the 2021 National Corn Growers Association yield contest.
Shelley E. Huguley
Two Texas corn farmers topped 300-bushel-per acre yields to earn first place state awards in the 2021 National Corn Growers Association yield contest.
Overall farm yields met or pushed that 300-bushel benchmark as well.
"It was the best crop I ever made," says Tommy Cartrite, Sunray, Texas. His contest yield, 331.9 bushels in the Conventional, Irrigated category, was just a tad higher than his whole farm average, 301 bushels. The contest field was in Pioneer 2042.
Andy Cover, Dalhart, Texas, made 338.2 bushels per acre on his No-Till, Irrigated contest plot and averaged better than 275 bushels across his farm. His contest field was in Pioneer 1108Q.
Cover and Cartrite say the contest plots get little or no extra attention compared to other acreage.
"The winning plot was treated the same as our regular practices," Cover says. "That field is always pretty good. We planted Pioneer 1158, and we've been happy with it. We might have done even better with a higher population."
"We have to cover all the bases to make yield," Cartrite says. That could include "fungicide as needed. But that is hybrid specific," he says. "I have learned a few things from the NCGA contest plots that help in other fields. I started using starter fertilizer across all the corn acreage."
Cover attributes much of his success to conservation tillage practices. Cartrite says his secret is "hiring people smarter than I am. I have had good employees."
Cover crops
Cover crops have made a difference for Cover, who farms with his son Cody.
"Three or four years ago, Cody suggested we try cover crops," Cover says. "We had been corn-on-corn for years and soil quality had diminished.
"Cover crops improve soil health, leave residue on top of the ground, and keep the ground cooler. We see yields slowly increasing."
Cover says last summer the area experienced a month of 100-degree temperatures and no rain. "On some neighbors' conventional till corn, the leaves curled up; ours was happy and green, so the cover makes a big difference."
He says strip-till helps warm the soil where the seed goes in.
If they can plant a cover crop early enough, they include legumes. "If we can start even earlier, we add turnips or radish. Otherwise, it's clover and rye.  Later in the year, if it's too cold to pant clover, we plant straight rye."
He's been pleased with a Dawn Pluribus minimum till rig that plants in a narrow strip. "We use a series of wavy coulters and apply dry fertilizer," he says. "We terminate the cover crop with herbicides and leave the residue between the rows."
Organic matter advantage
Cover says increased organic matter is a big benefit. "Organic matter has increased a lot. Cody took a sample, with shovel, and we could see sand in the bottom five inches and new, black soil in the top three inches."
Cartrite plants mostly conventional. "I might plant some strip-till behind cotton. My winning field was planted behind seed sorghum."
High input costs and a looming drought create challenges as South Plains farmers prepare to plant 2022 crops.
Cover is concerned over fertilizer and chemical costs. "Weed control will be more expensive, but if I had to till, I would not plant a crop."
He's looking to begin planting around April 20, still mostly corn behind corn. "We try to rotate a little bit, but corn and cotton are about the only things that grow well here. Cotton is a little risky at this elevation. If we plant cotton and weather turns cold, we can lose it. We've gotten away from cotton."
He says they will keep doing what works. "I should have started doing strip-till and cover crops 20 years go. I've been happy with it. I tried completely no-till but figured out I needed the strip to help with consistent emergence."
He says he'll plant some more 1108 and some other Pioneer hybrids, including 1828. "We will need some good weather and good fertility."
No worries
Cartrite will not worry about rising input prices for corn this year.
"2021 was my last year for row crop production," he says. "I'm selling farmland and will concentrate on my cattle. I have an intense Angus cattle operation and strive for premium carcass.
"I follow the same principle with cattle that I did with corn, intense attention to production."
Cartrite says he hopes his grandchildren (oldest is 11) will develop an interest in the farm.
He's leaving row crop production on a high note. "2021 was the best year I ever had. That's a good one to go out on."
Subscribe to receive top agriculture news
Be informed daily with these free e-newsletters
You May Also Like
---