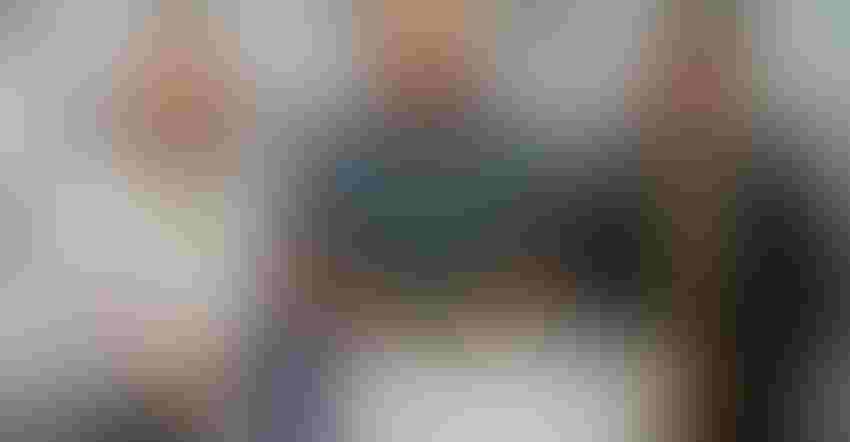 QUALITY SILAGE: Garrett Gilliam (left) of Silostop and Bill Hageman (right), president of the World Dairy Expo, awarded Ernie Kensinger with a plaque and a check for $1,000 for winning the Quality Counts Corn Silage Contest, part of the World Forage Analysis Superbowl.
Courtesy of World Dairy Expo
When it comes to corn silage, "Everything starts with agronomics," says Ernie Kensinger, a Morrison's Cove, Pa., dairy farmer. And it ends with having reliable equipment to harvest it.
Quality corn silage is key to feeding his 125 Holsteins. And at World Dairy Expo, a panel of judges took notice, awarding Kensinger first place in the Quality Counts Corn Silage Contest, part of the World Forage Analysis Superbowl. The contest is sponsored by Silostop.
For his win, Kensinger won $1,000. It was his first time entering the contest and his first trip to World Dairy Expo. His expenses were paid by Pioneer, his seed dealer.
This year's awards were chosen based on the lowest undigestible neutral detergent fiber at 12 hours (uNDFom12). His P1180XR BMR (brown midrib) corn silage had a uNDFom12 value of 14.73%. Its NDF came in at 28.75%, while the milk per ton score was 4,105 pounds.
Kensinger entered a BMR and conventional variety in the contest. The conventional came in sixth place with a final score of 88.7. NDF was 35.18%, and milk per ton was 3,915 pounds.
He sent his samples in frozen gallons to the show so they wouldn't spoil on the way there. Dairyland Laboratories in Arcadia, Wis., tested the samples.
While everything starts with agronomics, you need Mother Nature's help, too.
"The rain and stuff at that right time. Harvest timing helps, too," Kensinger says.
He farms 380 acres and feeds according to what his cow groups need. Triticale, alfalfa haylage, BMR and conventional corn silage make up the total mixed ration. His high-producing group of cows gets most of the BMR silage to take advantage of the high starch and high fiber digestibility of the crop.
He's also "overstocked" with machines, including an Oxbo 334 merger, a Fendt tractor with triple mowers, a 30-foot Claas tedder, a Claas 940 chopper and four forage trucks. Kensinger uses six bunkers, a tower silo and ag bags to store his feed.
"If you're going to have quality, you have to have the machines," he says.
The results speak for themselves. His herd's rolling herd average is 29,000 pounds, 3.2% protein and 3.84% to 3.87% butterfat.
The numbers are impressive, proving again that good things can come in smaller packages.
"We're trying," Kensinger says. "We have two sons who really work hard. It's hardly any shortcuts. Try to do it right the first time."
Subscribe to receive top agriculture news
Be informed daily with these free e-newsletters
You May Also Like
---