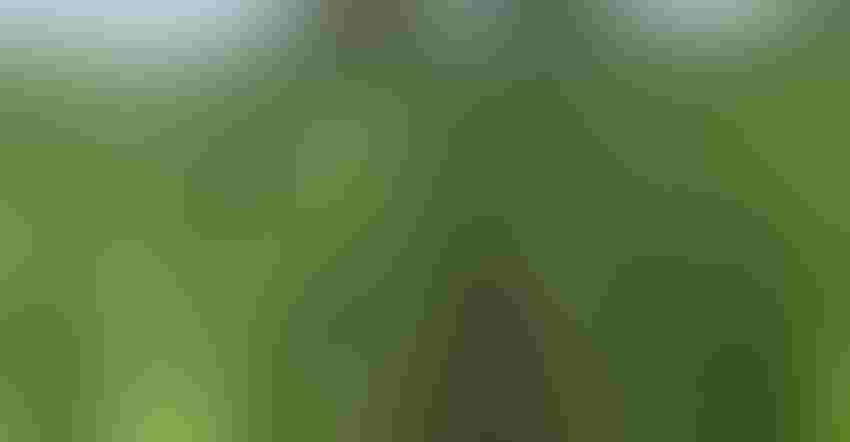 200-BUSHEL CORN? This photo was captured in an eroded spot in the Corn Watch '22 field during the first week of July when the crop was suffering from heat and drought. Its recovery was remarkable.
Tom J. Bechman
Anyone who has followed the Corn Watch '22 project knows that the growing season was less than ideal. If you requested a weather pattern to produce maximum corn yield, it would not resemble the season that unfolded. But despite less-than-ideal weather patterns, yield estimates from within the field and from shelling 4 acres early indicate yield may be better than expected.
The field was planted May 11, with 99% of all plants emerging within one week. "Unusually warm weather and soils got corn off to a fast start," recalls Dave Nanda, director of genetics for Seed Genetics Direct, sponsor of Corn Watch '22.
Related: Check for stalk rots in unharvested corn 
"That was a plus for the season. Growth through early June was impressive, with corn reaching the five-leaf stage around 30 days after planting," Nanda says. "But the next seven or eight weeks proved challenging."
From very early June through the end of July, the field received slightly over 2 inches of rain, with a good portion of that amount coming at the end of July. Factor in high heat, and corn became stressed. The location showed up on drought maps from the National Weather Service.
"We visited the field during the first week of July, and in the worst, most eroded spot, corn was beginning to take on that greenish-gray color that comes with being stressed from lack of moisture and heat," Nanda says. "The picture wasn't quite as bleak on better soils, but the crop was definitely hurting."
Long road back
The turnaround started when rains returned around Aug. 1. During August and September, over 8 inches of rain fell on the field, fairly well distributed until the end of September, when another dry spell began. By that time, Nanda says, the corn had reached black layer, marking full maturity.
"The return of moisture and moderating temperatures really helped grain fill," he says. "There was less kernel abortion than we feared, and kernels are deep and full. So, even though ears are somewhat shorter than in some years, better kernel fill should help yield."
Although the rain helped pack in more bushels, it also set up the crop for ear molds. By mid-September, inspection of 100 ears indicated just over 50% were infected with ear mold.
"Ears stayed upright on this hybrid instead of drooping as maturity approached," Nanda says. "Husks were also thick and tight. In a year like this with stress, that can predispose ears to ear mold if the pathogen is present."
Positive yield reports
Time will tell how much ear mold becomes an issue. Yield estimates from checks on 1/1,000-acre spots within the field — including at the worst spot that suffered most in July — peg expected yield at 200 to 225 bushels per acre.
Too high? The grower harvested 4 acres in late September to open the field and allow easier access to a soybean field. The area harvested included end rows. Corn tested over 28% moisture. Yet corrected to dry corn, yield was 225 bushels per acre.
"Modern hybrids have an incredible ability to withstand stress and still perform well," Nanda says. "It's a tribute to today's plant breeders."
About the Author(s)
Subscribe to receive top agriculture news
Be informed daily with these free e-newsletters
You May Also Like
---