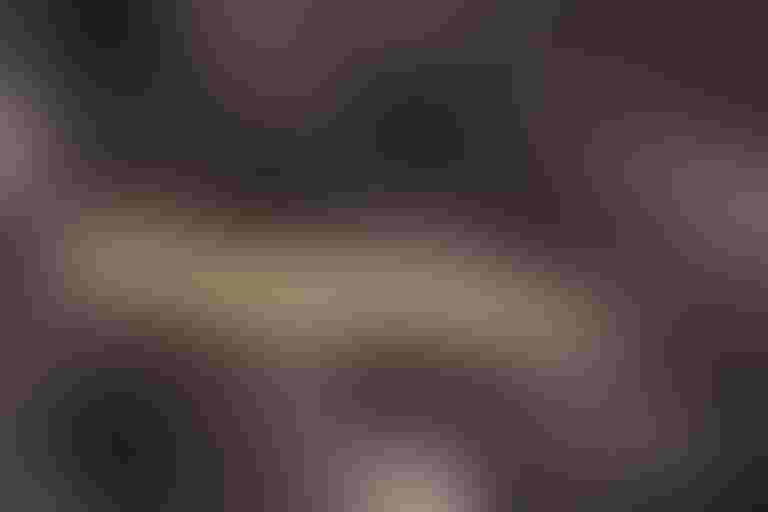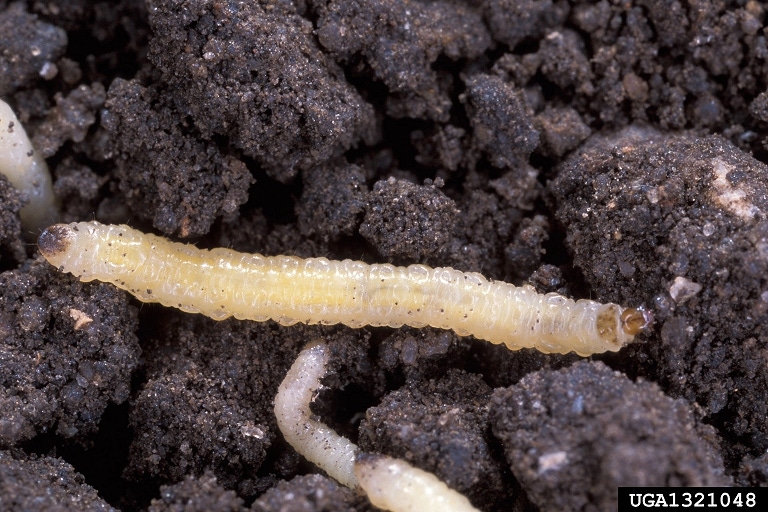 The wily western corn rootworm thrives in fields where farmers choose a risky combo of continuous corn and continuous use of the Cry3Bb1 trait found in Monsanto's YieldGard RW and VT Triple products.
And with these chewed roots comes a now quantifiable yield loss. In 2012, Nick Tinsley, a Ph.D. student of University of Illinois entomologist Mike Gray, analyzed root injury ratings and yield data collected over many years and locations, and determined that for each node of roots destroyed, a 15% yield loss could be expected. In a drought year, farmers can see up to 40% yield loss or more.
That was the sobering news delivered by Gray, following the 2012 season as he investigated Bt corn performance inquiries from the Midwest.
"We had reports that there may or may not be resistance yet from a crescent-shaped area that included eastern Nebraska and South Dakota, Minnesota, northeast Iowa and northwest Illinois," he says. "We will use plant bioassays to confirm if we have resistance to the CryBb1 protein."
After an EPA review of both university and Monsanto data on Cry3Bb1 western corn rootworm resistance cases of field failures resistance in Iowa and Illinois, the agency's IRM Team has concluded that western corn rootworm may not be completely controlled by Cry3Bb1 in certain parts of the Corn Belt. While "confirmed resistance" as defined in registration documents has not been met at this time, given the nature of the data, the manufacturer, Monsanto, has agreed to several actions and changes related to the registration of Cry3Bb1 products to address these matters:
Work with EPA to revise regulatory definition of "confirmed resistance." There are differences between Monsanto and EPA/the academic community over testing procedures to determine actual resistance. EPA has encouraged Monsanto to adopt Iowa State University Entomologist Aaron Gassmann's more sensitive on-plant assay instead of a diet bioassay.

Aggressively increase the availability of pyramided products containing multiple corn rootworm toxins to replace seed containing single-trait Cry3Bb1.

Convert the majority of its single-trait Cry3Bb1 portfolio to the recently available RIB product to focus on greater refuge compliance.

Continue to conduct and support grower education that demonstrate the economic and technology-preserving value of crop rotation as a best management practice (BMP), and submit proof to EPA.

Continue to successfully help farmers with performance issues to adopt a BMP. Monsanto reports that acreage of affected areas decreased from 75,000 acres to 45,000 acres from 2011 to 2012 (some may be due to drought). And Monsanto worked closely with all growers who had rootworm performance complaints in 2011 to help them adopt a BMP of crop rotation, plant a pyramided product, used an insecticide or opted to plant non-Cry3Bb1 corn. Read their backgrounder and grower guide: http://bit.ly/MwnB5R.
The EPA plans to maintain effective oversight of these products to preserve their substantial benefits to agriculture and the environment. And it is confident that the measures taken will prevent a further reduction in susceptibility of corn rootworm population to the Cry3Bb1 toxin.
Bottom line, given the complexity of this pest and the control challenges, farmers need to step up both their management practices and their vigilance in order to succeed in every corn field. There is no easy way out.
ADAPTATION
For 50 years, corn rootworms have adapted to resist every control measure, from crop rotation, to older broadcasted soil insecticides, foliar insecticides and now some Bt-RW traits. Even the variant Western corn rootworm has proven greater tolerance in its gut to digest soybean foliage.

High populations of rootworms, known to challenge low-dose RW traits (unlike high-dose Bt corn borer traits), have occurred in both 2011 and 2012. And for 2013, drought-caused soil cracks may have allowed easier and deeper egg laying which could lead to a third year of high infestation, an extended hatch and greater overwintering.

In lab studies, USDA Entomologist Bruce Hibbard, Columbia, Mo., has shown that the western corn rootworm has developed resistance against all Bt-RW traits, which goes beyond the current field resistance shown against the Cry3Bb1 trait (Monsanto's YieldGard RW, VT Triple products and one of the two RW traits in SmartStax hybrids).

In field research, rootworms have shown proven resistance to the Cry3Bb1 trait in Iowa and Illinois – so far in a small number of continuous corn fields where the Cry3Bb1 trait was used for numerous years. Greater than expected damage has been reported in northwestern and north-central Illinois, northeastern Iowa, southern Minnesota, northeastern Nebraska and eastern South Dakota. Common features in the affected fields include a history of continuous corn and the use of Cry3Bb1-expressing hybrids for multiple years.
REFUGE CONCERNS
All farmers planting corn with a Bt-RW trait are legally required to follow an Insect Resistance Management (IRM) plan.

Unfortunately in 2011, 41% of 3,053 farmers who were inspected failed to properly comply with refuge rules, according to the Ag Biotech Stewardship Technical Committee. In 2012, data just released show only a very slight improvement over last year, with 77% grower adherence to rootworm refuge size requirements (was 72%) and 62% grower adherence to rootworm refuge distance requirements (was 61%).

Three-year University of Illinois research explored the western corn rootworm emergence, movement and mating habits that compared block refuges (20% and 5%) with refuge in a bag (5% refuge in a bag (RIB)) field mix and zero refuge. Data suggest that a seed blend is superior to block refuges for moving and mixing mate-seeking Western corn rootworm. Intrafield movement in block refuge fields is poor compared to expectations from literature.

Two internationally respected entomologists, Bruce Tabashnik and Fred Gould, University of Arizona and North Carolina State respectively, have urged the EPA to consider increasing the minimum refuge to 50% for plants producing one Bt protein against rootworms, and 20% refuge for plants producing two rootworm Bt proteins (see http://bit.ly/YtK06O).
TRAITS
Monsanto's Cry3Bb1 rootworm trait, while proven effective on 99% of acres according to the company, is the first trait with confirmed resistance among field populations primarily due to overuse of the trait in consecutive years of continuous corn, and in areas of high rootworm populations that can overwhelm any trait. Visit refuge calculator: http://ncga.com/irm-calculator.

Unacceptable root injury (due to high beetle populations, and escalated by a warm, dry spring and subsequent drought) has also been noted with other single rootworm traits, such as mCry3A in Agrisure 3000GT, Cry34/35 in Herculex Xtra and even pyramided traits (Cry 34/35+Cry3Bb1 in SmartStax RIB), according to University of Minnesota Entomologist Ken Ostlie.

In a March 2012 letter of concern to the EPA, signed by 22 public sector scientists, they question the durability of the dual rootworm traits in the SmartStax pyramid (Cry3Bb1 + Cry 34/35Ab1), especially in light of the decreased non-Bt refuge requirements (from 20% down to 5%). Entomologists have concerns that smaller refuge size in problem rootworm areas would likely have the opposite effect of hastening evolution of resistance to Cry 34/35Ab1. The letter states that it is crucial to preserve the effectiveness of the Cry 34/35Ab1 trait, because it is approved in pyramid with mCry3A and is the common toxin in two different pyramids from two companies, with a third seeking to register mCry3A + Cry 34/35Ab1.

To help you keep the traits straight between hybrids, download the "Handy Bt Trait Table" here: http://bit.ly/Vtqp85.

Fortunately, some next-generation higher-dose Bt-RW traits may be coming to market. Syngenta's new Agrisure Duracade rootworm trait, that features the new high-dose eCry3.1Ab protein in a pyramid stack with the mCry3A rootworm trait, has been shown to reduce beetle emergence by 99.79% in a University of Missouri study. And by the end of the decade, several companies may introduce a truly unique technology trait that is not a protein like current traits. It is an RNAi technology that interferes differently within the gut of pests once ingested, which dramatically improves control. But due to its uniqueness, it will take longer to receive EPA approval.
SOLUTIONS
Follow exact refuge rules as recommended by the hybrid planted.

Rotate to soybeans or another non-host crop, even if it's once every four to six years. If extended diapause with Northern corn rootworm is an issue in your area, a soil insecticide may help on first-year corn.

Use a Bt-RW hybrid that expresses a different corn rootworm trait if you've had poor performance or have used the same protein for consecutive years.

Use a pyramided Bt hybrid that expresses multiple proteins targeted at corn rootworm.

Use a corn rootworm soil insecticide at planting with a non-Bt hybrid.

If high rootworm populations and/or a suspect single Bt-RW trait have caused unacceptable root injury in the past, a soil insecticide may help protect some lodging and yield (see sidebar story).

Consider a foliar-applied insecticide treatment if needed to reduce silk clipping and egg laying by rootworm beetles.

Most importantly, use a long-term integrated approach to corn rootworm management that includes multiple tactics.
WHY USE AN INSECTICIDE WITH Bt-RW TRAITS?
In one word…insurance. The era of stout grain prices has turned integrated pest management into insurance pest management, which worries entomologists. And since the billion-dollar-robbing rootworm is driving fear in continuous corn and continuous single Bt-RW trait country, who wouldn't want to protect every ear from falling to the ground – especially when research can show a profitable yield advantage with soil insecticides.
"Farmers in continuous corn areas are seeing a lot more lodging and root pruning, and they aren't certain why," says Joe Short, Midwest marketing manager for Amvac, the leading marketer of corn soil insecticides in the U.S. We're seeing higher populations, increased tolerance and hybrid trait resistance among rootworms and more infested acres, he says.
Amvac, maker of Aztec, Counter, SmartChoice and Force 3G in SmartBox, has seen a dramatic increase in use of corn insecticides. In 2012, treated acres rose 30% over 2011, reaching 10-11 million acres – which was on top of 10% growth during 2011. "For 2013, we're estimating a 40% increase over last year, to reach 14-15 million treated acres," Short says.
Ironically, the advent of these in-plant Bt-RW traits was planned to drastically reduce soil insecticide use (except for refuge acres), down from a high of 30-32 million treated acres before traits. And now treated acres have reached half that amount.
University research in eight states has shown that corn insecticides pay their way in 73% of the trials comparing insecticide treated versus untreated rootworm hybrids, according to the company. Average yield increase range is 5-10 bu./acre, which is above the product cost equal to 3-4 bu./acre. But entomologists are also quick to point out that this yield increase can be skewed since research trials are usually placed in fields with heavier than normal rootworm populations.
And despite the yield savings, university entomologists worry that soil insecticides may not reduce resistant populations due to rootworms surviving outside of the soil insecticide zone, and could actually increase beetle emergence and more rapid spread of resistance, according to Illinois Entomologist Gray.
About the Author(s)
Subscribe to receive top agriculture news
Be informed daily with these free e-newsletters
You May Also Like
---