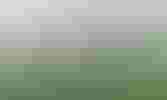 Atrazine has always been a staple in many weed control solutions for Indiana farmers. Due to the wet May weather, Purdue University weed control specialists Bill Johnson and Glenn Nice note that farmers may need to think about what may be happening to the atrazine they've already applied, and what windows that may open up for weeds. Fortunately, there may still be an opportunity to stop weeds that might escape because atrazine levels were diluted in the soil by wet weather.
"Rain won't completely wash away all of the atrazine," the pair writes in the May 21 edition of the Purdue University Pest & Crops Newsletter, "but it may have compromised herbicide activity."
As a result the weed control specialists suggest scouting fields. It's important to do it even if you still have more corn or soybeans to plant once soils dry out. Don't neglect crops already growing.
Giant ragweed will be a big concern if atrazine levels are diluted. However, other weeds may also get a jump, including morningglory, waterhemp, cocklebur, sunflower, velvetleaf and burcucumber. Some of these weeds can cause significant yield damage if they escape and are not controlled.
Johnson and Nice suggest attacking this problem by adding some atrazine to the postemergence mix you were going to apply. This is possible only if you haven't already applied as much atrazine as you're allowed to apply in one season. Consult herbicide labels.
If you can still apply atrazine in the postemergence mix, it will help control these specific weeds, compared to going after them with a postemergence mix without atrazine.
However, there is a catch. Corn can't be over 12 inches tall. If it's over 12 tall, you can no longer apply atrazine, even if you haven't already applied as much atrazine as you're allowed to apply in one season.
Where control is likely to be stretched the thinnest is on the broadleaves, especially giant ragweed, a problem every year, and burcucumber, which likes rainy seasons, the weed control specialists note. It usually takes both residual and postemergence herbicides to knock out or at least knock down thee two tough customers in a year when weather conditions favor weeds.
That's another reason why adding atrazine if corn is not 12 inches tall and you haven't already applied the limit of atrazine you're allowed for one season, they note. Atrazine extends the residual activity against these weeds.
Subscribe to receive top agriculture news
Be informed daily with these free e-newsletters
You May Also Like
---