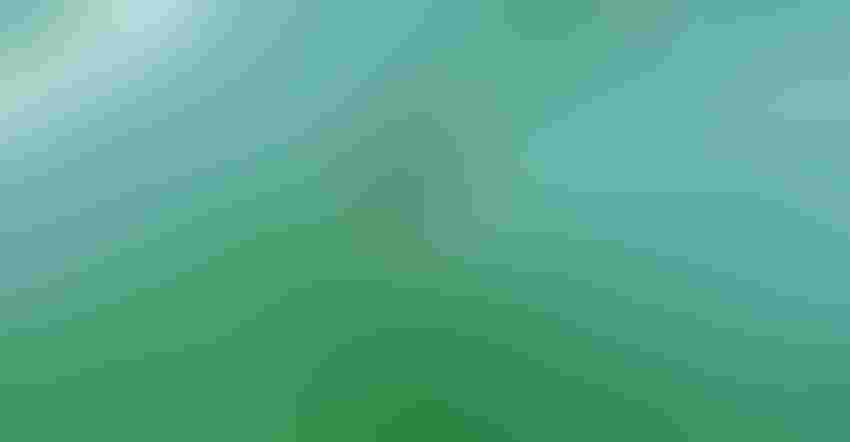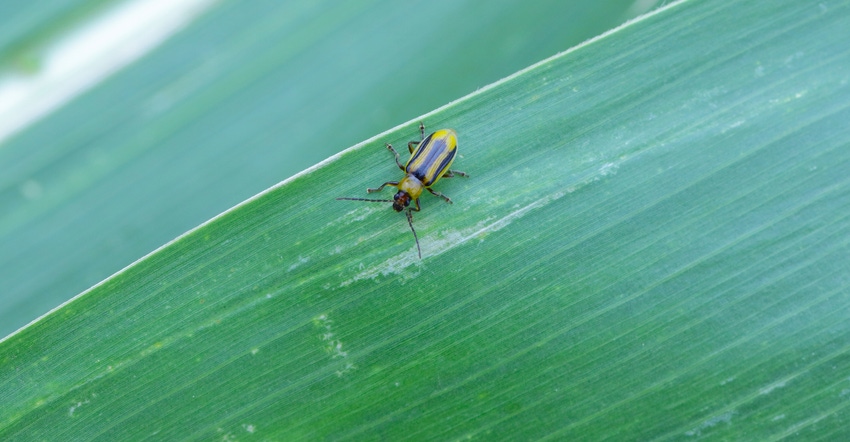 The western corn rootworm can cause severe yield loss to Iowa cornfields.
Tomasz Klejdysz/Getty images
The time nears when seeds will be in the ground, and management strategies need to be in place. Pest and disease management can no longer be one-size-fits-all, and farmers need to have more tools in their belts to manage problems that may arise, down to each field.
Aaron Gassmann, Iowa State University entomology professor, says when it comes to managing corn rootworms, it's important to analyze each individual field. "We can look at the trends over the past several years when it comes to corn rootworm problems, and see higher populations in 2011 and 2012, when we had dry or drought conditions across the state; and smaller populations in 2013 and 2014, when we had wet springs and cold winters," Gassmann says. "Unfortunately, a lot of Iowa is looking to be on the dry side this year, but that can change."
Eric Wilson, agronomy manager with Wyffels Hybrids in north-central Iowa, also expects more corn rootworm pressure in 2022 because of the widespread drought conditions across the state. "We expect the survival of eggs will be higher, and the only way pressure will be lower is if there is heavy rainfall from late May into early June during the peak egg-hatch stage," Wilson says.
Egg survivability
Winter survival of eggs will be more localized depending on temperatures and snowfall. This winter has been mostly mild across Iowa, which would be favorable for egg survival, but Gassmann says there are other factors to consider for egg populations and survivability. Deeper egg depths can help shelter from the colder temperatures, but he says it is difficult to really know if that depth is the main factor in survival.
"The corn rootworm eggs are laid in moisture, and that is why they may be farther down when drought conditions are seen," Wilson says.
Wilson says University of Minnesota research shows western corn rootworm eggs have a higher mortality rate when soil temperatures are 14 degrees F or lower for four weeks or longer, but northern corn rootworm eggs seem to be more tolerant to survive in cold soil temperatures.
"Corn rootworm pressure can be greatly impacted by how a field has been managed in the past. Fields that have been corn-on-corn for several years are more prone to larger egg populations and could have substantial rootworm pressure," Gassmann says.
Measuring rootworm pressure
The best way to measure corn rootworm pressure is by digging up roots and looking for node injury from feeding. Gassmann says this can give farmers an idea of how well their management is working, and then, adjustments can be made.
The western corn rootworm can cause serious problems with Iowa corn crops. These crops engineered to producer insecticidal toxins derived from the bacterium Bacillus thuringiensis kill pest insects and reduce the use of conventional insecticides, according to Gassmann. The Bt-trait hybrids have been used to help control corn rootworm problems, but resistance issues have led to the need for more management practices.
"While practicing crop rotation is one of the best ways to reduce corn rootworm pressure, this can also be accomplished by rotating the types of hybrids used if staying with corn-on-corn. Nonrootworm Bt-trait corn can be used with soil applied insecticide, as using Bt-trait corn continuously can lead to resistance problems and large rootworm populations," Gassmann says.
Wilson says in northeast Iowa, more problems are seen with the western corn rootworm variant, which is a lot harder to predict what pressure will be seen, as resistance has been seen to Bt traits.
Another way to measure the amount of the pest in fields is by setting sticky traps to collect the corn rootworm beetles. Gassmann suggests setting the traps in several spots in the field by removing the plants on either side of one corn plant, and placing the a trap at ear height on that central plant. Leave the traps out for a week, and then count the number of beetles on the trap. If more than two are caught per day, it will be important to manage corn rootworm larvae the following season.
Pest management
"The best approach is diversified management, a concept which is central to the practice of Integrated Pest Management. This can help provide sustainable long-term control," Gassmann says. "If spraying, timing is key since there is very little residual with this method, and adulthood is further complicated by males beginning their emergence before females. The goal is to kill the highest number before egg laying ramps up in a field." Wilson suggests dry insecticide to provide better root protection. The efficacy seems higher when it can move through the soil to help kill the corn rootworm at the correct time.
Knowing what you are working with in your field and being able to use different methods of pest management will lead to better control on a field-by-field basis.
Subscribe to receive top agriculture news
Be informed daily with these free e-newsletters
You May Also Like
---