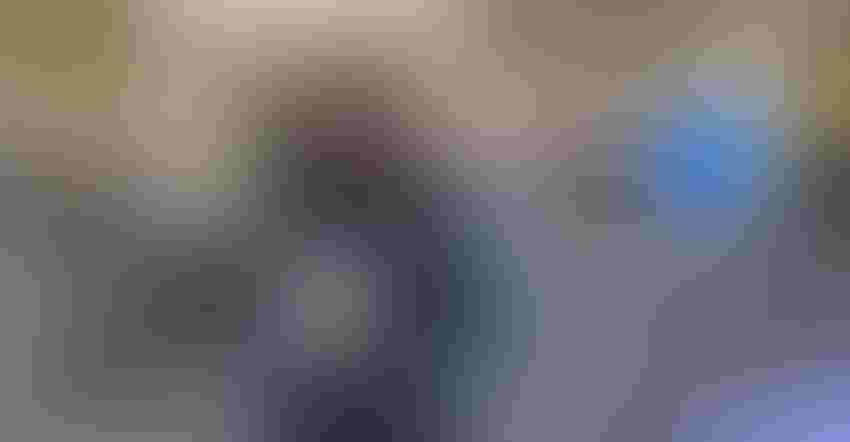 REPRESENTING NORTH DAKOTA: Terry Wehlander of DaLemere, N.D., attended Commodity Classic on behalf of the National Corn Growers Association, weighing in on policy and challenges facing farmers.
Photos by Sarah McNaughton
For many growers, Commodity Classic serves as a way to see new innovations, represent their state and connect with other growers from around the country. Attending the agricultural event in New Orleans, La., in early March were Terry Wehlander and Josh Gackle, both of North Dakota.
Wehlander farms in DeLamere, N.D., and was a National Corn Growers Association delegate for the state. "We're down here for policy meetings and a caucus meeting with other states," he said. "We discuss any updates that may be needed and vote on the proposed changes."
Aside from working to enact positive change, Wehlander was able to network with other corn farmers from other states. "We're all busy in our meetings but we do come down and spend time on the trade show floor too," he said.
Wehlander said the outlook for the corn industry is positive. "There's a huge potential for biofuels and aviation fuel; it's the big talking point right now. We're trying to lock down and push hard to increase ethanol throughout the states."
Groups collaborate
Growers from various associations come together through partnerships to discuss improvements and challenges facing the organizations.
"We're [National Corn Growers Association] partners with the U.S. Grains Council, so we work closely and often with them," Wehlander said. "I sit on the Asia action team, and the potential in south Asia is through the roof, so we're locking in on that and also work with the Meat Export Federation. We all meet up here and touch base to get issues worked through and wrapped up."
As for his North Dakota farm, Wehlander is optimistic for this growing season. "We got some much-needed fall moisture last year, and we should be able to get going pretty well this spring. Hopefully, we can continue getting rain throughout the summer, and the drought index won't move back on us. With the prices being high, everyone is pretty optimistic," he said.
Challenges facing farmers
Another producer attending Commodity Classic was Josh Gackle of Kulm, N.D., who also serves on the American Soybean Association. "We're here with the rest of our soybean family as we call it, with the United Soybean Board and the United Soybean Export council," he said. "Our three organizations here have had several meetings together — planning, electing new officers and meeting with industry partners and the great sponsors we have for different programs."
SOYBEAN GROWER: Matt Gast (second from left) of Valley City, N.D., spoke on a panel during Commodity Classic on bringing value to soybeans and the farmers who grow them.
The soybean grower groups discussed near and long-term challenges facing soybean growers. "I think near term is the supply chain issue, and even in North Dakota we're not that far away from our growing season," he said. "One of the things we've talked about a lot this week is crop protection products, chemicals, herbicides and pesticides, different tools that we need in our farm to control weeds and bugs, but these products just have more and more regulation coming."
Among the concerns voiced during meetings, Gackle said there was encouraging news on the horizon, too. "There are some really great opportunities coming up in North Dakota, with Spiritwood and possibly in Casselton. Those are going to, hopefully, create some more demand to use product in state," he said, in regards to soybean processing.
Other farmers from the Dakota region that attended Commodity Classic included Matt Gast, of Valley City N.D.; Kevin Scott, of Valley Springs, S.D.; Chad Blindauer of Mitchell, S.D.; Rob Hanson of Wimbledon, N.D.; and Gary Duffy of Oldham, S.D.
Subscribe to receive top agriculture news
Be informed daily with these free e-newsletters
You May Also Like
---