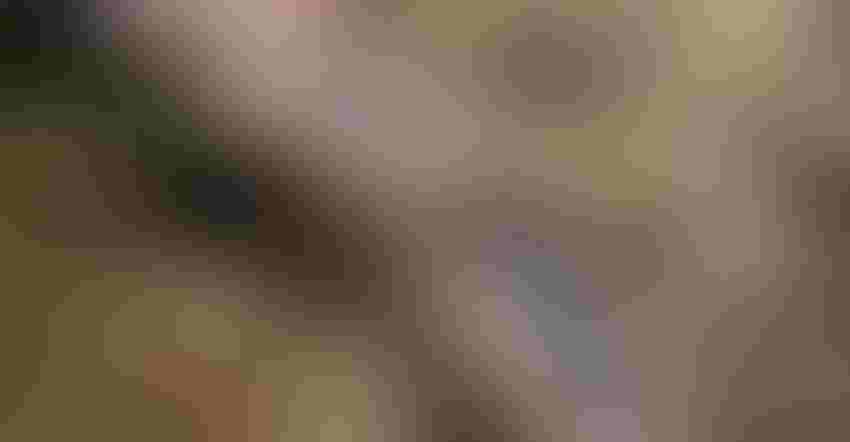 QUICKER START: Corn is off to a better start in the Corn Watch '18 field compared to previous years. It began emerging less than 10 days after planting.
Just nine days after planting, green tips of corn seedlings peeked through the ground in the Corn Watch '18 field. Considering recent history, that's good news. The season is off and running.
Corn Watch follows a cornfield in central Indiana from planting through harvest. The idea is to watch for both positive and negative issues related to growth and pass them along as clues for what you might look for in your fields. Dave Nanda, an independent crops consultant, Indianapolis, works with the project. It's sponsored by Seed Genetics Direct, Washington Court House, Ohio.
Recent history
If you've followed the Corn Watch project in previous years, you know that 2016 and 2017 featured cool, wet stretches after planting. The field was planted in the last 10 days of April both years. Both years, it rained either the same day or the next day. Before it was fit to plant again, it rained several inches each year. Rainfall totaled slightly less in 2016, but temperatures dipped cooler than in 2017. The thermometer plummeted to nighttime temperatures in the high 30 degrees F after planting in 2016.
Nanda recalls that the result was the same in both years. Conditions weren't fit to work again until the third week of May or later. Stands were subpar in wet areas of the field in both years. The farmer considered replanting both years, but instead elected to spot-in an earlier hybrid next to existing rows in areas of the field where the stand was clearly deficient.
In 2016, areas where corn was spotted in seemed to do as well as or better than where it wasn't, and as well as or better than fields neighbors tore up and replanted. In 2017, fields that were torn up and replanted performed better than the Corn Watch field, where corn was spotted in. However, 2017 featured a cool pollinating period and excellent conditions for grain fill late in the season, aiding late-planted corn. The Corn Watch field averaged in the 190-to-210-bushel-per-acre range in both 2016 and 2017.
Different start
For 2018, all nitrogen was applied preplant. The field was planted April 30. It's silt loam soil with some gentle slopes and some pockets of dark, wetter soil. This is the same field used for Corn Watch in 2016.
If replant is needed this time, it won't be because it turned wet and cool. Instead, temperatures reached seasonal or above-normal levels after planting for the first time all spring. Storms were forecast a few days after planting, but only minor showers occurred. This time, the farmer fears he may be wanting rain.
Nine days after planting, green tips were emerging. The seedling pictured had already produced a shoot and a good set of seedling roots. 
It's too early to judge what the entire stand will be like. Stay tuned. Look for weekly updates on the web and monthly updates in the magazine.
Subscribe to receive top agriculture news
Be informed daily with these free e-newsletters
You May Also Like
---