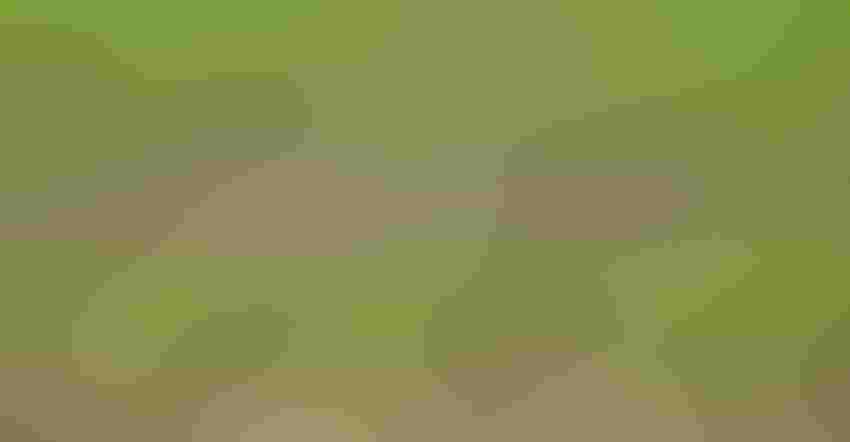 ROW SKIPS: Corn stands may be uneven this year as wet weather facilitated early-season seedling diseases.
Mindy Ward
The corn is up, but there is noticeable stand loss. When contemplating the reasons why, add seedling diseases to your list of things to consider.
Corn planted during the cool, wet conditions this spring makes seedlings susceptible to diseases. The lower temperatures and moisture slow germination and emergence, resulting in poor stands, says Kaitlyn Bissonnette, University of Missouri Extension plant pathologist.
One early-season seedling disease to look for this year is Pythium root rot. This is one disease that comes on strong when conditions get cool and wet early in the season, Bissonnette says. "That is some of what happened last year when the rains persisted for weeks and weeks on end," she notes.
Importance of the seed
Survival of young corn seedlings depends on a healthy kernel and mesocotyl, which should remain firm and white through at least growth stage V6, according to researchers at Iowa State University Extension. They found that damage to the kernel or mesocotyl before establishment of the nodal root system resulted in stunted, weak or dead seedlings.
A developing corn seedling relies on the kernel endosperm for nourishment until the nodal root system has fully developed, usually around the six-leaf stage. A healthy system allows for nutrients to move from the kernel and roots to the seedling stalk and leaves.

HIT OR MISS: Some seed treatment efficacy is reduced during sustained cold, wet conditions. It can allow for pathogens to enter and cause damage.
Scout for seedling disease
It takes digging up seeds to determine if the disease is present. Farmers will see a sloughing off, Bissonnette explains, where the outer cortex actually falls away from the inside vascular tissue of the plant.
The result, she notes, is stem loss early in the season.
Bissonnette also recommends scouting those fields with a history of the disease present, or if the weather pattern remains cool and rainy and farmers experience corn emergence problems.
Weather affects seed treatment
Preparing for this seedling disease comes before planting through seed treatments. However, last year's extended wet weather reduced the efficacy of some seed treatments.
Bissonnette saw corn seedlings samples where pathogens infected the plant, causing decayed root tissue despite these treatments. Still, seed treatments serve as one barrier to entry for these pathogens.
Farmers left with uneven stands from early-season diseases may be questioning whether to replant. The MU Extension guide 4091, "Corn and Soybean Replant Decisions," from Bill Wiebold and Ray Massey offers some help. This guide looks at costs associated with replanting, along with yield loss and revenue expectations from a sparse stand.
About the Author(s) Editor, Missouri Ruralist
Mindy resides on a small farm just outside of Holstein, Mo, about 80 miles southwest of St. Louis.
After graduating from the University of Missouri-Columbia with a bachelor's degree in agricultural journalism, she worked briefly at a public relations firm in Kansas City. Her husband's career led the couple north to Minnesota.
There, she reported on large-scale production of corn, soybeans, sugar beets, and dairy, as well as, biofuels for The Land. After 10 years, the couple returned to Missouri and she began covering agriculture in the Show-Me State.
"In all my 15 years of writing about agriculture, I have found some of the most progressive thinkers are farmers," she says. "They are constantly searching for ways to do more with less, improve their land and leave their legacy to the next generation."
Mindy and her husband, Stacy, together with their daughters, Elisa and Cassidy, operate Showtime Farms in southern Warren County. The family spends a great deal of time caring for and showing Dorset, Oxford and crossbred sheep.
Subscribe to receive top agriculture news
Be informed daily with these free e-newsletters
You May Also Like
---