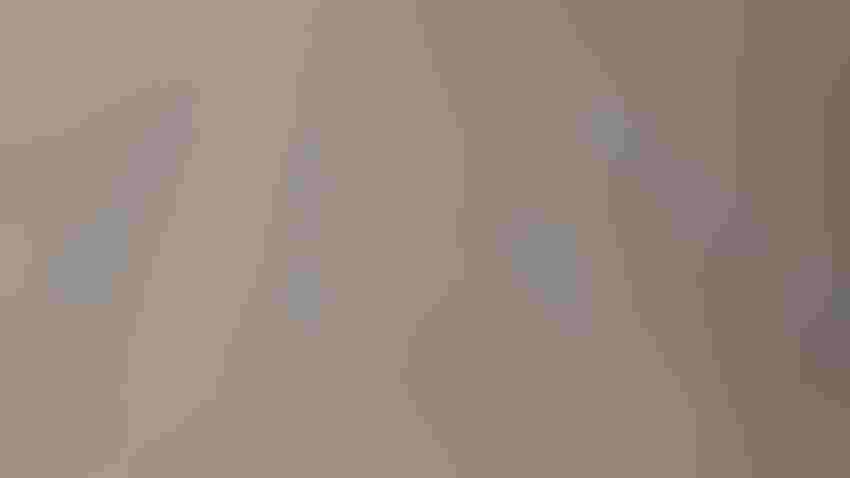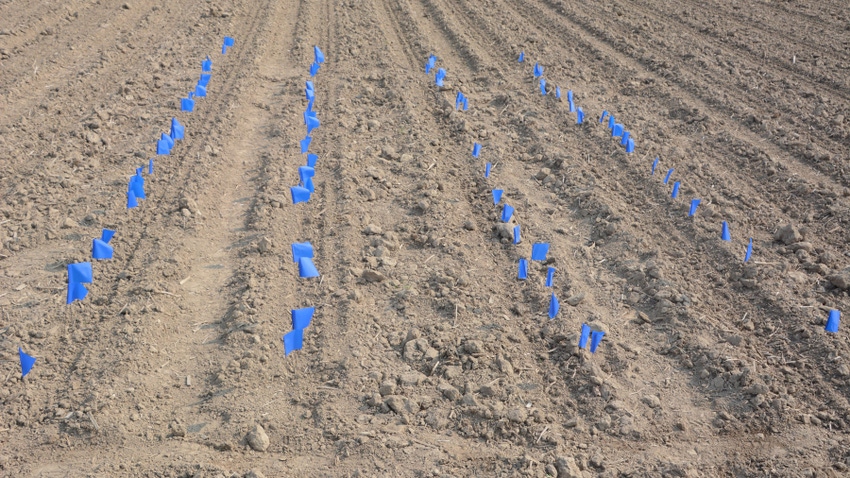 QUICK EMERGENCE: The Corn Watch field spiked just six days after planting on May 11 this year. About 80% of the target population was flagged by six and a half days after planting.
Tom J. Bechman
Dave Nanda knows what it takes to get corn out of the ground quickly. It starts with soil temperatures warm enough for germination. Typically, that means a minimum of 55 degrees F.
"Corn is a grass descended from Central America and Mexico, where temperatures were relatively warm," he explains. "Corn likes weather on the warm side, especially early in the season."
Does that mean waiting until May to plant every year? No, Nanda says. Nanda, director of genetics for Seed Genetics Direct, believes in early planting. "Early planting tends to favor high yields over time, but you must use common sense," he says. "If it's too cool for germination or if unfavorable weather is coming, it often pays to hold off versus planting by the calendar."
Quick emergence
This year's Corn Watch field was planted May 11. Seed Genetics Direct sponsors Corn Watch '23.
Soils in the 100-acre field consist of silt loam texture, ranging from gently rolling to flat. The operator uses minimum tillage, and made a pass with a field cultivator before planting.
Corn began spiking on May 17, less than a full week after planting. Emergence was flagged at two locations within the field. In both cases, four rows, side by side, each consisting of 1/1,000 acre, were monitored.
In one location, roughly 85% of the target population was flagged as emerging on May 17. In the other location, just under 80% was flagged the first day. That represents both rapid emergence from time of planting and uniform emergence, with most plants emerging within hours of each other.
According to the Purdue Corn & Soybean Field Guide, it takes 90 to 120 growing degree days after planting for emergence. Agronomists often use 115 GDDs as an average figure. GDDs are simply a measure of heat unit accumulation.
"When you've got most plants up within a week after planting, that's rapid emergence," Nanda says. "That is the kind of emergence we like to see. It usually sets up the field for a fast start."
The operator credits several warm days after planting with helping corn germinate quickly. By four days after planting, nighttime lows dipped near 40 degrees, but daytime highs were still around 70.
Compare and contrast
"We saw similar conditions in 2022," Nanda recalls. Ironically, the Corn Watch '22 field was also planted May 11. Rate and uniformity of emergence were similar to 2023, with corn spiking in just under one week, and with most plants emerging the first day.
In 2022, unseasonably high daytime temperatures fueled quick emergence.
However, you only need to go back to 2021 to see how cool, wet weather can affect germination and emergence. The Corn Watch '21 field was planted the last week of April. The weather took a turn, with rain and highs in the 40s and 50s, and lows in the 30s.
The first corn spiked on Day 10, but it took two full weeks, 25 days after planting, before the last corn plant emerged.
"We had lots of late emergers that year, and some didn't contribute much to yield," Nanda says. "The past three seasons provide classic examples of how favorable weather promotes quick emergence, while extremely poor weather conditions hamper emergence."
Subscribe to receive top agriculture news
Be informed daily with these free e-newsletters
You May Also Like
---