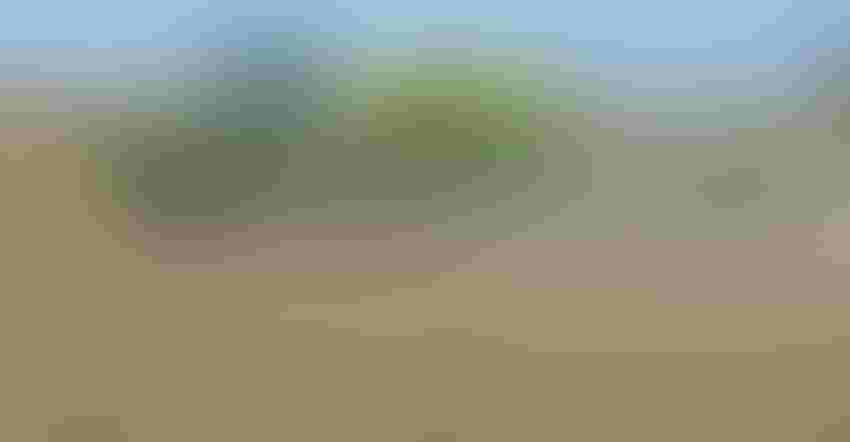 ROUNDING THE CORNER: Moniteau County, Mo., corn grower Bradley Knipp is making up for planting delays. He says larger equipment helps him sow more acres per day. He hopes to finish up corn planting and start on beans early this month.
With larger equipment like the John Deere 8360 tractor and the John Deere 1795 planter, Bradley Knipp can make up for lost time planting corn this year. "At couple hundred acres per day, it is easy to get this year's corn in the ground in a short amount of time," he says.
He planted the first corn acres April 21, roughly seven days behind his usual start date. Knipp has roughly 1,000 acres left to plant. He may be faring better than other farmers in Moniteau County, Mo.
Field delay
Temperatures and precipitation for the week of April 23 were well below average, hindering planting and plant growth throughout most of the state, according to the USDA Crop Progress Report. Some freezing occurred in the western half of the state, along with high winds. Temperatures averaged 47.6 degrees F, 9.8 degrees below normal.

NO WORRIES: Bradley Knipp does not worry about the weather. "It still doesn't look like spring," he notes. "The trees are just starting to bud out." Still, he says he'll stick to the same corn-soybean rotation he always plants on his ground around Tipton, Mo.
Across Missouri, corn planting was at 16% complete, up from 4% the previous week, according to the report. Last year at this time, farmers had planted 42% of the corn crop.
However, the Tipton, Mo., farmer does not stress about the calendar like he used to years ago. Back then, tractors and planters were smaller and not capable of covering the ground quick enough when the weather window opened. Today, with larger equipment, Knipp says farmers just need a couple good days of weather, and "we can get across a lot of ground."
Stick to the planting plan
Neither weather nor markets will change Knipp's planting intentions. He remains with the same corn and soybean mix as he did last year. "I do the same rotation every year," he notes. "I am old-school. I still plant wheat, if that tells you anything."
Knipp farms along with his son, Bradley Ross. The father-son duo relies on improved genetics from their favorite seed corn — Channel and Dyna-Gro — to make up for any delays in planting. So far, the hybrid choices are working. He hopes end-of-year markets cooperate.
Stepping up into that large tractor cab, Knipp turns around to shut the door. With a wave and nod he is off again, quickly sowing seed while the sun still shines.
Subscribe to receive top agriculture news
Be informed daily with these free e-newsletters
You May Also Like
---