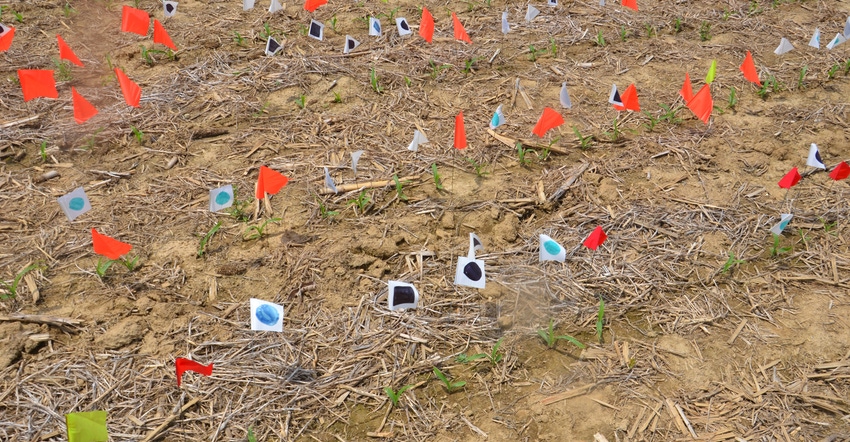 SEED VIGOR TESTED: Planting into cool, wet soils stretched out germination and emergence in this cornfield. The variation in colored flags indicates plants emerged across several days. Now, this grower wants to know warm and cold germination scores for seed.
Tom J. Bechman
You can have the best ground, perfect climate, sufficient nutrients and top-of-the-line planting equipment, but you can't grow a decent crop without good seeds. When you buy seed corn, you put trust not only in genetics but also in seed quality. You're trusting it to germinate, emerge and grow.
Most states have seed labs that provide germination testing services to seed companies and farmers. In the Midwest, crop improvement associations often operate seed testing labs. There are also independent commercial companies that provide seed testing services. Each lab charges fees. In most cases, seed companies take care of seed testing because they must print warm germination test results on seed tags.
Related: Why you should pay attention to seed tags
Look for germination score on the tag. It tells you what percentage of those seeds should grow normally when the temperature is warm. This is the temperature at which the warm germination test is conducted. A cold germination test is also conducted.
Warm gemination test
So, how are warm and cold tests conducted? The following information is based on how the Indiana Crop Improvement Association conducts tests. Different state associations may tweak procedures but use similar techniques.
ICIA uses the rolled towel method. Technicians layer one heavyweight 76# paper towel and one lightweight 38# paper towel and a sheet of waterproof paper. A soil paste is applied on a wet, thick paper towel. A random sample of 400 seeds are laid out.
Depending on the crop, four to eight replications of each seed lot may be used. Towels are rolled and placed in germination baskets at 77 degrees F for six days for corn. For soybeans, they're allowed to sit for seven days. Seedlings are evaluated on the final day.
Results are reported as a percentage that represents the number of seedlings which are normal, abnormal and dead. Normal seedlings have all parts needed to produce healthy plants. Germination percentage is used for tagging and labeling purposes as determined by state and national laws.
Cold germination test
According to Indiana Crop Improvement Association guidelines, the cold test is conducted similarly to the warm test. A soil paste is applied on a wet, thick paper towel. Seeds are counted, placed on the towel and covered with a wet, thin paper towel. The rolled paper towel is placed in a chamber at a temperature of 50 degrees for seven days.
The paper towel is then transferred to a chamber with ideal temperature, humidity and light for seven more days. When the test is completed, emerged seedlings with necessary plant parts are counted. Cold germination percentage is calculated.
In nearly all cases, cold scores aren't required on seed tags. In fact, most companies don't publish or release these results to farmers. That's partly because there are no industry standards for cold tests; different labs may do them differently.
Yet companies want to know if a given seed lot will perform if you plant it when soils are 50 degrees. Work with your seed representative and ask him or her to use cold score information to help place seed in the best way possible.
Nanda is director of genetics for Seed Genetics Direct, Jeffersonville, Ohio. Email [email protected] or call 317-910-9876. Please leave a message.
About the Author(s)
Subscribe to receive top agriculture news
Be informed daily with these free e-newsletters
You May Also Like
---