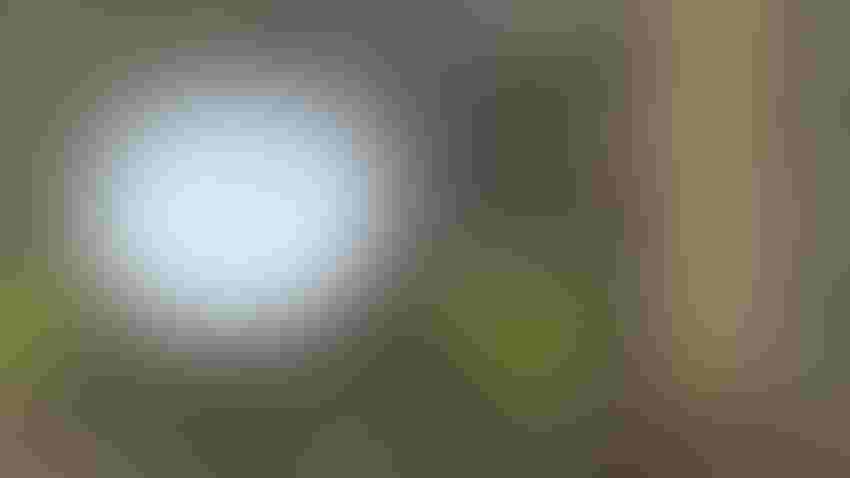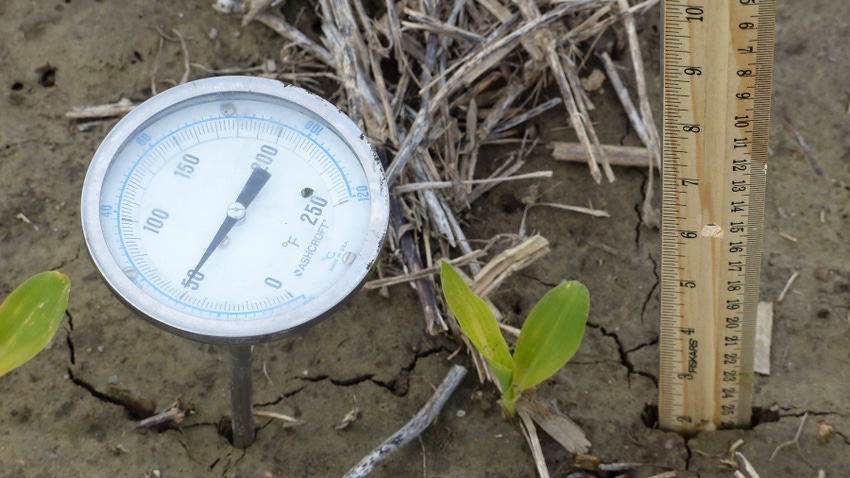 PLANTING WINDOW: This corn germinated and emerged, but low soil temperatures are holding back growth.
Farm Progress
The first couple of weeks after planting can make or break a corn crop. Adam Haag believes there are steps you can take to increase your odds of obtaining strong, uniform stands that aren't hindered by early-season insects or soil compaction.
"It boils down to planning and planting into favorable soil conditions in a good weather window so seed can germinate and emerge quickly," says Haag, a seed specialist with Golden Harvest. "The less time seedlings spend getting out of the ground, the less time bad things can happen."
Here are three key areas where decisions you make can help determine the success of germination and emergence.
Soil temperature. "We would like to see soil temperatures averaging 60 degrees F and on an upward trend when you plant corn," Haag says. "For soybeans, it should be a minimum average temperature of 55 degrees F and trending upward."
The seed specialist realizes that some people plant into cooler soils for corn.
"Every year is different," he says. "It's very important to hit a window where weather forecasts indicate a warming trend going forward.
"If you plant and the soil temperature drops below 50 degrees F, there is a risk for inbibitional chilling. The first drink of water for the seedling is so cold that it shocks its system. It can interfere with germination and emergence."
Soil moisture. Haag acknowledges that jumping the gun on planting when soil moisture is just a bit more than you would like can be tempting. "The risk is that if you create sidewall compaction in the seed trench with planter units because the soil was heavy, it can affect how quickly and easily roots can get out and going," he explains. "When severe enough, the effects can last all season. You don't get the root development you want.
"Waiting for the right soil conditions can be tough, but often it's the right call. If soils are warmer anyway, seedlings can get up and going quickly."
EARLY PESTS: This bait trap installed a few weeks before corn planting attracted wireworms, letting the grower know he needed to treat for the early-season pest. (Photo by John Obermeyer)
Early-season insects. The big three are wireworms, white grubs and seed-corn maggots, Haag says. They're more likely to be problems in fields with heavy, organic residue, or when breaking out Conservation Reserve Program or sod fields.
"Seed treatment insecticides typically do a pretty good job on them, but we've seen more pressure lately in fields more prone to issues," Haag says. "Make sure you use high rates of these seed insecticide products.
"Another option is delaying planting a few days in high-risk fields so seed will germinate and seedlings will emerge quicker, with less time exposed to insect and disease organisms in the soil."
Subscribe to receive top agriculture news
Be informed daily with these free e-newsletters
You May Also Like
---