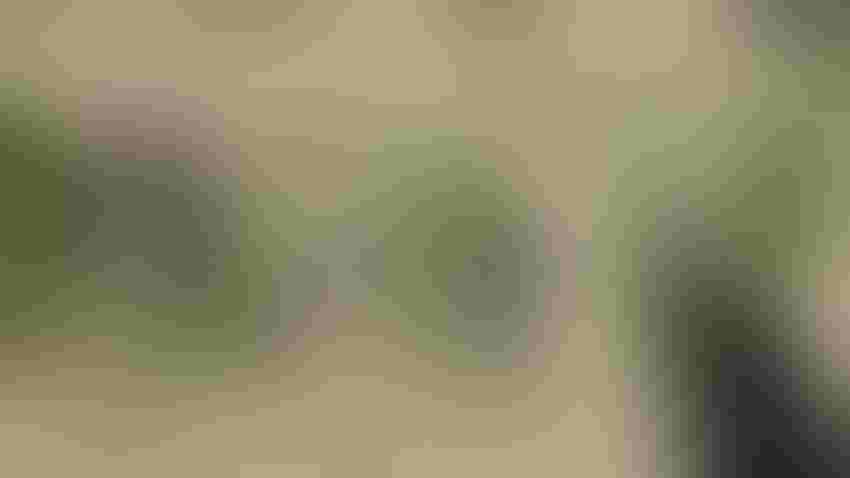 KEEP OR REPLANT: How thin must a corn stand be before you can justify replanting it? Some believe it might pay to not replant as often today compared to the past.
Tom J. Bechman
How many corn plants do you need per acre before you feel safe not replanting?
"Many things go into replant decisions," says Steve Gauck, a regional agronomy manager for Beck's, based near Greensburg, Ind. "Keep emotion out of it, and make a sound economic decision."
Gauck and others wondered if replanting guidelines that applied 20 years ago still apply today with modern corn hybrids. Three years ago, Beck's began a replant threshold study in its Practical Farm Research program. The goal, Gauck says, is to determine a new economic optimum replant threshold for corn using the latest genetics.
Three-year results are interesting, and the study will keep going, Gauck says. "The replant threshold bar seems to be migrating to slightly higher populations," he notes.
Stands at various populations with sporadic spacing, planted at the end of April to mid-May, were compared to 34,000 plants per acre planted between May 16 and June 1, simulating replanting. The study was conducted at the Beck's PFR sites in Indiana, Ohio and Kentucky.
Understanding results
When results from 2020 and 2021 were averaged, it appeared that the replant threshold was around 24,000 to 25,000 plants per acre. However, PFR specialists noted a shift in results in 2022. When that year was averaged in, the threshold moved up, meaning you stood to net more returns by leaving stands you once thought you should replant.
"Original planting date, replant date and ear type — flex versus determinate — all factor in," Gauck says. "But our three-year average results indicate that you could gain nearly $40 per acre leaving a stand of 28,043 plants, even with uneven spacing, versus replanting.
"However, at 24,000 plus, you gave up over $10 per acre by not replanting based on three-year results. The lost income for not replanting at nearly 21,000 and just under 17,000 were over $70 and nearly $150 per acre, respectively. The costs were even higher in 2022."
These calculations assume that replant costs are only $25 per acre. If your seed supplier doesn't offer a full replant policy, costs could be sharply higher, shifting the bar toward not replanting until stands are thinner.
Making the replant call
"We may see these situations this year," Gauck says. "I use this information as a starting point.
"Say I check a field and it's 28,000 plants per acre, and spacing is still reasonable. We will look at original planting date and when it could be replanted, and determine what potential of original yield I could expect based on historical data. Every year won't be the same.
"In 2022, for example, late-planted corn benefited from late rains and did well. You don't know what will happen this year. Yet based on what we've seen in PFR, I would probably leave it.
"If it's 27,000 or even 26,000, we're looking at ear type and having a more serious conversation. Flex ears help, although modern hybrids tend to flex less in low populations than before.
"If it's 25,000 or less, and I can still replant in that end-of-May window, I would replant. If it's June 1 and you can't replant for another week or so, then you must look at it more closely."
Subscribe to receive top agriculture news
Be informed daily with these free e-newsletters
You May Also Like
---