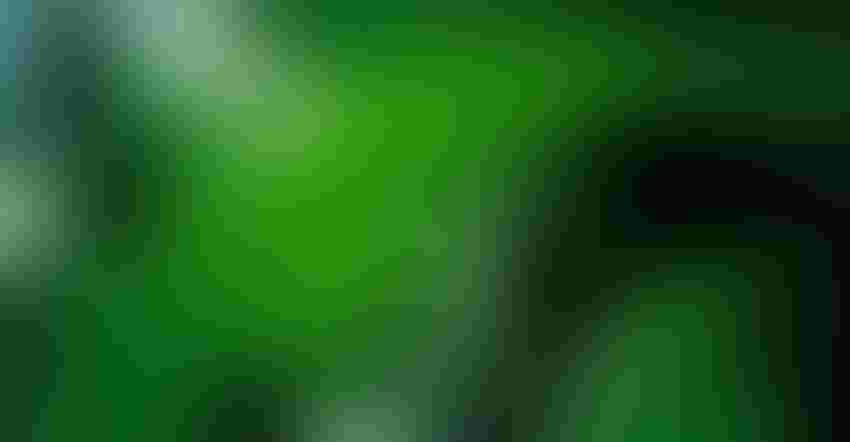 MORE CORN: SDSU has published a new, comprehensive guide to increasing corn yields and profits.
If you are working toward a 300-bushel-per-acre corn yield — or just looking for the next 15 to 20 bushels per acre — check out a new online guide just published by South Dakota State University Extension Service.
SDSU scientists, Extension Service specialists and farmers compiled a guide to increasing corn yields and profits. They boiled the guide down to eight key steps and then covered them in 54 exhaustively detailed chapters. The steps are:
1. Be a lifelong learner and conduct your own on-farm product testing.
2. Identify site-specific yield limiting factors (chapters 16, 17, 19 and 21).
3. Use archived field records to identify successful, as well as unsuccessful, management strategies; design crop rotations that build soil health, and select hybrids and plant populations (chapters 13 and 24).
4. Actively manage crop residues (Chapter 13).
5. Proactively manage field water. This may involve installing tile drainage in poorly drained soils. However, prior to installing tile drainage, check the soils for suitability with Natural Resources Conservation Service personnel to determine legal requirements (chapters 30, 31 and 32).
6. Improve the soil nutrient program.
• Conduct nitrogen and phosphorus assessments (Chapter 29).
• Optimize fertilizer rates, timing and sources (chapters 25, 26, 27 and 29).
7. Proactively manage weeds, insects, and diseases (chapters 39 through 52).
• Select hybrids that optimize yield and minimize pest stress (Chapter 10).
• Monitor weather conditions, scout fields regularly and track and map pest infestations.
• Use preemergence and postemergence herbicides, apply insecticides and fungicides when needed, and rotate pesticide chemistries to avoid pest resistance.
8. Prepare and calibrate field equipment.
• Calibrate and prepare your planter for seeding.
• Clean, repair, and calibrate fertilizer and pesticide applicators (Chapter 41).
• Prepare the combine for harvest (chapters 37 and 47).
"It is our hope that the … book of best management practices will provide the information South Dakota corn producers need to increase yield and profits," says David Wright, head of the SDSU Department of Agronomy, Horticulture and Plant Science.
"There is a lot of information out there — even within our university and SDSU Extension it can be a bit overwhelming. When developing this book, our team worked closely with producers and the book's authors to compile the most producer-relevant, cutting-edge and research-based information," says David Clay, SDSU professor in the Department of Agronomy, Horticulture and Plant Science. "This book is an effective way to document research-based, local practices."
Clay is one of its more than 44 authors. He is also one of the book's three editors. The other editors are Sharon Clay, SDSU distinguished professor of agronomy, and Emmanuel Byamukama, assistant professor and SDSU Extension plant pathologist.
Producer-led effort
The South Dakota Corn Utilization Council approached SDSU in 2014 and suggested that it begin updating the original book, which was published 10 years ago.
"It was important to us, as a grower-led organization, that we have our state's best management practice information, supported by our land-grant, in one place," says Keith Alverson, Chester, S.D., president of the South Dakota Corn Growers Association.
In addition to a go-to resource for producers, the book was also developed to serve as a one-stop resource for governmental agencies looking to develop recommendations for South Dakota producers.
"We felt the need to proactively document best management practices for South Dakota corn producers so that in the future we don't have someone from another state ask us why our management practices are not the same," Alverson says. "This book allows us to point to science as the foundation for our on-farm management practices in order to respond to potential regulations like we see going on in surrounding states, as well as serve as a support tool for current and future Natural Resources Conservation Service conservation incentive programs."
Alverson is a 2002 agronomy graduate of SDSU. Since graduation, he has farmed full time with his dad, Ron. He and his wife, Kari, have three young children.
With the next generation and future of his family's farm in mind, Alverson said the book, "iGrow Corn: Best Management Practices for Corn Production," provides all South Dakota corn producers with a guide that will help them increase yields as well as manage natural resources.
"We see this book as a resource to help our growers make the best possible decisions to increase on-farm profits, as well as help them be the best environmental stewards of the land today and into the future. We recognize that stewardship of our land and natural resources is our lifeblood."
Find "iGrow Corn: Best Management Practices for Corn Production" online.
SDSU Extension Communication contributed to this article.
Subscribe to receive top agriculture news
Be informed daily with these free e-newsletters
You May Also Like
---