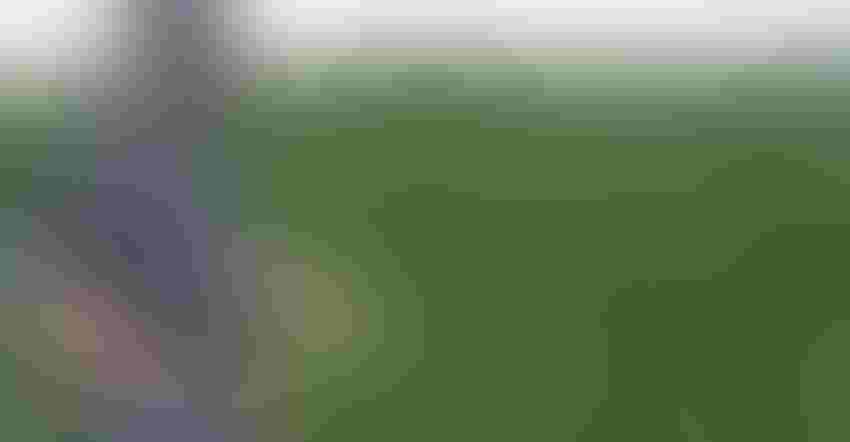 EARLY-SEASON SYMTPOMS: Symptoms of sulfur deficiency were reported over a widespread area this spring. Purdue Extension corn specialist Dan Quinn says it may be time to add sulfur every year in certain fields in specific areas of Indiana.
Tom J. Bechman
Sulfur is a secondary macronutrient, but it hasn't received the same amount of attention in fertilizer programs as nitrogen, phosphorus and potassium in the past. It may be time to adjust that thinking and consider adding sulfur every year, says Dan Quinn, Purdue University Extension corn specialist.
"We began receiving reports of striping in corn early this season, and they came in from various regions," Quinn says. In the past, symptoms of sulfur deficiency have been associated more with lighter organic matter soils, especially sandy soils.
Until the past few years, growers received a free ride on sulfur because for many years, ample amounts were emitted into the atmosphere from the burning of coal in electricity-generating plants. Government regulations imposed on those plants over the past couple of decades have been effective in reducing acid rain. In doing so, the steps plants have taken to meet these regulations have drastically reduced the amount of sulfur released into the atmosphere. Quinn speculates that it's reaching a point in the eastern Corn Belt where there may no longer be enough "free" sulfur added to the atmosphere to meet the needs of high-yield crops.
Identifying sulfur deficiency
Would you recognize sulfur-deficiency if you saw it? The Purdue Corn & Soybean Field Guide notes that if sulfur deficiency is severe, you may see stunted, spindly plants with a light green color. The upper leaves on plants earlier in the season likely will show symptoms first.
What you may see more often where sulfur is somewhat deficient in the plant, but the deficiency is not severe, is leaf striping. It appears due to yellowing between the veins in corn leaves.
"We were getting several reports of interveinal yellowing and striping this year," Quinn says. He notes that the plant's demand for sulfur in corn is fairly high early in the season.
Quinn assisted in taking stand counts in plots for the Farm Progress/Purdue University replication economic plant population trial at the Throckmorton Purdue Ag Center near Romney, Ind., in mid-June. Planted in late April, this corn was in the middle of the grand growth phase.
"It was pretty easy to find symptoms of sulfur deficiency in that field trial," Quinn recalls. "The primary symptom was the interveinal yellowing and striping."
Quinn notes that as plants grow and more sulfur held within the soil is released through mineralization, the symptoms likely will disappear. Most deficiencies weren't severe enough to cause stunting.
He wasn't the only person noticing and getting reports of sulfur deficiency this year. Betsy Bower, an agronomist with Ceres Solutions in west-central Indiana, also saw the symptoms. Several of the farmers she advises pull tissue samples to check on nutrient levels in the plant, beginning at the V5 growth stage. If they don't pull weekly, most pull samples again during the grand growth phase.
Sulfur is one of the nutrients that was "soft" in several samples pulled this spring, she notes. She says part of this may relate to either very dry or very wet cool conditions this year. Parts of the region saw both extremes.
Quinn believes that while symptoms weren't dramatic, they sent a message. "Growers may need to be prepared to start adding sulfur to their crops every year," he concludes.
About the Author(s)
Subscribe to receive top agriculture news
Be informed daily with these free e-newsletters
You May Also Like
---