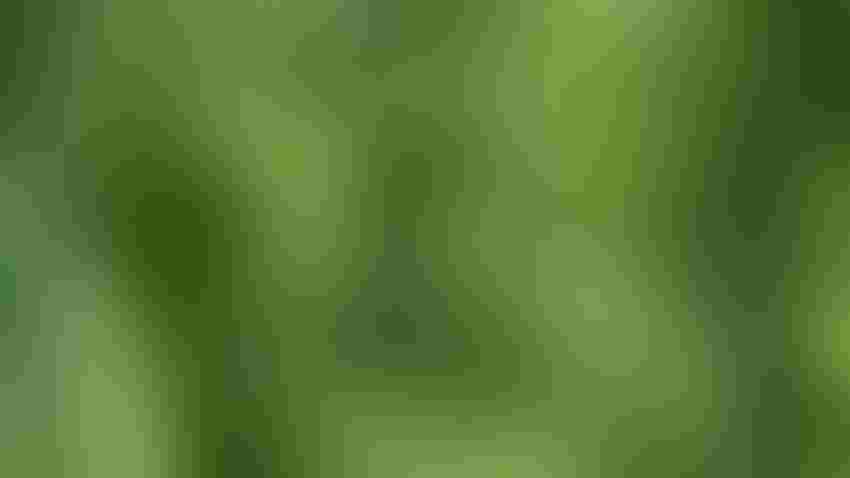 STILL KICKING: These weeds are still alive — still taking nourishment from the soil every day and still competing with corn plants all the time. Why didn't they die?
Tom J. Bechman
You pull into the field to apply late-season nitrogen or maybe to make a fungicide application, and you find weeds hiding beneath the corn canopy. Why are they still there? What changes can you make so their kind don't show up next year in soybeans?
Bill Johnson, Purdue Extension weed control specialist, says these are fair questions. And instead of one answer, he can offer at least six possible explanations. The full reason may be a combination of one or more of these factors, he says.
1. Wrong herbicide? Look at the label for the herbicide that was applied. The weed plants pictured above appear to be in the pigweed family and may be waterhemp. Are pigweeds and waterhemp on the list of weeds this herbicide can control? If so, is it rated good against the weed, or just marginal? You may have to check weed guides prepared by university specialists to see ratings on control of various weeds by product, Johnson adds.
2. Wrong rate? Did you apply the full labeled rate, or did you cut back? Correct rate is even more crucial if weeds were at the upper edge of height for control, Johnson says.
3. Poor coverage? Did you only apply 15 gallons when the label recommends applying with 20 gallons of carrier per acre? Were you trying to save time and stretch how many acres you could cover with each fill-up? Total volume of carrier applied can impact coverage on weeds, which in turn can impact control, Johnson says. Plus, make sure you selected the right kind of nozzles to deliver good coverage for good efficacy.
4. Poor weather conditions? Did you not get rain after planting to activate residual products? "For postemergence applications, the big question is whether weeds were actively growing when you sprayed them," Johnson says. "If they weren't growing because it was too hot or too dry at the time of application, weeds are tougher to kill."
5. Weeds too big? Weed size is key when it comes to determining whether weeds die or survive a herbicide application. Weed sizes are listed on herbicide labels for a reason, Johnson says. The taller they get, the tougher weeds like waterhemp are for most herbicides to control. Just because you got by one time spraying 10-inch weeds when the cutoff is 6 inches doesn't mean you will every time. This may be the time that other factors worked against you, and it didn't work.
6. Weeds are resistant? Perhaps some weeds aren't dying because they've developed resistance to the herbicide you applied. You can't judge whether a weed is resistant to herbicides by looking at it, Johnson says. If some tall waterhemp plants survive, it may be because those plants are resistant to the same rate of the herbicide that once killed all tall waterhemp plants. When weeds aren't dying like they once did and everything else is the same, you may suspect that resistance is a factor, he explains.
Subscribe to receive top agriculture news
Be informed daily with these free e-newsletters
You May Also Like
---