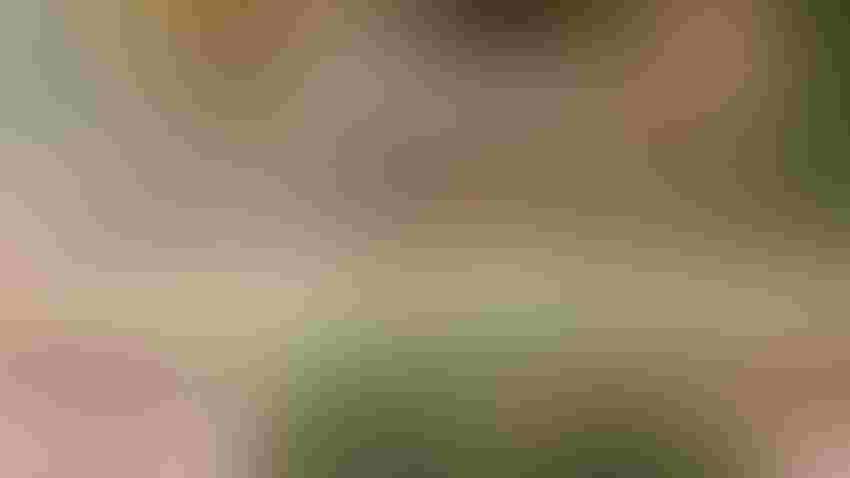 SERIOUS INFECTION: Black specks turn into necrotic tissue quickly once tar spot strikes, depleting photosynthetic factory space and threatening yields.
Darcy Telenko
If you have experienced the devastation of tar spot, you understand why it's important to take this relatively new U.S. corn disease seriously. It was first diagnosed in northwest Indiana and northeast Illinois in 2015.
"We first saw it in '16, but it grabbed our attention in '18," says Scott Rountree, a Pioneer technical agronomist in south-central Wisconsin. "We had a late field day that year, and corn was looking great. We talked about diseases and mentioned tar spot. Within three weeks, it had hit so fast and hard that fields which looked like 240-bushel-per-acre corn were dead, and yield potential was off 30% to 50%."
Based on lessons since then, Rountree shares five take-home messages with growers concerned about tar spot:
1. Frequent scouting is key to living with tar spot. "We like to start scouting around the Fourth of July, which is typically still pre-tassel," Rountree says. "The first symptoms will be small black specks that don't rub off."
Once you see black specks, infection has been underway for two weeks. It's called the latent period, when disease is at work but symptoms aren't yet visible. Once symptoms appear, the disease can advance quickly. Rountree suggests scouting every three to four days.
2. Tar spot overwinters here and isn't going away. By now, there is enough inoculum across the Corn Belt that tar spot can strike when environmental conditions are favorable. Days with seven or more hours of dew and average daily temperatures from 63 to 72 degrees F favor development.
3. Tar spot does not strike only irrigated corn. Irrigation can trigger infection if temperatures are right and inoculum is present, because moisture levels tend to be higher in irrigated corn during and after water is applied. There is documentation to indicate that tar spot can be more severe in irrigated vs. non-irrigated side-by-side corn. However, infection isn't limited to irrigated acres.
"Frequent rains when temperatures are in the right range can lead to serious infections in dryland corn," Rountree says.
4. Planting genetics with tolerance to tar spot helps. "It's your responsibility to know what is happening in your area in terms of risk for disease," Rountree says.
Sit down with your seed rep and understand the company's disease rating scale. At Pioneer, disease tolerance is rated from 1 to 9, with 1 being most susceptible and 9 being most tolerant.
"We tend to be conservative," says Scott Heuchelin, a plant pathologist with Pioneer. "If we don't have enough solid data on how a hybrid performs in the presence of tar spot pressure, we would rather not rate it than assign a rating that might not hold up when the hybrid encounters heavy pressure."
5. Fungicide will not save you from tar spot. Fungicide is a big help and can reduce yield loss, but you need to start with the most tolerant genetics you can find, Rountree says. Scout and make a timely application of fungicide when scouting indicates it's necessary. However, relying on fungicides to salvage a season with a very susceptible hybrid can be risky, at best.
Subscribe to receive top agriculture news
Be informed daily with these free e-newsletters
You May Also Like
---