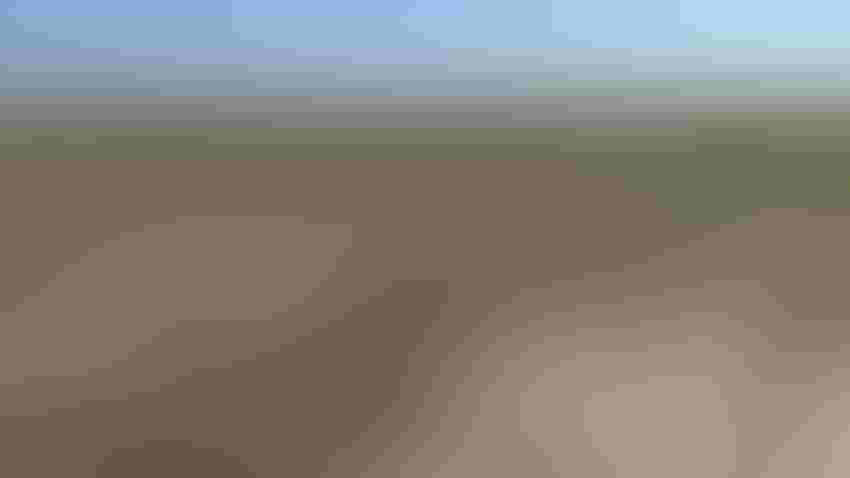 FAILED WHEAT: This field of zeroed-out wheat near Lakin, Kan., in mid-May, never had enough moisture to emerge from the time it was planted last fall to early May, says Gary Millershaski, farmer and chairman of the Kansas Wheat Commission. He will fallow this field and apply herbicides to burn down summer weeds to try to bank moisture for the next crop in his rotation. Wheat farmers across the state are deciding their cropping options after failed wheat.
Jennifer M. Latzke
There's no doubt about it, it's been a rough year for Kansas wheat. The crop went in dry in last fall, and there was little to zero precipitation over the winter in much of the state's growing region. Through the month of May, farmers were making the difficult decision to terminate their wheat crops.
Kansas State Extension Wheat and Forages Specialist Romulo Lollato reported that a territory spanning the southern Wichita County line to the Oklahoma border, and from the Colorado border to Barber and Pratt counties has been severely affected by drought. After visiting with growers, he reports that abandoned acres in southwest Kansas will range from 25% to 90%.
A lot goes into the decision to double-crop after failed wheat. Farmers consider their crop insurance requirements, future cropping rotations, landlord expectations and overall goals for the farm and the ground, as well as the agronomic concerns.
The May 30 USDA National Agricultural Statistics Service Kansas Crop Progress report said topsoil moisture supplies are 50% short to very short, with subsoil moisture supplies at 68% short to very short.
While recent rains have been a blessing, they're just holding what little yield potential is out there in the fields, as well as supporting a flush of weeds like kochia on the bare ground. And in some cases, those rains are causing some farmers to consider whether they should harvest a limited wheat crop, or terminate that wheat now — while there's moisture in the soil — and switch to a summer crop?
Herbicide
Ignacio Ciampitti, Kansas State University farming systems professor, and Sarah Lancaster, a weed management specialist, explain that no matter your alternative crop choice, your first step is deciding your weed control options. They write in the May 25 K-State Agronomy eUpdate that you not only have to choose a burndown option to terminate the wheat crop, but also take care of the summer annual weeds that have emerged with the recent rains and the weed seed bank left in the soil. "Glyphosate will be effective for terminating wheat, but if glyphosate-resistant kochia and pigweeds are present, alternative treatments such as paraquat may be required," they write.
You're also going to need to consider herbicide carryover and how it might affect what crop, if any, you choose to plant next.
Options
There are five options at this stage that farmers could consider:
Corn. A later planting date in some regions can move that critical pollination state to later in the season, after the most intense heat. Opt for longer-maturity hybrids that can produce biomass for silage and grain as long as they have time to reach maturity before a hard freeze. Be aware of carryover of Group 2 herbicides (Glean, Ally, Outrider, Amber and others), they advise. If you're terminating Clearfield wheat and used Beyond on the field, plant to a Clearfield corn hybrid — otherwise the rotation interval is 8.5 months. And, if you're terminating CoAxium wheat and used Aggressor on the field, that interval is 120 days.

Sorghum. Its optimal planting time around late May and early June, as well as its reputation for using limited moisture to make a crop, may make it an ideal choice for some terminated wheat acres. Experts caution that a thorough burndown and a residual herbicide program is critical to hammer both grasses and pigweeds and preserve double-crop sorghum yields. Conventional sorghums will have rotation restrictions to Group 2 herbicides. However, farmers have options with the Igrowth hybrids (tolerant to imazamox or Beyond) and Double Team hybrids (tolerant to quizalofop or Aggressor). Current herbicide labels don't address rotation restrictions for these hybrids.

Soybean. In some parts of Kansas, soybeans can be a good alternative to fallow, especially with their dense canopy that can reduce herbicide costs, according to the experts. Select a variety with a later maturity rating, so that the crop can develop a larger canopy before flowering, but also hit seed maturity before frost. You might also be able to plant in 15-inch spacing or less, increasing that early-season light capture, weed suppression and still reducing soil erosion. If you used a Group 2 herbicide like Glean, Finesse, Ally, or others, the most tolerant double crop will be a sulfonylurea-resistant variety like STS, SR or Bolt, say the experts.

Cover crops. Again, this may not be an option for all of the state's abandoned wheat acres, but there could be some farmers who choose to plant a cover crop. The experts warn that there is less information about herbicide carryover from wheat to cover crops, and little to no mention of rotational restrictions for specific cover corps on most herbicide labels. Look for the statement indicating "no other crops" should be planted for a specified amount of time, or that a bioassay must be conducted before planting the crop, they advise.

Fallow. In the hardest-hit drought zones, farmers have said they're looking at a summer fallow to bank moisture so that they might go back in this fall with wheat and try again. Those who do say they will still need to apply herbicides to control the moisture-robbing weeds that will crop up.
The experts advise farmers to read product labels and contact their crop consultants, their local K-State Extension office, or read the 2023 Chemical Weed Control for Field Crops, Pastures, and Noncropland booklet online at bookstore.ksre.ksu.edu/pubs/chemweedguide.pdf. 
Subscribe to receive top agriculture news
Be informed daily with these free e-newsletters
You May Also Like
---