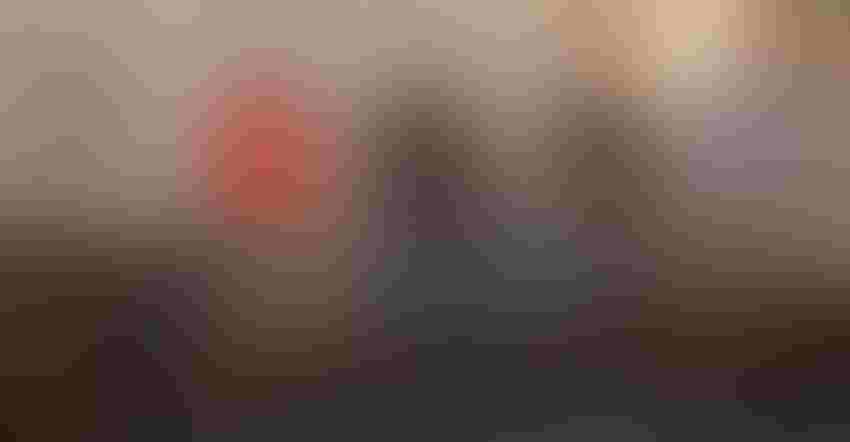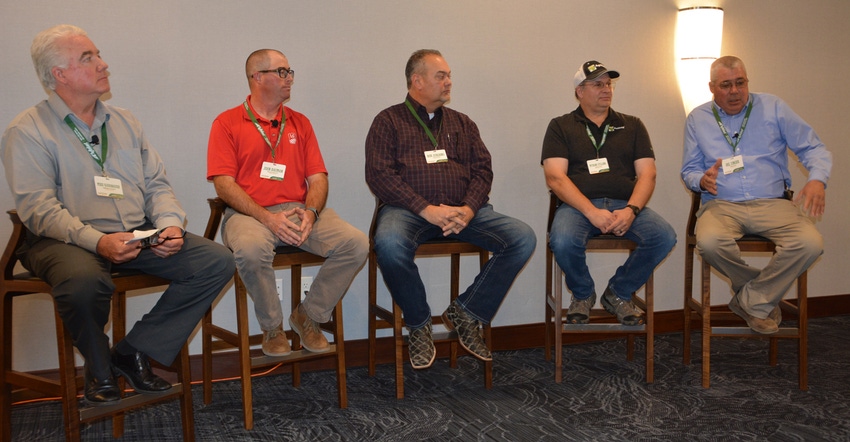 FARMER PANEL: Four corn farmers discuss their experiences with tar spot at AgReliant's Tar Spot Summit. Mike Kavanaugh (left) with AgReliant led the panel. The farmers are John Bauman, Rod Jurgens, Myron Sylling and Del Unger.
Tom J. Bechman
You will remember how you farmed before tar spot and how you farmed after it entered your area. That was a key takeaway from a panel discussion at the recent AgReliant Genetics Tar Spot Summit.
"Pay attention to what others say about tar spot, even if you haven't encountered it yet," said Del Unger, Carlisle, Ind. "You will see it in your fields sooner or later.
"When you do, realize that you can slow it down, but you can't stop it. It's something we must continue battling."
Mike Kavanaugh, director of product development for AgReliant, led the panel. He explained that because these farmers live in different areas, their experiences with tar spot vary. Here's a closer look at the panelists and what they've learned so far:
John Bauman, Kendallville, Ind. Bauman farms with his father and brother, does custom work, and operates an LG Seeds dealership. They raise corn, soybeans, wheat and rye.
Rod Jurgens, Hopkinton, Iowa. This fifth-generation farmer raises corn and soybeans with his son and grandson in east-central Iowa. To maximize return on productive soils, they raise about two-thirds corn, resulting in lots of continuous corn.
Myron Sylling, Spring Grove, Minn. Located just north of the Iowa state line, Sylling is 100% no-till and incorporates cover crops, seeking to cash in on soil health. His corn is 100% conventional.
Del Unger, Carlisle, Ind. Unger and his wife, Tammi, operate a large grain farm with their son and daughter-in-law, Lance and Ashley. About 3,000 acres are irrigated. Their farm lies in a bowl-shaped topography near the Wabash River, resulting in conditions favorable to disease every year.
The panelists started by recounting their introductions to tar spot and then discussed changes they've made to manage the disease:
Bauman: We saw it in 2018 while scouting, but it wasn't a big deal until 2021. It hit us hard, coming in around the first week of August. Yield losses were as high as 50 to 60 bushels per acre. We took precautions in 2022 and saw good results.
Jurgens: We've been dealing with it in continuous corn since probably 2017. We applied fungicides already, but we were still seeing some effects. Since then, we've adjusted, especially in upping aerial spray volume to 5 gallons per acre. It doesn't affect yield anymore, but it's been a four- to five-year process to get to this point.
Sylling: We started seeing black spots in 2019 and were asking, "What is it?" Then we saw it again in 2020, especially in some fields we custom-farm. It affected us pretty hard in '21, especially on a couple farms. We probably lost 20 bushels per acre. So, we went with fungicide on everything in '22.
Unger: We saw it in 2018, but we were already spraying fungicide on everything because of where we farm. Fog, dews and high humidity kick off diseases. Yields weren't dropping much, but test weights fell off. Corn wasn't staying as healthy late, so we adopted a two-pass fungicide system. We were ready for it in '21, and results were better in '22 — yields were up.
Sylling: Keeping plant nutrition up in a systems approach is key. Tar spot attacks weak plants first.
Bauman: Our biggest change after '21 was buying a high-clearance sprayer so we could spray fungicide when it needed to be applied. You must have good coverage — we're at 16 gallons per acre. More would be even better, but we balance it with how much water we can handle.
Jurgens: On rotated acres, we go flat out for yield when selecting hybrids, still looking for tar spot tolerance. On continuous corn, it's definitely a systems approach. We want high yield, but we rely on tar spot tolerance ratings. We must think about tar spot. Upping the aerial spray volume from 2 to 5 gallons per acre made a huge difference. We pay more, but it's worth it.
Bauman: When selecting hybrids, it still comes down to genetic potential. We want hybrids that put grain in the tank. But we're paying attention to how hybrids rate for tar spot tolerance. The list of hybrids with better tar spot tolerance will get longer.
Unger: We look at genetic potential, and we want top yield. If you can't keep plants alive and healthy to set deep, full kernels, genetic potential doesn't matter. As more tolerant hybrids come along, we will adapt. Right now, fungicides are affordable. We're after 280 bushels per acre, not 240. We're spraying around V10 and tassel, and we will consider a third pass at V5.
Bauman: We're not backing away from fungicides either. We saw less tar spot in '22, with it coming in late. But we will continue spraying, using check strips.
Sylling: Check strips are critical. We sprayed fungicide on everything in '22, but we left lots of check strips. We saw yield increases of 15 to 30 bushels per acre for fungicide versus no fungicide.
About the Author(s)
Subscribe to receive top agriculture news
Be informed daily with these free e-newsletters
You May Also Like
---