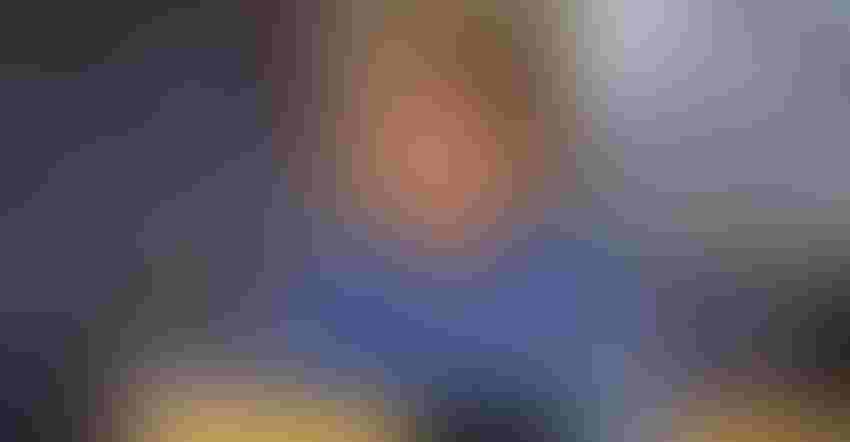 GOOD PROSPECTS: USDA's Greg Matli, Indiana state statistician, laid out a high-yield scenario for corn when discussing results of the August USDA crop estimates.
After the USDA August crop report Friday, Greg Matli told farmers and reporters that based on the August estimate with yield predictions for the year, U.S. corn production is forecast at 14.6 billion bushels, down only 1% from 2017. The projected national average yield of 178.4 bushels per acre, up 1.8 bushels per acre from 2017, would be the highest corn yield on record in the U.S.
Matli, state statistician with the USDA National Agricultural Statistics Service in Indiana, says the Indiana corn yield is projected at an average of 186 bushels per acre, up 6 bushels from 2017 but 2 bushels behind the state record set in 2014.
Yet Chris Hurt, Purdue University Extension ag economist and marketing specialist, says USDA projects the average corn price at the farm level for the 2018 crop could be $3.60 per bushel, up from $3.40 per bushel for the 2017 crop, whose marketing year ends soon.
"The average U.S. price for the '18 crop could even move upward another nickel or so," Hurt says. "And in Indiana, we could see even slightly better prices. These are farm prices, not futures prices. We refer to the U.S. average corn price because it is a consistent measure which everyone uses."
So, if total production is almost as good as last year and yield will be higher — considerably higher per acre in Indiana — how could the average price per bushel be expected to be higher when the '18 crop is finally marketed?
"It's because corn usage worldwide has been increasing over the past few years, and should continue to increase," Hurt says. "The world stocks of corn is trending lower. Tariffs are hitting soybeans hard, but they're not hitting corn nearly as hard, because China is not a major player in buying U.S. corn.
"It's all about world stocks. And even though we appear to have another good crop coming, there's good demand for corn."
Subscribe to receive top agriculture news
Be informed daily with these free e-newsletters
You May Also Like
---