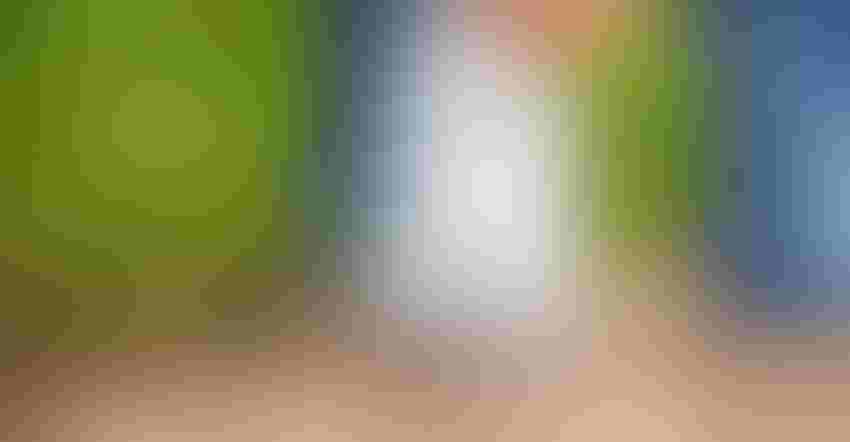 EARLY INDICATOR: Pulling corn leaves for tissue sampling can offer insight on plant requirements early in the growth. Farmers can make crop management adjustments to overcome nutrient deficiencies.
Winfield United
Missouri corn was low in zinc and potassium in 2018. If farmers take tissue samples this year and make in-season nutrient adjustments, they can improve plant performance. That is the message from Andrew Schmidt, agronomist for WinField United.
Farmers across the state submitted 400 corn tissue samples to WinField United last year. Based on the sampling data, over 80% of the corn was low in zinc and/or potassium. The samples also showed deficiency in boron, nitrogen, sulfur and manganese, according to Schmidt, whose territory covers Missouri.
Understanding the roles these nutrients play in plant support is key to getting the most out of corn fields this year.
Key nutrients
Zinc is a micronutrient, required in small amounts by the corn plant, but it has a huge impact on how a corn plant grows and ultimately yield.
"Zinc is really important for root development, ear development and enzyme activity," Schmidt adds.
A few signs of zinc deficiency in the field include stunted plant growth, small leaves, delayed silking and tasseling, and chalky kernels.
Potassium is needed to sustain plant growth, reproduction and vigor. Plants deficient in potassium are less resistant to drought, excess water, and high and low temperatures. They also succumb to pests, diseases and nematode attacks more easily.
If growers want to protect yield they must understand plant nutrient needs, and Schmidt says that means taking time to tissue sample during the season.
When to sample
Farmers should not wait until the deficiency is visible in the fields to pull corn plant samples. "Once you see the deficiency, there is already potentially lost yield, tissue sample allows you to see what is going on before you see deficiency."
It is important farmers target critical stages of growth. He recommends testing corn starting at the V5-V6 stage. "That is when the plant is beginning to determine ear girth," Schmidt explains. "If farmers sample at that time and we find it is low in zinc, we can make an in season foliar application to boost those micronutrients and save yield."
Farmers should plan to tissue sample at V6, V9 or V10 and R1. "This allows you to make those [nutrient] adjustments," Schmidt adds. He says farmers who are sampling regularly are identifying which nutrients are deficient to make a better decision on what to apply
Gain more grain
Sampling is a common practice for those corn growers already pushing higher yields. "It is a way for a grower to understand what nutrients are getting into the plant and what changes to make to get more bushels," Schmidt says.
For farmers who are not seeing the yield they want, Schmidt says, in season investigation is important. "There is a yield gap between Missouri and the National Corn Growers yield contest," he says. "We know hybrids can reach these high yields, but we are short. Tissue sampling is one way to get an understanding of what is possibly adding to the fact that we see less yield."
Sampling at the right time, making a nutrient or fertility adjustment during critical stages of growth is one step to fill in the yield gap.
"Essential nutrients in plant are making that plant more efficient and maximizing yield," he adds. "If you are short on one of those nutrients the plant is not performing at its best. That is where tissue sample helps. It identifies what the plant is short on."
Schmidt says to find a trusted agronomist wanting to work with you to evaluate corn plant tissue results, one who will explain the "how-to" and where-to" take tissue sample in field. "It boils down to where do we put our dollars to get best return on investment," he says.
About the Author(s) Editor, Missouri Ruralist
Mindy resides on a small farm just outside of Holstein, Mo, about 80 miles southwest of St. Louis.
After graduating from the University of Missouri-Columbia with a bachelor's degree in agricultural journalism, she worked briefly at a public relations firm in Kansas City. Her husband's career led the couple north to Minnesota.
There, she reported on large-scale production of corn, soybeans, sugar beets, and dairy, as well as, biofuels for The Land. After 10 years, the couple returned to Missouri and she began covering agriculture in the Show-Me State.
"In all my 15 years of writing about agriculture, I have found some of the most progressive thinkers are farmers," she says. "They are constantly searching for ways to do more with less, improve their land and leave their legacy to the next generation."
Mindy and her husband, Stacy, together with their daughters, Elisa and Cassidy, operate Showtime Farms in southern Warren County. The family spends a great deal of time caring for and showing Dorset, Oxford and crossbred sheep.
Subscribe to receive top agriculture news
Be informed daily with these free e-newsletters
You May Also Like
---