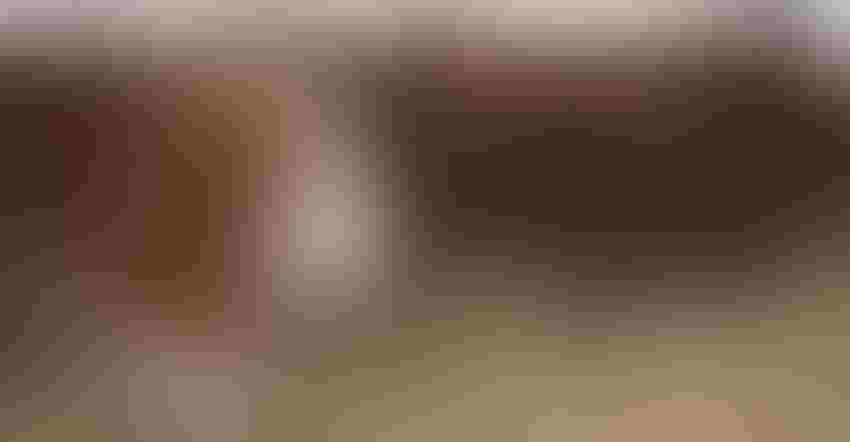 BEEF PROJECT: A beef feeding enterprise is one of more than a dozen ag development projects being considered for a grant from the North Dakota Agricultural Products Utilization Commission.
Requests for funds for ag development projects involving corn, wheat, ethanol, pulse crops, beef, swine and several other commodities are under consideration by the North Dakota Agricultural Products Utilization Commission this week.
Dakota EcoBeef, Baldwin, is requesting $23,888 to determine the financial feasibility of a 1,000-head livestock production company for Dakota EcoBeef. The planned facilities would be designed to house beef cows and their offspring in a unique production system, a three-hoop barn (bedded) structure. Contact Jacob Carlson at 701-989-9940.
North Dakota State University Research Extension Center, Carrington, is requesting $15,930 to assess the phosphorus and nitrogen fertilizer values of distillers grains in wheat production and determine if it would be economical as a fertilizer source. Contact Jasper Teboh at 701-652-2951.
Pulse USA, Bismarck, is requesting $62,622 to develop and market varieties of field peas and cow peas for organic growers. Pulse USA works with the organic grower community, organic regulatory certifiers and organic seed dealers to brand and establish new varieties into the market. Contact Tanya Jo Smith at 701-530-0734.
Prairie Roots Food Cooperative, West Fargo, is requesting $22,983 to market local food and products both in-store and throughout the region. Marketing efforts will include touch-screen digital display boards, a co-op newsletter and a multiday grand opening celebration. Contact Kaye Kirsch at 701-446-8781.
Mayville State University, Mayville, is requesting $50,000 to conduct research to explore the possibility of using North Dakota wheat bran as a filler in the composite of plastic. Contact Khwaja Hossain at 800-537-4104.
NDSU Department of Coatings and Polymeric Materials, Fargo, is requesting $68,561 to determine the feasibility of using emulsion polymerization of monomers developed from oil-seed crops produced in North Dakota for synthesis of vegetable oil-based latexes. Contact Andriy Voronov at 701-231-9563.
Elinor Specialty Coatings, Fargo, is requesting $24,675 to evaluate commercially available soy-based resins to be tested as raw materials for use in formulations of corrosion protection coatings. Contact Dante Battocchi at 701-318-1051.
NDSU Department of Plant Sciences, Fargo, is requesting $22,500 to conduct research to produce films from bran fiber. The research will determine the suitability of bran fiber with different substitution for biodegradable films. Contact Senay Simsek at 701-231-7737.
Tharaldson Ethanol Plant, Fargo, is requesting $324,008 to defray costs for a 6,000-foot rail expansion to its current 10-mile rail infrastructure. The $1.1 million project will allow Tharaldson to streamline transportation processes and increase shipping capacity for its DDGS and ethanol. Contact Ryan Carter at 701-347-4000.
Dakota Specialty Milling, Fargo, is requesting $31,500 to increase the utilization of North Dakota crops by developing a shelf-life analysis program for their milled products and multi-grain blends. Contact Bryan Hendricks at 701-282-9656.
NDSU Department of Plant Sciences, Fargo, is requesting $37,803 to identify industrial hemp cultivars suitable to grow in North Dakota. The project will evaluate the chemical and aromatic profiles, oxidative stability and THC concentration in hemp seed oil extracted from hemp seed varieties. Contact Bingcan Chen at 701-231-6450.
Red River BioRefinery, Grand Forks, is requesting $255,000 to complete the design of a facility designed to produce transportation ethanol from local crop residue. Contact Keshav Rajpal at 608-334-7240.
NDSU Department. of Microbiological Sciences, Fargo, is requesting $70,360 to continue research to apply a novel, proprietary method for the development of rapid response vaccines to swine influenza viruses. The developed methods can potentially have wide applicability to other influenza viruses and RNA viruses. Contact Sheela Ramamoorthy at 701-231-8504.
APUC is an office within Economic Development and Finance, a division of the North Dakota Department of Commerce. It manages a grant program designed to create new wealth and employment opportunities through the development of new and expanded uses of North Dakota's agricultural products.
A maximum of 15 qualifying applicants present funding proposals on a quarterly basis for the following grant categories:
• basic and applied research
• marketing and utilization
• farm diversification
• technical assistance
• nature-based agritourism
• prototype development and technology
For additional program information, see ndapuc.com or facebook.com/ndapuc.
Source: APUC
Subscribe to receive top agriculture news
Be informed daily with these free e-newsletters
You May Also Like
---