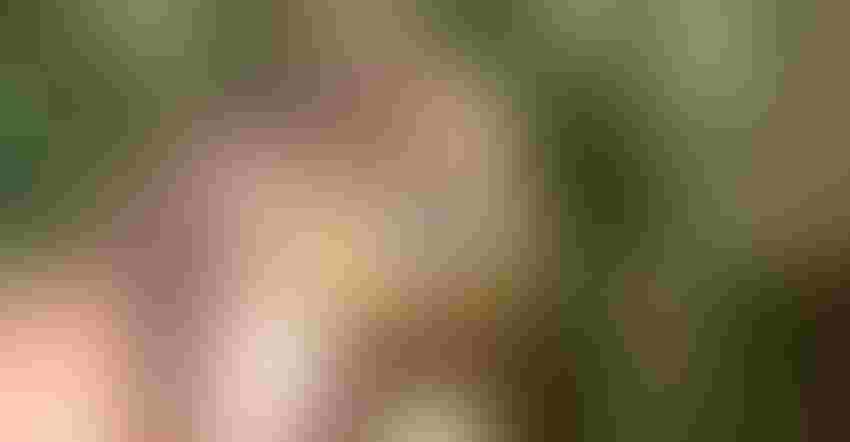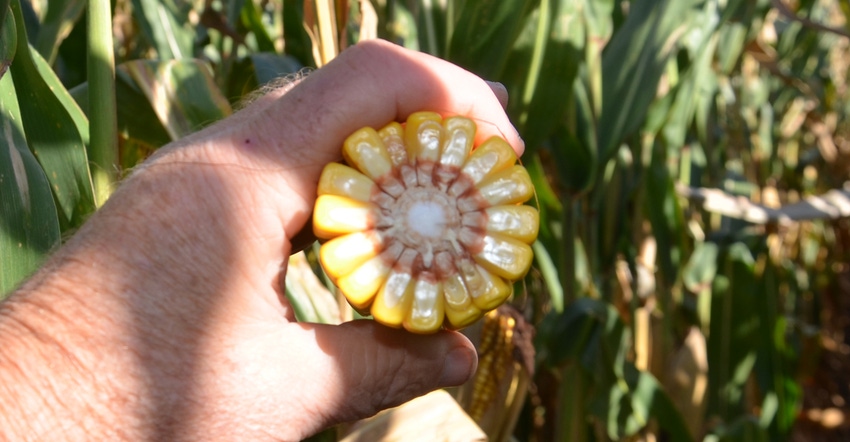 STALKS AND EARS: Stay-green ability, stalk diameter, size and girth of ears, and depth of kernels vary from hybrid to hybrid. Shortly before harvest is a good time to evaluate these characteristics.
Tom J. Bechman
There are no perfect hybrids available that have all the qualities a grower wants. However, today's corn breeders have a wish list. When I was actively breeding corn, I had my own wish list. Sometimes I had to compromise and pick out the most important agronomic characteristics I would like in a hybrid.
The top characteristics I strove to achieve in a hybrid included seedling emergence and vigor, kernel row number on ears, root and stalk strength, plant and ear height, disease tolerance and stay-green power, and grain quality and test weight.
I rated each hybrid I evaluated on many characteristics, including these. Some ratings happened earlier in the year, and some happened now.
Early-season ratings
Here is a closer look at the early-season evaluation:
Strong emergers. I like hybrids that have strong emergence power. Slow-emerging seedlings may have problems later. Seeds of strong-emerging hybrids jump out of the ground uniformly, as long as the grower prepared the seedbed properly and didn't plant too shallow or too deep. 
Seedling vigor. In my books, this is one of the most important qualities of a hybrid. After seedlings emerge, they need to get established as fast as possible.
Midseason notes
These characteristics should be rated in the middle of the season:
Plant height. I like shorter hybrids if I don't have to sacrifice yield. Shorter hybrids can be planted at higher populations.
Ear height. I like lower ear placement on the stalk. They're less prone to stalk lodging. Plant and ear height are somewhat related. However, in my plant breeding days, I developed a couple of widely adapted hybrids that were tall with medium to low ear placement.
Number and size of leaves.  I like more leaves, even if they're somewhat smaller. However, I know there is a strong relationship between number of leaves and relative maturity of hybrids.
Tassel size and number of branches. I prefer smaller tassels — big enough to produce sufficient pollen for a few days — rather than big, bushy tassels that consume nutrients, cause shading and produce too much pollen, which can cover the leaves.
Late-season observations
Here is what I look for later in the season:
Number of kernel rows per ear. I like girthy-eared hybrids with 18 to 20 rows of kernels compared to long, slender-eared hybrids.
Test weight, kernel depth and grain quality. I prefer hybrids with moderately high test weight. There is no need to have the highest test weight if it means sacrificing yield. There is no direct correlation between test weight and yield.
Shank length. The shank should be long enough to bend the ear at maturity, but not long enough to tip the ear over.
Ear husks. Husks should cover tip kernels but not be so tight that they cause kernel rots. I prefer fewer husk leaves.
Stalks.  Strong stalks hold up the plant. You don't want them overly stiff. Very thick stalks are tougher to combine, and extra-tough stalk stubs can cause tire damage.
Roots. Roots should be deep enough to gather water and nutrients and pump them to various plant parts. A good brace root system supports the plant.
Disease resistance. Hybrids should have tolerance to major diseases. However, it's virtually impossible to have immunity to all pathogens. Fortunately, excellent fungicides are available.
Stay-green power. Hybrids should stay green until grain reaches the black layer.
Nanda is director of genetics for Seed Genetics Direct, Jeffersonville, Ohio. Email [email protected] or call 317-910-9876. Please leave a message.
About the Author(s)
Subscribe to receive top agriculture news
Be informed daily with these free e-newsletters
You May Also Like
---