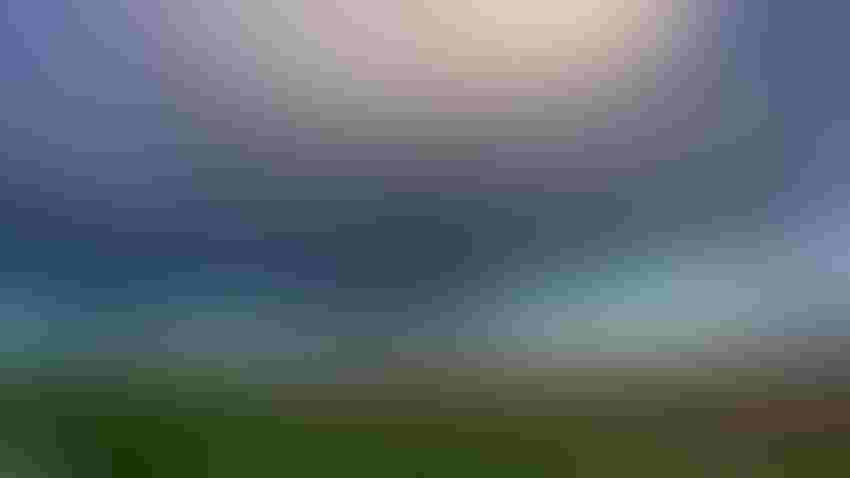 DERECHO DAMAGE: The storm that tore through the Midwest in May 2022 caused over $1.3 billion in damages, and showcased another benefit of soil health practices.
Meindert van der Haven/Getty Image
No farmer or landowner wants to see their farmland investment gone with the wind. But more extreme storms and intense winds make topsoil protection critical to sustaining farm financial viability.
The derecho on May 12, 2022, raced 500 miles across parts of South Dakota, North Dakota, Nebraska, Iowa and Minnesota, causing about $1.3 billion in damage. This intense storm caused straight-line wind gusts from 75 to 107 mph, hail, rainfall up to 6 inches, and 32 tornadoes that hit towns and rural areas during planting season.
Fields of recently tilled, bare soil with sparse residue lost vast amounts of topsoil, and higher wind gusts removed or damaged emerging crops necessitating replanting. Fields with residue or canopy cover, though, fared better.
Measuring lost soil
To help quantify soil loss from the storm, Chris Coreil, an erosion specialist with the USDA Natural Resources Conservation Service in South Dakota, determined that a worst-case scenario with bare ground and fine, sandy loam soils had losses greater than 10 tons of topsoil per acre during the 30-minute derecho.
"Considering an average annual erosion loss tolerance from 1 to 5 tons per acre, this one storm removed two to three times the annual amount in 30 minutes," Coreil says.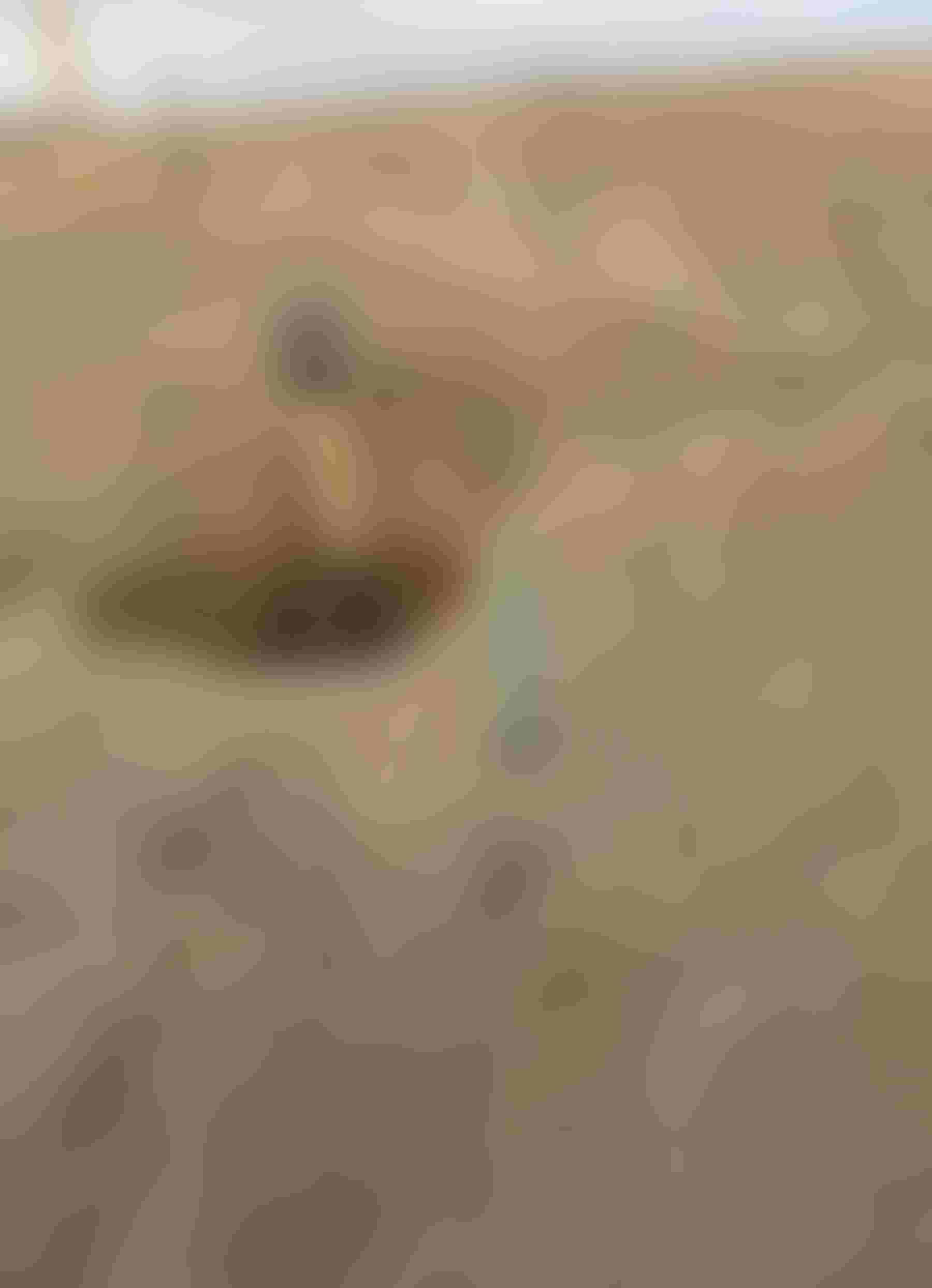 EROSION: Five days after a tilled field experienced a day of 50-mph winds, topsoil filled adjacent ditches. Fields had to be replanted and nutrients reapplied. (NRCS South Dakota)
However, no-till acres with standing corn residue, small-grain residue or cover crops significantly reduced wind erosion, roughly down to 1 to 1.5 tons per acre. That low 1-ton topsoil loss is still higher than the estimated yearly regeneration rate of 0.5 ton.
High erosion, expenses
Coreil used the same model and worst-case scenario to quantify losses during a day of sustained winds on May 7, 2022. In 12 hours with winds between 20 and 30 mph, wind erosion loss was almost double the derecho, upward of 29 tons per acre on bare soil.
"We're talking losses of almost two dump trucks' worth of topsoil in 12 hours on bare, tilled soil. When such winds come off these fields, obscure highway visibility and cause terrible accidents, it gets people's attention real quick," he says.
One month earlier, on April 14, 2022, NRCS district conservationist Dan Mehlhaf got a call outside of Yankton, S.D., to check out a low-visibility area coming off a field in Turner County.
"At 6:30 a.m., the 50-mph winds were already blowing my truck around, and when I arrived at this field, I could only see 50 to 100 feet beyond my hood," Mehlhaf says.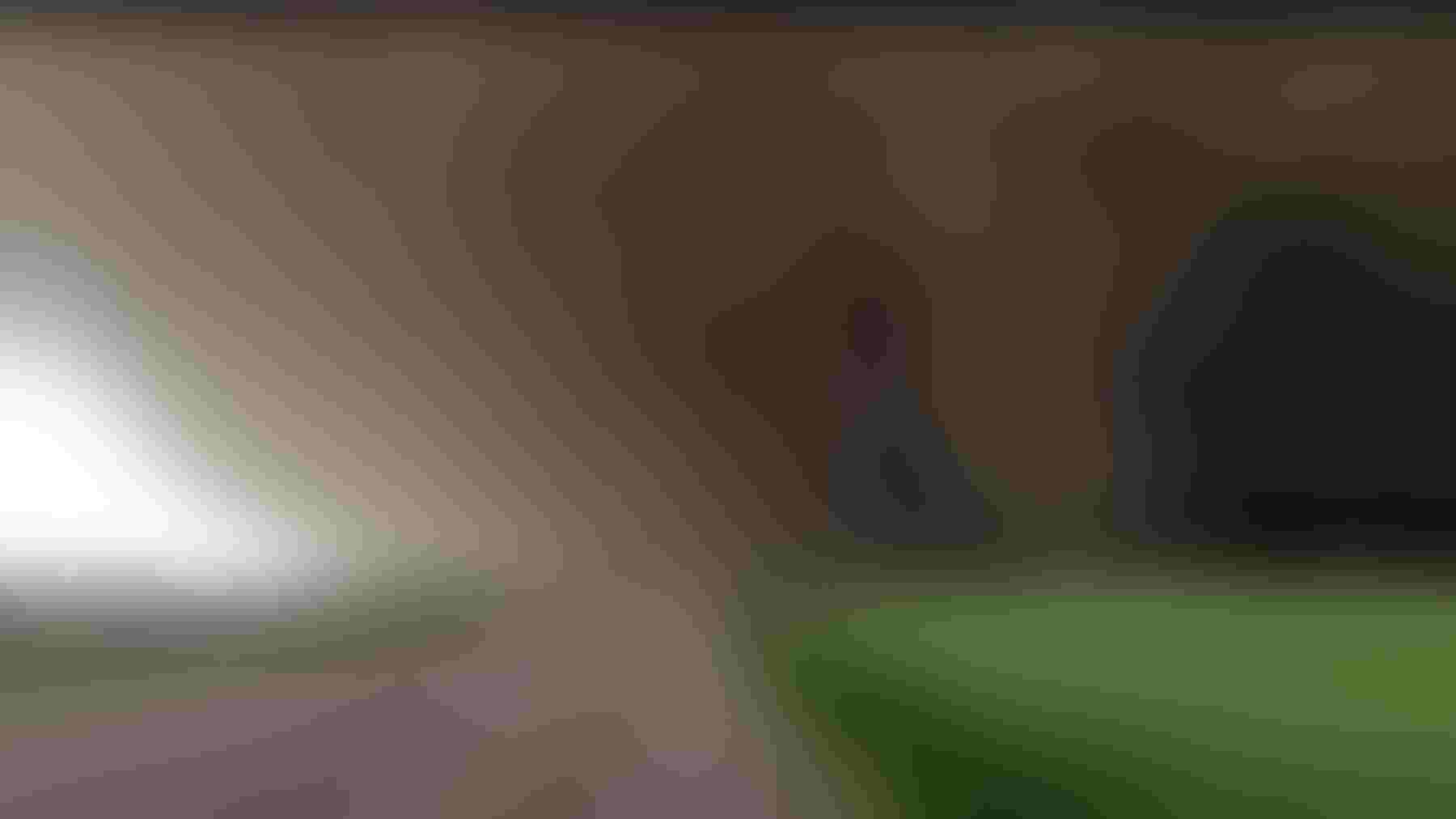 DANGEROUS STORMS: The hazards of blowing soil go far beyond the farm, and the derecho last spring caused visibility challenges on roadways. (Tea Storm Chasers)
Five days later, he returned to find soil 29 inches deep in the adjacent ditch, making it level with the road. The combination of the windiest April on record and dry soils from the drought contributed to the silt and clay going airborne.
Knowing this productive silty clay loam Egan-Ethan soil type, Mehlhaf was puzzled as he dug the ditch to find a different soil texture.
"What was left was a sandy loam, which caused a light bulb to go off in my head, suddenly realizing the lighter clay and silt particles went airborne, leaving the heavy grit behind," he says.
To learn what remained in the ditch, he collected soil samples and sent them to the lab. He found this sandy soil sample, which typically cannot hold nutrients, scored very high in phosphorus, potassium, magnesium and calcium.
"The sample had 324 pounds per acre of N — probably higher due to drought the previous year that left N behind," Mehlhaf explains.
Valuable fertility input dollars were found in the ditch due to wind erosion, with a calculated loss of $996 per acre of value lost in the ditch.
Change of tillage heart
Fourth-generation Yankton farmer Frank Kralicek Jr. feels fortunate that his no-till fields with cover crops held his soils during the derecho. More farmers followed suit last fall, as many fields normally tilled were left alone, heading into another dry winter.
"Last year, when the winds were blowing every day, I saw others digging soil out of their ditches, which takes a lot of time and labor," Kralicek says. "That caused very little tillage last fall in our area due to all the extra costs of working the soil and the continued dryness."
Kralicek understands their wind erosion concerns, as he and his dad, Frank, saw similar challenges until they began reducing tillage. They enlisted in their first NRCS Conservation Stewardship Program plan in 2012.
"Over time, we kept adding more no-till acres, cover crop acres, split nitrogen applications, rotational grazing and other conservation practices. As a result, we're currently around 90% no-till, and we've added cover crops behind soybeans, corn and small grains," he explains. "This opened a big opportunity to graze our beef and buffalo herds on rye, turnips, radishes and other cover crops to preserve pasture and reduce feed costs."
The Kraliceks knew they could make this journey work with the help of mentors who had proven success. "Our local NRCS office has helped us a lot over the years, and I had many conversations with Bryan Jorgensen when I first started," he says. "They helped us realize this journey takes time and to start small. It took about two or three years of no-tilling to improve our soil health and increase water infiltration."
Healthy soils reduce erosion
By maintaining living roots in the soil year-round, Kralicek keeps the whole above- and belowground ecosystem going. Conserving water through better soil infiltration has been a game-changer.
"We get a big rain, and the water disappears quicker without running off. And during the last few drought years, we're still getting crops," he says.
Keeping the soil covered with no-till and cover crop residue keeps wind from stealing valuable topsoil and nutrients. Kralicek practices green-planting his cash crops into tall rye cover crops to maximize soil health benefits to feed microbes, before terminating it.
"Thanks to healthier soil, we don't have residue handling concerns because of improved residue recycling," he says. Cover crops also help with weed control. "We've cut way back on our weed control costs, and rye has an allelopathy effect that helps this cause," Kralicek says.
A generational change
Going outside one's comfort zone to try new practices isn't easy. It takes a change in mindset and management to fit new practices and crops into a regenerative and sustainable farming system.
"We started small with a few fields, then increased our acres when we realized the benefits," Kralicek says. "It took my dad a while to understand no-till and cover crops, until he saw we could plant into rye cover crop fields during the wet spring of 2018 without any compaction or planter plugging."
When discussing soil resiliency, Coreil encourages farmers and landowners to think about the ability of a field to withstand catastrophic wind or rain events.
"If your soils are well protected by an annual crop residue or cover crop, the predicted erosion will be one-tenth or less the erosion amount of unprotected soil. That is resiliency," he says.
Subscribe to receive top agriculture news
Be informed daily with these free e-newsletters
You May Also Like
---