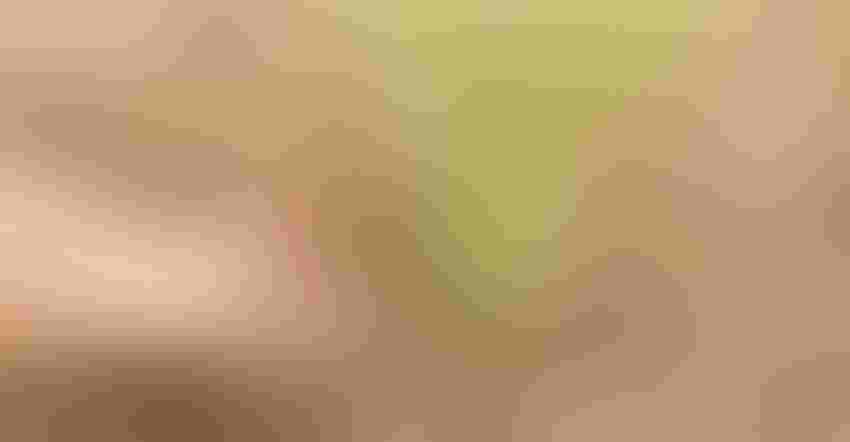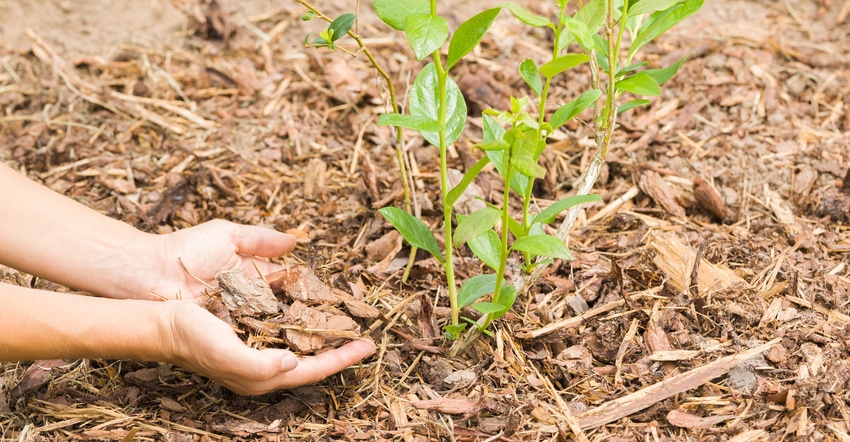 RIGHT MATERIAL: There are many mulching options, and each option has its use in the farm and ranch landscape. While wood chips are best around tree and shrub plantings, other mulches also have their place.
FotoDuets /Getty images
Many foresters and arborists would say that the important aspect of choosing the right mulching material around your farm and ranch landscapes is deciding to mulch in the first place, because of the advantages mulching provides to trees, shrubs and plant materials.
No. 1 on the list of advantages of mulching is keeping mowers and weed trimmers away from trees. However, there are pros and cons to different types of mulching materials, and some materials are preferred over others by arborists.
In arid climates such as those of the Great Plains states, mulches generally will maintain soil moisture and reduce soil temperature around trees, protecting the plants from extreme weather. Wood mulches also break down over time and add nutrients to the soil.
Wood chips are best
Most foresters will recommend a 3- to 4-inch layer of well-seasoned, aged wood chips as the optimal type of mulch. According to the Nebraska Forest Service, these chips should be "utility grade" chips that are fairly large and thin, such as those produced from utility-clearing operations.
The chips will last a couple of growing seasons at least. They don't mat together too much and layer out well, allowing good gas exchange between the soil and atmosphere and keeping oxygen levels at optimum in the soil.
Wood chips that are double ground or grinder chips are less preferred, because they can mat together. Some foresters also tell landscapers to avoid cypress mulch because it mats together and takes a long time to break down. Grass clippings work well for keeping weeds down, but they also mat up and often seal over, not allowing moisture to work into the soil.
There is some concern about wood mulches potentially attracting unwanted pests such as termites into the farm home. Termites can infest wood mulches, so it is advisable to keep those types of mulches at least 6 feet away for the home's foundation. If the home has already been treated for termites, be certain that mulch does not provide a "bridge" over the treated area.
River rock and pea gravel are popular mulches, but forestry professionals are wary of these materials because they can dramatically increase soil temperature levels. I've found that these kinds of rock mulches work well around the foundations of the home — or farm structures where you wouldn't normally use wood chips as mulch because of concerns about pests, but you still want weed control.
Fabric mulch
Fabric landscape mulch is another popular weed deterrent in many situations, but foresters do not recommend its use in areas where drought is not an issue because tree and shrub roots may grow into the fabric, the fabric does not break down and provide nutrients to the soil, and it can be a harbor for rodents that can damage tree roots.
That said, fabric mulches can conserve soil moisture and limit competition from weeds in windbreaks or other tree plantings where there is no supplemental irrigation, or where the climate is extremely dry.
And if you are replacing dead trees or shrubs in the spring in Western states in windbreaks or plantings that are under a fabric weed barrier, beware of the fabric that rattles, as rattlesnakes may make their homes there.
Learn more about mulching at nfs.unl.edu.
About the Author(s)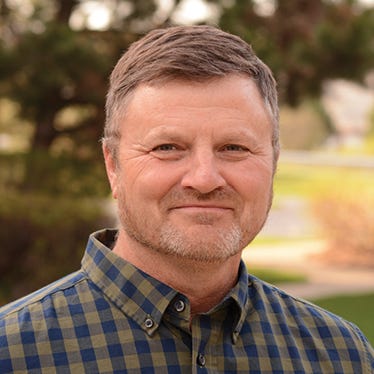 Curt Arens began writing about Nebraska's farm families when he was in high school. Before joining Farm Progress as a field editor in April 2010, he had worked as a freelance farm writer for 27 years, first for newspapers and then for farm magazines, including Nebraska Farmer.
His real full-time career, however, during that same period was farming his family's fourth generation land in northeast Nebraska. He also operated his Christmas tree farm and grew black oil sunflowers for wild birdseed. Curt continues to raise corn, soybeans and alfalfa and runs a cow-calf herd.
Curt and his wife Donna have four children, Lauren, Taylor, Zachary and Benjamin. They are active in their church and St. Rose School in Crofton, where Donna teaches and their children attend classes.
Previously, the 1986 University of Nebraska animal science graduate wrote a weekly rural life column, developed a farm radio program and wrote books about farm direct marketing and farmers markets. He received media honors from the Nebraska Forest Service, Center for Rural Affairs and Northeast Nebraska Experimental Farm Association.
He wrote about the spiritual side of farming in his 2008 book, "Down to Earth: Celebrating a Blessed Life on the Land," garnering a Catholic Press Association award.
Subscribe to receive top agriculture news
Be informed daily with these free e-newsletters
You May Also Like
---