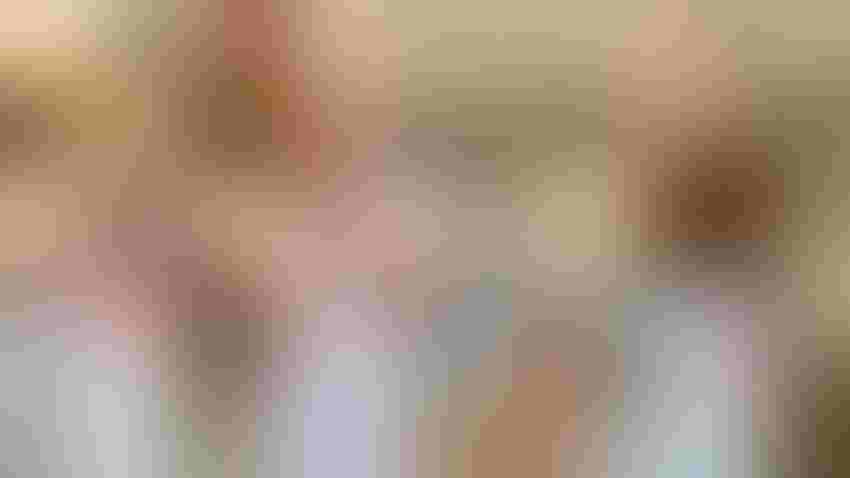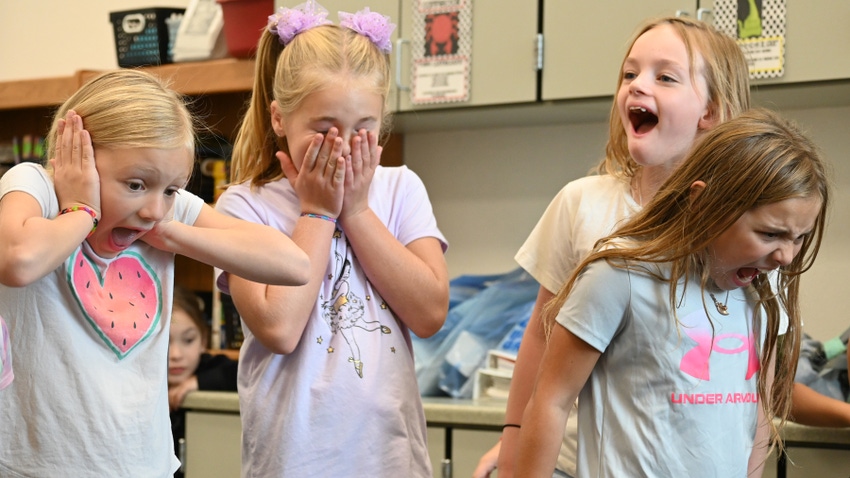 CLASSROOM TIME: Students show unbridled excitement at Newell-Fonda Elementary in Newell, Iowa.
Photos courtesy of Water Rocks
by Liz Ripley
Water Rocks!, the youth education program from Iowa State University Extension and Outreach, was back on the road during the fall semester of 2022 visiting nearly 60 elementary schools and middle schools across the state. Preparing to hit the road again for the spring months, the Water Rocks teams bring science-based, exciting and engaging lessons about water and natural resources to students in kindergarten through eighth grade.
Nathan Stevenson, a visual outreach specialist and educator who has been a part of Water Rocks for nearly a decade, is eager to get back into the classrooms and work with students and teachers in person.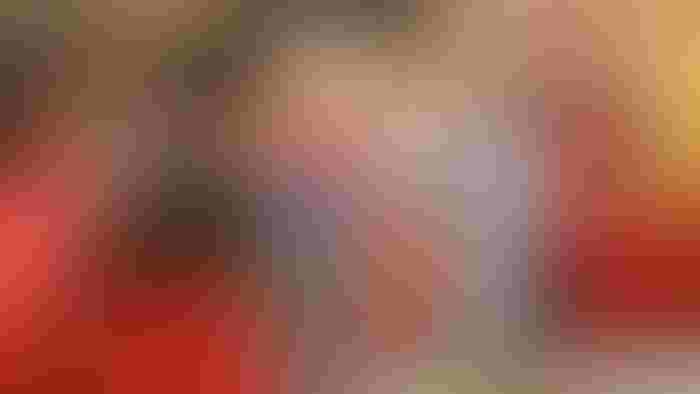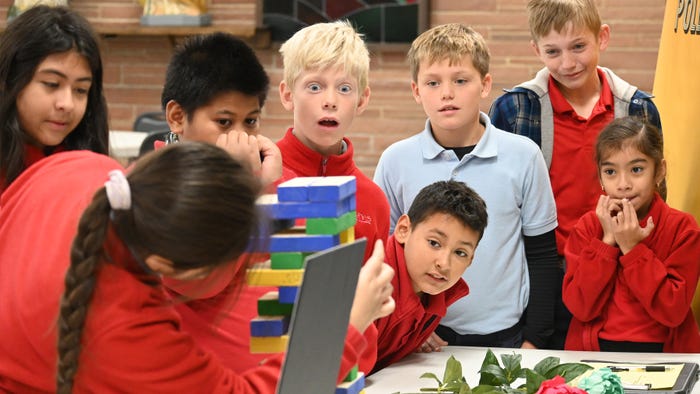 ELEMENTARY KIDS: Students at St. Mary's, Storm Lake, Iowa, play Pollinator Jenga.
"Even though we have had great success with Water Rocks live streaming [virtual presentations] during the winter months, we are excited to get back out there and make those personal connections with students and teachers," Stevenson says. "Seeing and feeling the learning, making local connections, and hearing the unvarnished frankness of young people is fun — even if some have remarked that I look older in real life than on screen!"
Schools allowing outside visitors is now commonplace, but there is still a certain mystery and inherent excitement that is palpable when Water Rocks comes in. Hannah Preston, Extension outreach specialist with Water Rocks, related that a visit to Saint Ansgar Elementary started out with rough travel conditions; but when they got to the school, all the stress of winter driving was swept away. "Everyone was so excited to see us. There were hugs and fist bumps for us all, and we were treated like celebrities. And when we got into the classroom to teach the lessons, the students' rapt attention and eagerness to participate made the drive well worth it."
Water Rocks lessons are tied to the Next Generation Science Standards (NGSS) adopted by most of Iowa's public and private schools. Teachers are provided with pre- and post-visit resources and supporting materials to help them integrate the presentations with their curriculum and maximize the short time the teams are in the classroom.
Making connections
A big part of Water Rocks is helping young people to better understand the natural world and how they interact with it — making connections to their neighborhood, their personal actions and even things they are learning in other lessons. Alena Whitaker, water and conservation educator with Water Rocks, recalls teaching about invasive species and taking a question from a student who asked if that was the same thing as they had just learned about the python problems in Florida.
"It is so much fun to see the light bulbs go on and see students making connections on their own," Preston says. "Whether it is recognizing [that] a field outside of town is planted with cover crops or the realization that without pollinators, food choices would be pretty bleak, it is clear that the students are learning."
Serious subjects
While the Water Rocks lessons incorporate games, skits and sometimes music to help engage and teach, the topics covered are of real consequence to everyone. "While we are frequently greeted with a 'wow' and lots of eagerness, we are in the classroom to help the next generation of thinkers and doers start to think about water, biodiversity, natural resources and their world," Whitaker says. "While these are serious subjects, we teach them that they can each make a difference. And we do it in ways that are easily digestible and fun to learn and retain."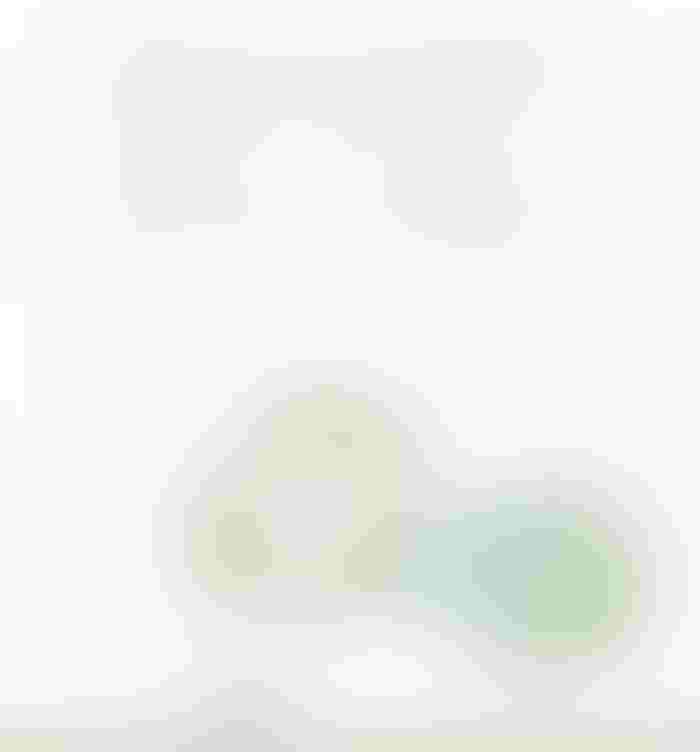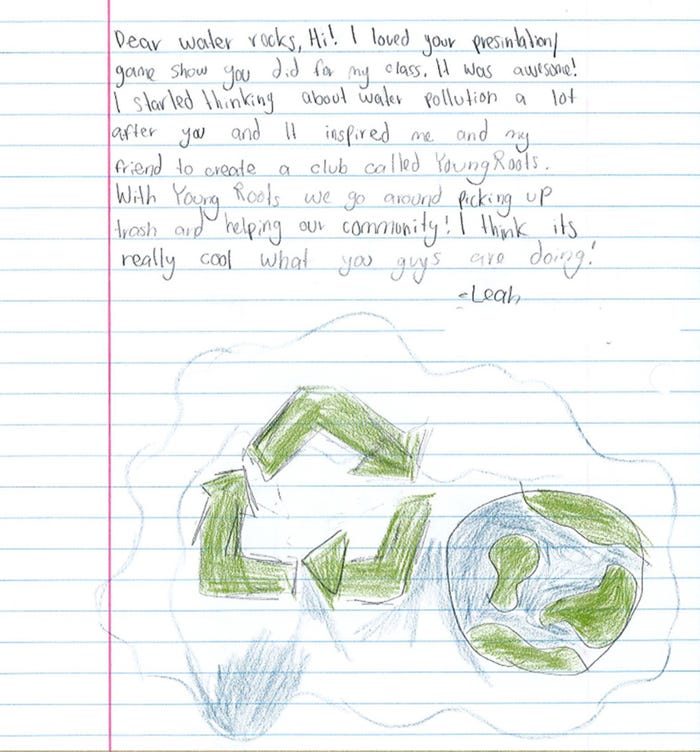 STUDENT APPRECIATION LETTER: Action inspired by a Water Rocks visit.
"Whether it's the reaction we get from students when we show them that everything that goes on the ground ends up in the water, or even the teachers when we show maps of Iowa's wetlands 200 years ago and today, it is clear these visits are making an impact on Iowans and how they perceive and understand their environments," Preston concludes.
Streaming goes on hiatus
During the early months of 2023, Water Rocks provided livestreamed classroom visits to nearly 35 schools, opting to keep the teams off the road during the harshest parts of the Iowa winter. The teams are heavily booked from early March through the end of the school year with in-person classroom visits.
"Demand for classroom visits is at an all-time high, and we are delighted to be able to get in front of so many young learners by bringing a field trip to the school and providing them with knowledge and encouragement to personally and collectively make a difference in their worlds," Stevenson says.
Learn more about Water Rocks classroom visits at waterrocks.org. Classroom visit topics are: Ecosystems & Biodiversity (Grades 4-8), Pollinators (Grades 4-8), Wetlands (Grades 3-8), Water & Watersheds (Grades 3-8) and Exploring Natural Resources (Grades K-2).
Ripley is Iowa Learning Farms manager and a Water Rocks conservation outreach specialist.
Subscribe to receive top agriculture news
Be informed daily with these free e-newsletters
You May Also Like
---