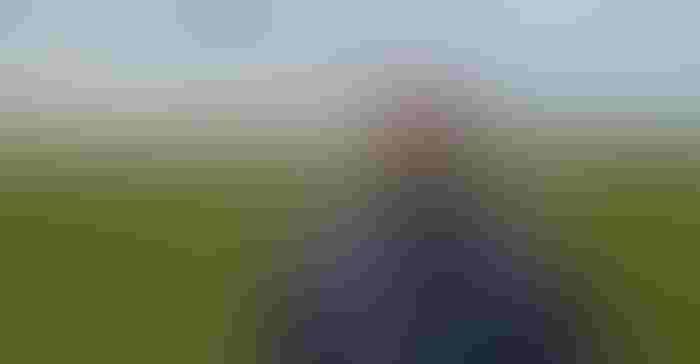 At first glance, much of the land from Seward to Grand Island, Neb., along Interstate 80 looks as flat as a tabletop. But drive off onto the side roads and onto some fields, like those Gayle Marsh farms near Grand Island, and it becomes apparent that there's more variability than first meets the eye.
Marsh says one of his quarters has a 20-foot drop in elevation from south to north. "It's not considered highly erodible, but it's a nice gradual slope," he says. "There are 54 acres that are retired from this quarter, because it's really a low spot, and there's no place for it to drain. Otherwise, you might get a crop off of it three out of five years. It's not a nice flat field like you would think for this part of Nebraska."
This variability — both in topography and soil type — makes it difficult to irrigate at a uniform rate across the field. So, in 2016, Marsh enrolled this field in the Divots in the Pivots program, part of the Regional Conservation Partnership Program, with the Upper Big Blue Natural Resources District, the Natural Resources Conservation Service and the Rainwater Basin Join Venture.
The Joint Venture, Upper Big Blue NRD, and partners like Ducks Unlimited, Fish and Wildlife, and the Nebraska Game and Parks Commission, provide up to 85% cost share for the development of the system, as well as assistance in creating prescriptions. In Marsh's case, it includes zone-based, variable-rate irrigation.
For Marsh, the system has not only helped redistribute water in a more efficient way by applying more water where it's needed, but it's also helped prevent disease, especially in soybeans.
"It really helps, I believe, with white mold issues, since you don't have to water as much on low areas, naturally. On corn, that helps prevent leaching of nitrogen, but I believe it's doing good on beans, too. I've seen a yield improvement on that quarter," he says. "My APH [actual production history] was 65 to 67 bushels per acre last year on soybeans, and that field yielded 79 to 80 bushels. That's a significant increase. It would have been the same seed, so I can't claim it's due to a different variety."
Integrating conservation
Rainwater Basin Joint Venture's goal for the program, says coordinator Andy Bishop, is to take a whole-field approach to conservation. The Joint Venture facilitates partnerships between organizations and landowners to figure out the best programs and practices for their situation. This includes working with Natural Resources Conservation Service programs like the Environmental Quality Incentives Program and the Agricultural Conservation Easement Program to integrate multiple conservation structures within a VRI-managed field.
Bishop says integrating these multiple programs and practices allows producers to maximize production on the cropland and incorporate habitat practices within the field — like those 54 acres of marsh in Marsh's field through the Wetlands Reserve Program.
"An entire field might have an EQIP contract, an ACEP easement, NRD program and then a landowner agreement through the Joint Venture that leverages grant funds from different partners. This allows the Joint Venture to provide cost-share for those practices not eligible under EQIP," Bishop says. "They might have four or five different programs and seven different funding sources to provide the 85% cost-share that supports implementation of the practices on the ground."
Recognizing the benefits of improved water application through VRI, the Upper Big Blue NRD began a Variable Rate Irrigation Pilot Program in 2017. The NRD offers a cost share of 50% of the system, up to $7,500. Jack Wergin, projects department manager at the Upper Big Blue NRD, notes the VRI Pilot Program is intended to help landowners get started with variable-rate irrigation.
The program started after a number of pivots were installed with VRI capabilities during the boom years of higher corn and soybean prices, although not many irrigators took advantage of those capabilities.
"Once the program has taken off and people start using VRI, we may drop the pilot program. The goal is to help the technology get started. We want to help people who are out there on the front edge, and once they get started, we step out of the way," Wergin says.
Last year, six landowners installed systems as part of the program. This year, four more landowners participated.
Most involved in this program don't opt for individual nozzle control. The easiest way to implement VRI is through variable-speed control.
"When we were getting started, we met with three major pivot dealers and talked with them about VRI systems," Wergin says. "They said a lot of VRI can be done with just speed control. You can divide your field into pieces of a pie."
Irrigating variable terrain
For example, Dan Kouma, who farms in Butler County, installed a VRI system using variable-speed control. Dan's grandson, Darek Kouma, an Advanced Cropping Systems specialist at Central Valley Ag, helped set up the system on one of Dan's center pivot's near Ulysses.
"The big thing on this field is terrain — slope and elevation. There's some significant variability out there. One corner is pretty flat. Two corners are steep and hilly with ditches, and the other corner is somewhere in between. You have it all in one quarter," Darek says. "That's what we used to make the VRI script, along with EC. When we came out here and EC-mapped it, we saw a big difference in water-holding capacity."
The program also covers the cost of variable-frequency drives (VFDs) if installed as part of the VRI system, as well as electrical conductivity (EC) mapping needed to establish management zones.
Dan took the opportunity to install a variable frequency drive on this pivot — not only as a way to save on energy costs, but use pressure more uniformly throughout the circle. This way he no longer has to adjust pressure manually by turning a valve.
"If the pivot was in a low corner, it would be muddy, so we'd have to walk there to the pump and turn the valve to adjust the pressure up, because the pressure would drop down to 15 psi when the end gun was on," Dan says. "When the end gun was off, the pressure would go up again, so we'd have to walk back out to turn the pressure down again."
Basing prescriptions off of topography and soil type, they might reduce rates on the flat parts of the field by 20/100 to 25/100 of an inch compared to hillsides.
While this doesn't always conserve water, it does redistribute water, applying more where it's needed and applying less on fields that are often saturated. This also means adjusting prescriptions in-season based on growth stages and soil conditions.
The first year of the program, Dustin Nunnenkamp and several of his family members installed variable-speed systems on their farms in Clay County. "What we like about it is we're being more efficient with the water. We're saving a little water, but the main thing is we put it where it's needed instead of a flat rate, so it's that much more efficient," he says. "We're changing anywhere from 40/100 an inch from high to low, depending on what part of the growing season we're in."
"You just add a control box to your existing pivot, no matter what make or model," he adds. "The majority of the pivots are capable of just adding that control box to the pivot. In no time, you're set up ready to go, and you can make your script at home on the computer, and that doesn't take much time."
Subscribe to receive top agriculture news
Be informed daily with these free e-newsletters
You May Also Like
---