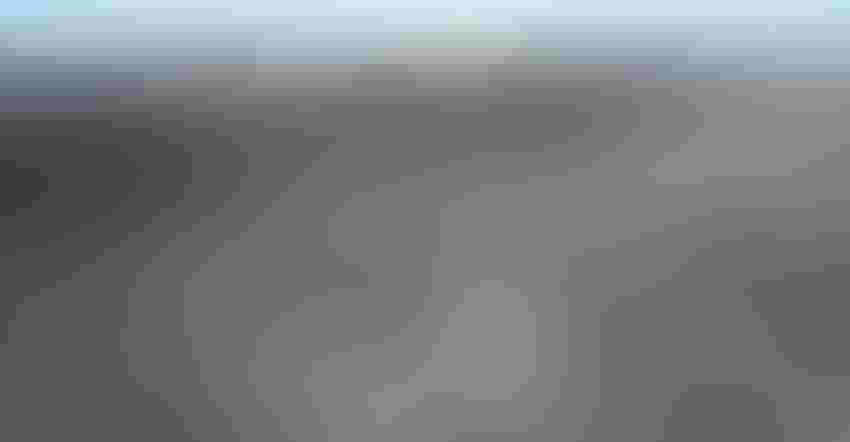 FROM THE ASHES: Sandhills grasslands are reduced to ash, days after a wildfire swept through the Niobrara Valley Preserve in July 2012. Within two years, the vegetation growing on the burned areas was virtually indistinguishable from unburned areas.
Chris Helzer, The Nature Conservancy
By Leslie Reed
After wildfires ravaged hundreds of thousands of acres of grasslands and forest in northwestern Nebraska in 2012, some feared that the national landmark Sandhills ecoregion had been irreparably damaged.
They worried that the one-two punch of record-setting fires and unusually prolonged drought had pushed the burned areas beyond the tipping point. Would the grass-covered dunes be reduced to a dust bowl of drifting sand?
A new study from University of Nebraska-Lincoln rangeland ecologists, however, appears to put those fears to rest. Samples of plant material from burned and unburned areas of the Niobrara Valley Preserve showed that within two years, the vegetation growing on the burned areas was virtually indistinguishable from unburned areas.
The study's co-author Dirac Twidwell, of Nebraska's agronomy and horticulture department, says state and federal officials need to change their management policies because of the study's findings. Highway signs calling for rangeland fire prevention should be removed, because they send a false message about fire's threat to the Sandhills.
"The Sandhills recovered remarkably fast; that's what grasslands do," Twidwell said. "They thrive with fires."
Overgrazing, invasive plants
The new study concludes that overgrazing and long-term declines in rainfall pose greater threats than fire to the Sandhills ecosystem.
The absence of fire may cause more lasting problems for the Sandhills ecosystem by allowing it to be overrun by junipers — also known as invasive eastern red cedar.
"A major concern, given findings in our study, is that policies and statutes that exaggerate, without scientific evidence, concerns over destabilization are promoting fire prevention to avoid conversion to an alternative ecosystem state (active sand dunes)," the authors conclude in the article published in Rangeland Ecology & Management.
"However, (fire) prevention is unnecessary to prevent destabilization and might actually contribute to the emergence of an undesirable ecosystem state that often emerges in the absence of fire in grasslands: woody plant invasion, e.g. Sandhills grassland conversion to juniper woodland," they wrote.
Other scientists involved in the study were Jack R. Arterburn, the lead graduate student and now an assistant Extension educator in the Panhandle; Walter Schacht, an agronomy and horticulture professor; David Wedin, from UNL's School of Natural Resources; and Carissa Wonkka, a postdoctoral researcher in agronomy and horticulture.
The Sandhills region is one of the largest contiguous grassland ecoregions remaining in North America. Temperate grasslands like the Sandhills are among the most threatened ecological systems on Earth.
Negative outcomes of fire-reduction efforts
Twidwell is among an international network of scientists who are working to demonstrate that fire reduction efforts actually have worsened wildfires. He and his colleagues maintain that science-based land management, including prescribed burns to reduce overgrowth and invasive species like eastern red cedar, is crucial to preventing large, out-of-control fires that threaten lives and property.
Alicia Hardin, wildlife division administrator for the Nebraska Game and Parks Commission, says state officials are working with private landowners and no-government organizations like Pheasants Forever to encourage management practices based on the latest science, including the use of fire to fight invasive species and overgrowth. She said the rangeland fire prevention road signs once used in the Sandhills have already been taken down, thanks to a request by the Sandhills Task Force and the assistance of the Department of Roads.
"This study shows Sandhills grasslands are more resilient than we thought," she says. "We see that all across the state, when it comes to grassland management. Grasslands evolved with fire and they are a lot more resilient than people think they are."
The researchers studied fire's effects on over 35 square miles of grasslands used to graze bison in the Niobrara Valley Preserve, which is owned by The Nature Conservancy.
More than 20 square miles of the land was burned during the July 2012 Fairfield Creek Wildfire, which occurred in the midst of a nine-month drought with precipitation 72% below normal.
In 2014, the researchers collected 400 samples of grassland vegetation in burned and unburned patches of the bison pastures. They clipped vegetation to the ground; sorted it according to whether it was living, dead but standing, or litter; and dried it to remove all moisture. They then weighed the samples to calculate the differences in vegetation biomass in burned and unburned areas. They repeated the process in 2015.
The scientists found no significant difference in living vegetation biomass after two years, although there was less dead plant material in the areas that had been burned by the 2012 fire. Three years post-fire, there were no significant differences in the amount of dead plant material, as well.
Even when combined with drought, the fire was not sufficient to destroy the mass of roots below ground, the authors said. Nor did the fire change the type of plants growing in the region. A 2016 study conducted by Arterburn showed no significant differences in the plant community composition between burned and unburned areas.
Chris Helzer, The Nature Conservancy's director of science for Nebraska, says the study's findings could encourage Sandhills landowners to use prescribed fires more frequently to manage rangeland.
"I think there's legitimate concern about the use of prescribed fires in the Sandhills," he says. "It's something that needs to be applied with prior thought. But it's needed, particularly in areas that are seeing cedar encroachment."
Reed is national news editor for University of Nebraska-Lincoln Communication. This report comes from UNL Communication.
Subscribe to receive top agriculture news
Be informed daily with these free e-newsletters
You May Also Like
---