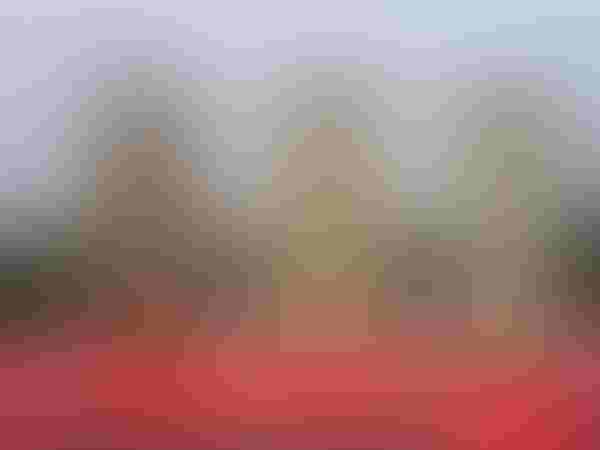 Seeing is believing—cover crops and reduced tillage or no-till reduce soil erosion.
A gentle overnight rain turned into a science experiment for Darin Williams, Waverly, Kan., when he collected these samples from nearby ditch waterways (that drain terraces) after a ¾-in. rainfall Monday night. "My primary goal was to see how much erosion resulted from different agronomic systems," he says.
The samples come from a ¾-mile radius of each other and have the same soil types.
The far-left sample drained from a full-tillage field (but no fall tillage was done).  It has corn residue, and cattle grazed it about 60 days with no live cover crops.
The middle jar comes from a long-term no-till corn and soybean field, now bare, that's never had cover crops. (The corn was baled.) 
The right-hand sample jar comes from Williams' field with a three-year no-till corn, beans and wheat history, a multi-species cover-crop mix, and live volunteer wheat. The cover crop was grazed approximately 60 days in the early fall. Williams' cover crop cocktail that includes purple top turnip, tillage radish, cereal rye, crimson clover, common vetch, flax and spring barley or oats.
His cover crop/no-till system has greatly improved his soils' water management.
Like what you're reading? Subscribe to CSD Extra and get the latest news right to your inbox!
"I can't stress enough how much this system (no-till with cover crops) improves soil water infiltration and storage with rainfall extremes. I attribute it to the diverse cover crops and low-disturbance no-till," Williams says.
"There is also a big difference between the left and the right jars as far as grazing goes," Williams says. "I was very curious to see how much the cattle loosened the soil where there was no cover. When I get my soil penetrometer, I'm going to see who has the most compaction as far as the cattle are concerned."
How much soil is leaving your field?
You might also like:
11 Considerations When Deciding on Fungicide Seed Treatment
Potential for Herbicide Carryover in 2013
Subscribe to receive top agriculture news
Be informed daily with these free e-newsletters
You May Also Like
---