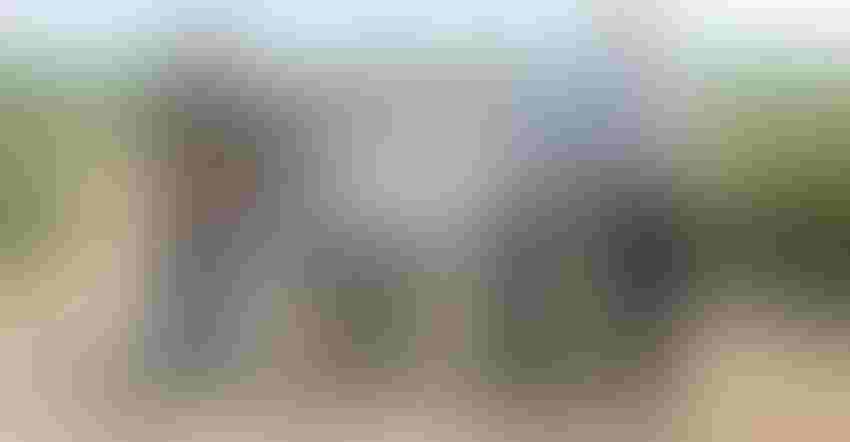 CONSERVATION CHAMPIONS: Ag officials visited Table Rock Farm in Castile, N.Y., to award the farm the 2021 AEM-Leopold Conservation Award. From left are Allen Fagan, district manager of the Wyoming County Soil and Water Conservation District; Maureen De Golyer and Meghan Hauser of Table Rock Farm; Richard A. Ball, state ag commissioner; and Lance Irving, national director of the Sound County Foundation and the Leopold Conservation Award.
Courtesy of New York State Department of Agriculture & Markets
Table Rock Farm in Castile, Wyoming County, has been selected as the 2021 winner of New York's Agricultural Environmental Management-Leopold Conservation Award.
The annual award honors a farm for its efforts to protect the environment through soil and water preservation while ensuring farm viability for future generations.
Last year, the AEM program joined forces with the nationally recognized Leopold Conservation Award program. Given in honor of renowned conservationist Aldo Leopold, the Leopold Conservation Award recognizes farmers, ranchers and forestland owners who inspire others with their dedication to land, water and wildlife habitat management on working land.
The award is presented to landowners in 23 states. Winners receive a $10,000 award. Last year's inaugural AEM-Leopold Award in New York went to Sang Lee Farms in Peconic, on Long Island.
Researching and innovating
When it comes to on-farm research, Table Rock Farm is at the head of its class. Its owners and employees have long understood the importance of opening the dairy farm's barns and fields to researchers. Whether it's improving conservation, cows or crops, the results have a positive ripple effect throughout agriculture.
At Table Rock Farm, 1,800 acres of corn and alfalfa are grown to feed a herd of 1,150 dairy cows. Crop rotations, conservation tillage and cover crops are used to promote soil health and prevent erosion.
Cover crop techniques are the focus of a three-year study that soil health specialists from American Farmland Trust are conducting at Table Rock Farm. To protect fields from erosion during winter, a cover crop is planted as corn silage is harvested.
Located only two hours from Cornell University, Table Rock Farm has hosted various studies with the university. Topics ranged from how often to test dry matter in cattle feed, seasonal swings in a cow's colostrum production and quality, and what grasses and seeding rates are best for planting into alfalfa fields.
The farm is best known for its innovative cover and flare system on its manure storage. To protect resources, reduce waste and improve air quality, the farm worked with a team of professionals — including New York's AEM program — to develop an intricate system that separates solids from liquids in cow manure, and prevents methane from being released into the atmosphere.
Separated manure solids are treated to reduce bacteria before being recycled into bedding. The clean and comfy product has resulted in better cow health and comfort. The manure system's cover keeps out rain, reduces odor and allows spreading during optimum weather conditions.
Farm owner Meghan Hauser and her late father, Willard De Golyer, began working with the Wyoming County Soil and Water Conservation District in 2003 to complete the first tiers of the AEM program. To improve water quality, a series of grass waterways and underground outlets have been installed to collect leachate from silage bunkers and divert runoff from the roofs of farm buildings.
Hauser is adept at educating others about agriculture, whether the general public or the farm's 125 neighboring families. She shares updates on the farm's Facebook page and at events held for the landowners who rent cropland to Table Rock Farm.
Hauser and De Golyer were encouraged by one of the farm's employees to sell the plow and adopt no-till practices 19 years ago. De Golyer died a year ago, but he took pride in the farm's enthusiastic, thoughtful team of employees.
Hauser and her mother, Maureen De Golyer, refer to their 35 full- and part-time employees as "a family farm of 35 families."
Her family's roots on the farm run deep. Her great-grandfather was a civil engineer who followed a dream of farming with 10 cows and a flock of sheep. Her grandfather Avery and great-uncle Cal began dairying after World War II.
After a barn fire in the 1960s, they built a freestall barn. Cal remained active on the farm until his death in 2018 at age 95. Willard De Golyer grew the herd's size in the 1980s and built a modern milking parlor in the 1990s.
Today, Hauser is farming with her own children and passing on a land ethic from those who farmed before her.
Source: New York State Department of Agriculture & Markets, which is solely responsible for the information provided and is wholly owned by the source. Informa Business Media and all its subsidiaries are not responsible for any of the content contained in this information asset.
Subscribe to receive top agriculture news
Be informed daily with these free e-newsletters
You May Also Like
---