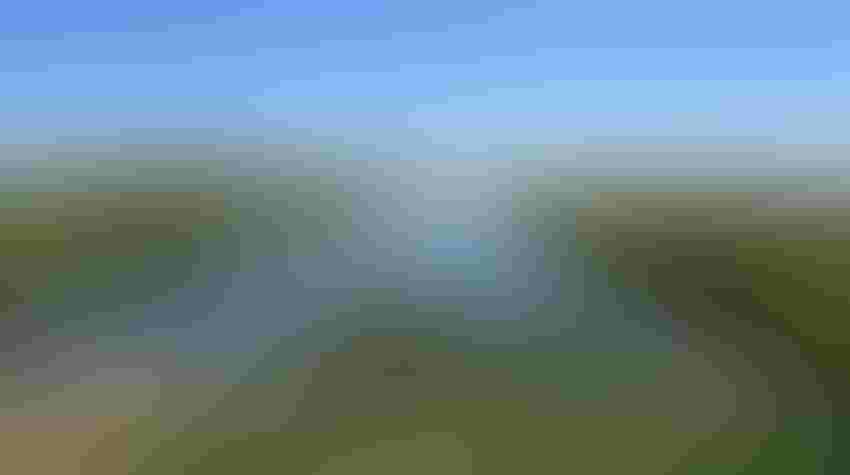 An irrigation canal carries water to farms south of Klamath Falls, Ore.
Tim Hearden
A stronger focus on groundwater recharge, fixes to crumbling infrastructure and the continuation of a federal Water Subcabinet were the most popular requests from growers and organizations speaking in a USDA-led online forum on getting the most from limited water supplies in the West.
In an open-ended "listening session" hosted Dec. 17 by the Natural Resources Conservation Service, speakers from California to Oklahoma pushed for projects that would improve their access and efficiency with water as droughts are expected to worsen in the coming years.
Many called on federal officials to boost support for groundwater basin restoration projects such as one underway in Washington state's declining Odessa aquifer, where agencies are building a network of surface-water conveyance to reduce the roughly 100,000 acres of irrigated agriculture relying on deep wells.
"This program is addressing the problem of a declining aquifer in central Washington with surface water supplies to replace the depleted groundwater," said Craig Simpson, general manager of the East Columbia Basin Irrigation District in Othello, Wash. "While significant funding has been provided by the state of Washington, additional funding is needed to complete the project."
Others sought federal support for fixing aging dams and lining irrigation canals and stock ponds, which are losing capacity because of seepage or land subsidence. Curtis Martin, an eastern Oregon rancher, said infrastructure improvements is a pressing need.
"A lot of our dams and impoundment structures are 50 to 100 years old," he said. "That means they need to be updated and transformed substantially with modern technologies."
Such projects would not only be more efficient for producers but would address environmental concerns such as stream flows, Martin said.
"We rely on only about 13 inches of annual precipitation per year and we're able to survive," he said. "The phrase 'water is life' is really emphasized here … The NRCS has always been an important partner."
NRCS seeking input
The more than three-hour Zoom session came as the NRCS is seeking input about how well its programs address water quantity issues in the West. More than 400 logged in, with 56 requesting to speak. The agency is also taking written submissions through Jan. 19.
Acting NRCS Chief Kevin Norton has said Western water interests have pressed his agency to do more to address water quantity issues, particularly in light of the USDA's roles as co-chair of the National Drought Resilience Partnership (NDRP) and in the newly established Water Subcabinet.
The NDRP was created in 2016 by then-President Barack Obama, who directed agencies to build national capabilities for long-term drought resilience. President Donald Trump in October created the Water Subcabinet, a team of officials tasked with improving federal water infrastructure and prioritizing access to essential water supplies for Americans.
Dan Keppen, executive director of the Family Farm Alliance, said maintaining the Water Subcabinet would improve coordination and decision-making among agencies that often don't communicate with one another.
"We hope the USDA will continue to emphasize the new Water Subcabinet and place more emphasis on Western water issues," Keppen said. "Regardless of who's in the White House, the Water Subcabinet is simply good government."
Help for landowners with water efficiency will be crucial as drought conditions are worsening in many parts of the West. As of Dec. 17, the U.S. Drought Monitor showed parts of northern and central California, large swaths of western and central Oregon, a majority of Nevada and nearly all of Arizona and Utah to be in extreme or exceptional drought. Most areas west of the Mississippi River are abnormally dry.
Groundwater depleted
Groundwater depletion is affecting watersheds throughout the West, including the Ogallala-High Plains Aquifer, one of the world's largest extending from South Dakota to the Texas Panhandle. A November report by Kansas State University and Washburn University researchers asserted farmers are pulling water out of the Ogallala faster than rain and snow can recharge it.
From 1900 to 2008, they drained some 89 trillion gallons from the aquifer – equivalent to two-thirds of Lake Erie, the scientists wrote. The NRCS' Ogallala Aquifer Initiative aims to reduce aquifer water use, improve water quality and enhance the economic viability of croplands and rangelands in Colorado, Wyoming, New Mexico, Texas, Oklahoma, Kansas, Nebraska and South Dakota, according to its website.
"A majority of my pivots are now under 200 gallons a minute" because of reduced water pressure from the depleted aquifer, said Kody Carson, an Olton, Texas farmer and chairman of the National Sorghum Producers. He added the region's growers are focused on "doing more with less," which is a worldwide problem.
"I think what we need to work on is less water use totally, and encouraging programs that incentivize farmers instead of mandating water-saving," he said.
Further West, groundwater in the Odessa watershed in Washington is so depleted that some wells are as deep as 2,400 feet. Water that deep is hot and has high sodium concentrations, and it requires lots of electricity to bring it to the surface, the state Department of Ecology explains.
Perhaps the most severe example of groundwater depletion is in California's San Joaquin Valley, where National Aeronautics and Space Administration studies showed land in some areas to be sinking by nearly 2 inches a month during the 2012-2016 drought. Among the widespread damage to infrastructure was a significant drop in a section of the Friant-Kern Canal in southern Tulare County, where subsidence has reduced capacity by more than 60 percent.
A separate category?
Speakers during the online meeting urged the NRCS to set up a separate category for groundwater projects rather than having them compete against other needs for funding. Those in California sought help with groundwater recharge and water efficiency to help growers withstand new pumping restrictions under the Sustainable Groundwater Management Act.
"Imagine how a well designed regional recharge program can also provide flood protection, water quality improvements and migratory bird habitat," said Daniel Mountjoy, director of resource stewardship for Sustainable Conservation.
Subscribe to receive top agriculture news
Be informed daily with these free e-newsletters
You May Also Like
---