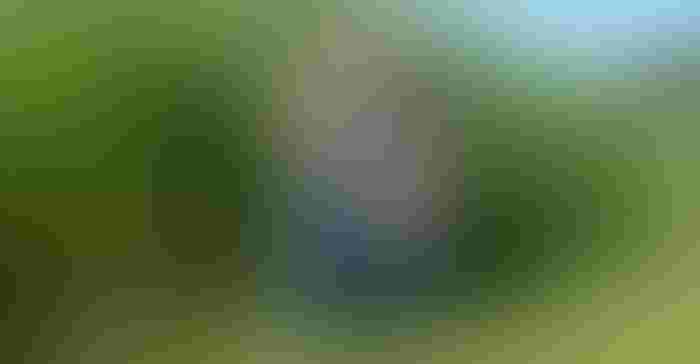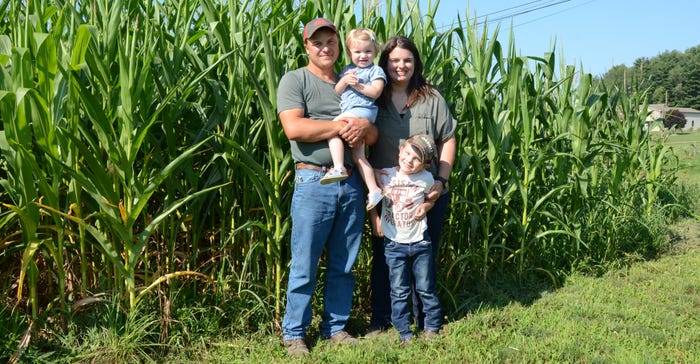 In 2012, fourth-generation farmer Sam Sluss watched as, yet again, a field alongside a creek was flooded out, taking some topsoil with it. He had a friend no-till rye along that area as a cover crop.
As the crop year progressed — most remember it as the year of the drought — corn in the front of the field was maybe 5 feet, but at the back corner where the rye was, it was 10 feet tall.
"It was just amazing to me — that was my aha moment," Sluss says. "There was something to having rye there, and I questioned why I wasn't doing this everywhere."
Motivated by his concern with erosion, Sam has strived to have a cover crop on all of the 250-plus acres he farms with his father, Steve, and grandfather, Elden, in Paris, Ohio. Located on the hilly, east side of the state, Sam says he is both determined and stubborn enough to farm where it's difficult, and to do it with conservation front and center.
He sought education on best practices through books, the internet and the Stark County Soil and Water Conservation District.
"One of the other benefits with cover crops, I've had a lot of success with weed and pest control," says Sam, who has also incorporated grass waterways and buffer strips to keep soil from washing away.
For their outstanding efforts, Sam and his wife, Lauren, have been named a 2021 Ohio Conservation Farm Family Award winner.
"Sam is a firm believer in soil health and has been pushing the envelope every year to boost his operation," says nominator Jay Jordan, Stark County SWCD natural resources technician. "He is always looking to learn and find new ways to keep that farming passion burning. Watching their passion advance the farm business the last four years has pushed me to do the same with my job. It's great to see a farm building their foundation on soil health and taking care of the land."
Getting started
In 2010, Sam and Lauren bought their 160-acre farm, which is contiguous with his grandfather's farm that has been in the family for well over 100 years. The property was once owned by Sam's great-grandfather, but was sold off. "We were able to buy it back, and then in 2016, we bought back what was my great-grandfather's house, which we renovated and live in now," Sam explains.
They are raising corn, soybeans, wheat, hay, about 40 head of steers, 20-head of pasture-raised pork and, new this year, about 200 chickens for meat.
Rather than spend money on tillage equipment, Sam says he invested in a nice planter and a sprayer. "Going no-till not only helps the soil, it saves time and money," Sam says.
He is no-till drilling into green cover crops. A roller-crimper mounted on the front of the tractor allows him to roll the cover crop and no-till drill at the same time.
"When you're smashing the cover crop down, you're terminating it, and therefore you don't have to use as much herbicide," Sam says. "The key to effectively killing it is making sure it is mature, which pushes you into probably the end of May. It's a later planting, but we've had good success with it."
Everything on the farm is no-tilled into green cover crops, but because of time, not all is terminated with the roller. "But we've noticed that by smashing it down, it helps retain moisture — it's like having a mulch bed keeping the ground cooler in hot, dry weather," Sam says.
By letting the cover crops mature, he's also seen more bees, birds and other pollinators.
What's next?
"I'm always looking for something better — to leave the soil better for the next generation," Sam says. "With sandy, river-bottom soils, I'm looking to build organic matter to help retain moisture."
Last year was the first year he put a cover on every acre. "I thought that was quite an achievement," he says. "In the fall, it's so busy harvesting, some farms will put it off. But I'll harvest till dark, and then I'll get in the tractor and drill until 1 a.m. to get it done. I'm a firm believer of taking it off and putting it right back on as quick as I can."
A longtime participant in the Muskingum Watershed Cover Crop program, Sam's been using several different mixes. "My favorites are cereal rye, crimson clover, radishes, peas, and some hemp and sunflowers," he says. "We have planted soybeans to fix nitrogen after the wheat and before corn. Oats is also a good, cheap cover crop, but rye is my go-to. You can plant it about anytime and it will grow."
Sam likes to bounce ideas off from his crop adviser, Roger Thomas of Thomas Ag. "He does our soil tests every three years," Sam says. "I think I'm a little much for him sometimes because he doesn't have any other clients like me with my harebrained ideas. Sometimes they work, sometimes they don't."
Return on investment
When seed and input salesmen come calling, Sam says he asks himself if he really needs it and what's the rate of return. It is his third year raising non-GMO corn.
"My fields might be a little weedy, but the cover crop helped. I rolled the rye, put a residual down, but I didn't use Roundup," he says. "Do you really need to make 200- to 300-bushel corn to be profitable? My most profitable field last year yielded 120 bushels. Sure, I had better-yielding corn, but it wasn't more profitable."
Time is a big deal for the Slusses. They both have full-time jobs off the farm. Sam does carpentry. Lauren is a registered nurse, and they are parents to Owen, 4, and Aliana, 2.
"If I can work less, spray less and sequester carbon, that's a win," Sam says.
Lauren says, "My grandma warned me not to marry a farmer, but I did anyway. It's long nights and early mornings, but I don't regret it. It's a good life." When kids are not underfoot, she helps with the farm and is very active in their direct-to-consumer marketing of their beef, hogs and chickens.
Diversification is the direction they want to continue to pursue. "Eventually, we're leaning toward grass-fed beef," Lauren says.
The five-year plan may include moving to regenerative agriculture, where cows graze and rotate in paddocks. "As soon as I can figure out, logistically, how to do it, we'll be doing it," Sam says. "If I could take a field out of grain rotation, put cattle on it for a year, and then put it back into grain, I think there would be a ton of benefits of grazing on cover crops."
With a full-time job, Sam says that's on hold. "But maybe when Owen gets a little bigger, he can help me make that transition."
The Sluss family
The family. Sam and Lauren Sluss are both fourth-generation farmers in Stark County, Ohio. They have two children, Owen, 4, and Aliana, 2. Besides farming, Sam works in construction with his dad, and Lauren is a registered nurse at Aultman Hospital. 
The farm. The Sluss family farms 275 acres in Stark and Carroll counties, raising no-till corn, wheat, hay and soybeans. They also plant about 200 acres to cover crops each fall.
Nominator. Jay Jordan, natural resources technician for the Stark Soil and Water Conservation District
Outreach and education. The Slusses worked with Stark Soil and Water Conservation District to be a stop on the cover crop field day for farmers to promote the benefits of cover crops for improving soil health. The Sluss family was chosen as the 2020 Cooperator of the Year by the Stark SWCD. 
Community leadership. The Sluss family are members of the Stark County Farm Bureau and Stark County Cattlemens Association.
Subscribe to receive top agriculture news
Be informed daily with these free e-newsletters
You May Also Like
---