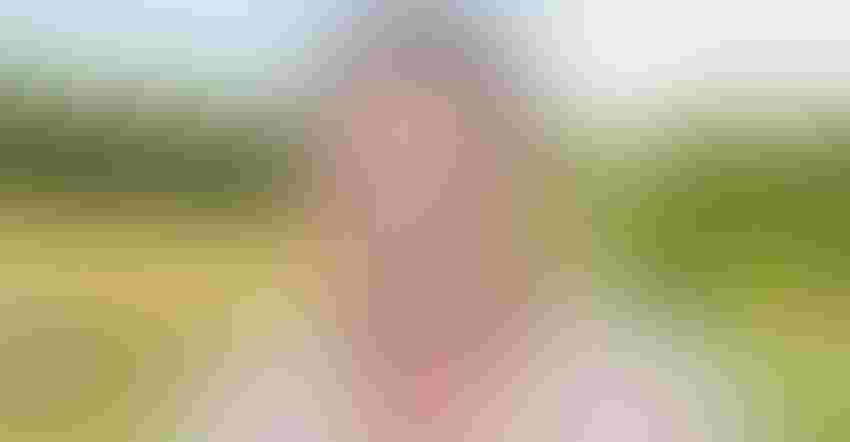 SERVING FARMERS: As an ISU Extension beef specialist, Joe Sellers covered 16 counties in south-central Iowa. During his 31 years with Extension, Sellers helped hundreds of producers improve their beef herds and farm management.
By Mick Kreidler
Growing up on a farm in Lucas County in southern Iowa, Harris Joseph "Joe" Sellers — 2019's Master Farmer Exceptional Service Award honoree — always wanted to be a farmer like his father. Their family had settled on the rolling land south of Chariton in 1852. 
Sellers and brother Tom helped their parents, Harris and Mary Alyce, in a diversified livestock operation that had 100 farrow-to-finish sows, 100 beef cows and a 1,500-head ewe flock, which was possibly the largest in the state at that time. Sellers was on the state 4-H council and received a national sheep scholarship for college.
After graduating from Iowa State University in 1976 with an animal science degree, Sellers returned to the farm. But the farm crisis of the 1980s changed his plans. When his brother came back to the farm after his graduation from ISU in the early 1980s, the farm financial crisis was worsening. Sellers decided it was time for off-farm employment.
Helping farmers improve operations
Sellers performed some farm management work for a while, and then applied to ISU Extension. His first job in 1987 was covering two counties, Lucas and Monroe, as a general agriculturist. 
"That meant assisting at two county fairs. It was a lot of hot work," Sellers says. 
Through the years, he picked up a master's in ag education, more territory and additional job titles. After 31 years in Extension, Sellers retired last fall from his position as ISU Extension beef specialist for south-central Iowa. He was adept at recognizing producers' needs and developing educational programs in beef cow nutrition, genetics, reproduction and marketing, which helped hundreds of farmers improve their operations, says Dan Loy, ISU animal science professor, Extension beef specialist and director of the Iowa Beef Center.
Loy says Sellers established himself as a national leader in grazing and forage management education with the Greenhorn Grazing and Certified Graziers programs. He also trained young ISU Extension staff at the Sellers Grazing Boot Camp.
Grazing, forage management
"Joe has been successful because he cares about people. He always put his clients first. That also made him a great mentor for young staff. He has left his mark on the beef industry in Iowa and helped shape a staff that will continue his excellent service well into the future," Loy says.

BEEF AND FORAGES: Joe Sellers (red shirt and hat) discusses rotational grazing with Jim Russell, ISU professor emeritus of animal science (green shirt), at a McNay Research Farm field day near Chariton. 
For the last three years, Sellers has led work on the cow systems project, which looks at alternatives for cow-calf production by collecting data from 28 producers. A cow systems manual will be available this spring. 
He also assisted ISU Extension beef specialist Byron Leu, who developed the Cow Herd Improvement Program Services for cattle producers. Technicians worked with producers one on one in ration analysis, breeding plans and records of cattle weights for performance programs.
Chariton Valley Beef 
An important educational effort led by Sellers was the Chariton Valley Beef program. A focus group of producers in Albia wanted more carcass data on their cattle, so they could learn about and participate in grid marketing as it was beginning to take hold. Sellers helped coordinate and get data on loads of fed cattle sent to Nebraska processing plants. 
"At one time, we got carcass data back for 150 producers. But it was hard to get data to learn more about their cattle and make improvements," Sellers says.
Randy Eddy, an Appanoose County cattle producer, was president of Chariton Valley Beef. He worked extensively with Sellers on the information-sharing project. "We had smaller producers who were finishing cattle, and we tried to get information back from the processors, so we could make adjustments in bull selection or feeding to produce more premium carcasses," Eddy says. 
"I've spent a lot of time with Joe, and I can't think of a better ambassador for ISU Extension and agriculture. He gave unbiased information and always looked for the most cost-effective ways to operate. He had his own farm, and he knew what would or wouldn't work," Eddy says.  
Sellers' common-sense approach was also prized by Brian Peterson, retired USDA Natural Resources Conservation Service grassland specialist. He worked with Sellers on many grazing and watering systems in southern Iowa and served with him on the Iowa Forage and Grassland Council. 
"Every producer has a different knowledge base about grazing. Joe had the technical and practical knowledge to help people meet their goals. He was always willing to share and increase their understanding, so they could improve their management," Peterson says.  
Mentor for younger staff
Sellers also focused on bringing young people into agriculture. He initiated a summer intern program partnering with the McNay Research Farm at Chariton. College students worked at the farm on research projects and helped Sellers at county fairs with youth livestock projects. Through the years, Sellers had more than 30 interns at the farm.
He was also a 4-H sheep superintendent at the Iowa State Fair for more than 20 years, helping thousands of kids with their sheep projects. "I was told it would be a two-year job, but I'm still helping out with the open class," Sellers says. 
As for other programs he's proud of, Sellers lists a few: starting the Update for Veterinarians program, working with Dr. Jim Russell and students to recruit cooperators in the Rathbun Lake Watershed to conduct research about grazing impacts on streams and water quality, and using the Beef Rations Nutrition Software program to help cow-calf producers be low-cost and efficient. 
What's next for Sellers now that he's turned in the keys to his ISU car and no longer drives 25,000 miles a year giving programs and checking on producers? He is returning to his first job — farming. He and his brother will continue to raise beef cows. All their land is in pasture or hay to protect the rolling hills and the water quality of the Rathbun Lake Watershed. He and his wife, Cindy, will enjoy the grandkids. He'll have a lot to share with them.
Kreidler is a former staff member of Wallaces Farmer and a former editor of Beef Producer. 
Subscribe to receive top agriculture news
Be informed daily with these free e-newsletters
You May Also Like
---