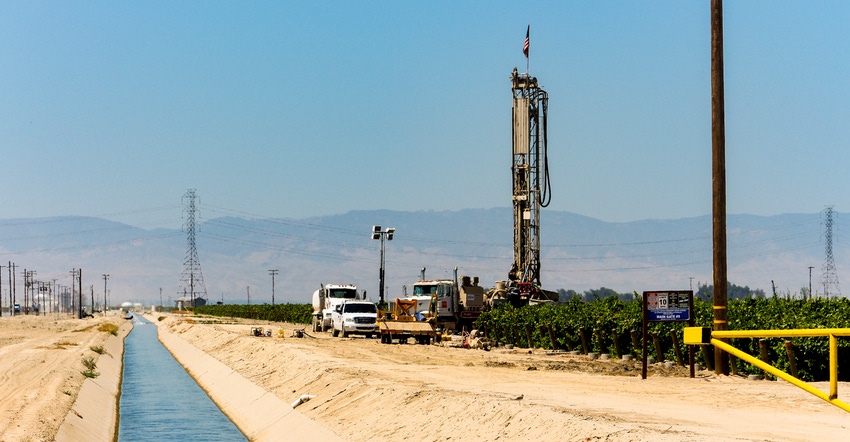 Report claims groundwater sustainability plans released to date fail to meet the state's commitment to eliminate overdraft of the state's aquifers.
Todd Fitchette
Though California has allocated billions of dollars in taxpayer-funded bonds to clean up its drinking water and make it more available, one report says it is not working. Even with implementation of the Sustainable Groundwater Management Act (SGMA) under way, upwards of 12,000 drinking wells may go dry by 2040, causing over 120,000 people to lose their primary source of water.
The grim report by the Water Foundation, a charitable organization based in California that is focused on clean, reliable water for people and nature, predicts the groundwater sustainability plans written by the various districts in the San Joaquin Valley will not achieve what SGMA purports to do – that is, sustainably manage groundwater resources.
The report states: "These concerning results point to a simple fact: In spite of actions aimed at managing groundwater more sustainably, recently submitted GSPs (groundwater sustainability plans) still forecast that thousands, or tens of thousands, of Californians will lose their drinking water supply, which is inconsistent with the intent of SGMA and threatens to undermine the governor's commitment to safe and affordable drinking water for all residents."
The report goes on to say that California continues to drain its rivers and groundwater basins faster than nature and humans can replenish them. This unsustainable use of water is said to be drying wetlands and causing ground subsidence, which is damaging major water conveyance infrastructure, including the Friant Kern Canal and the State Aqueduct.
Under California law, the Department of Water Resources and State Water Board have two years from the end of January this year to review reports from the critically overcharged water basins in the state. Those reports were due earlier this year and are the first step in achieving groundwater sustainability across the state. Local agencies could draft these plans, though the state has veto authority on them.
This begs the question: if the GSPs are inadequate to reach groundwater sustainability, will the State of California take over these plans and what will that look like for farmers and residents in the state?
SGMA implementation plans come as the state has spent over $34.6 billion on general obligation bonds since 1970 to address water issues in the state. These voter-approved bond measures were promoted each time to provide residents with safe and reliable drinking water. According to the report, more than one million California residents still go without safe and affordable drinking water, even after passage of the bond measures.
"These same communities are also on the frontlines of climate change and are hit the hardest by drought conditions," the report reads.
The report estimates as much as $359 million will be needed to restore access to drinking water in the state if the predictions come true.
The Water Foundation commissioned EKI Environment & Water, Inc. to draft the report. Consultants used information from the California Department of Water Resources (DWR), along with a limited set of GSP's to arrive at its conclusions.
The report is available online.
Subscribe to receive top agriculture news
Be informed daily with these free e-newsletters
You May Also Like
---