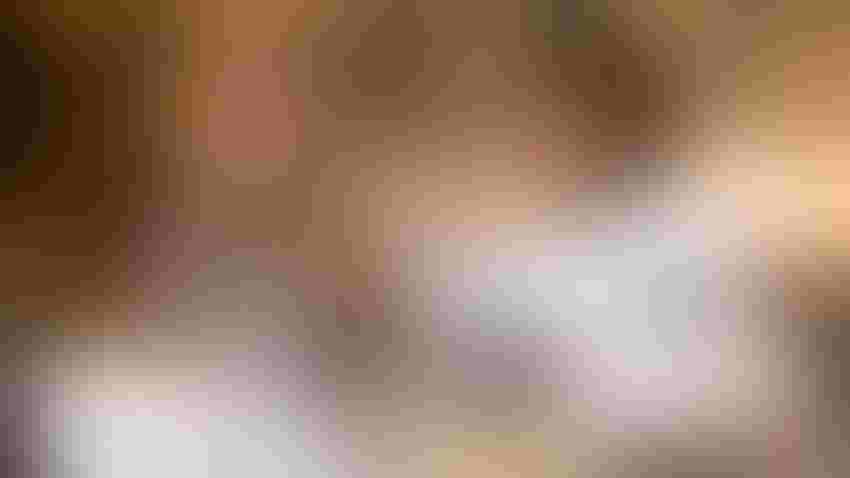 USDA scientists David Bozzi and Diana Franqui treat pulp recovered from food waste and garbage.
USDA ARS
While we eat on a daily basis, we observe the custom of edible consumption on only a single day --- that being Stop Food Waste Day. That one day is reserved to point out that a lot of the healthy crops that farmers labor to produce never get to be eaten and enjoyed.
According to a history of that single day honorific, before Europeans migrated and settled on Native American lands, hunters and gatherers completely used what they found and rarely did anything edible go to waste. Early pioneers echoed this story and settlers moving west, who faced scarce resources, adopted similar practices to eliminate waste.
"The modern food waste concept appeared in the boom of industrialization where goods and food lost that precious value --- more would be produced the next day at an affordable price.World War II marked the end of scarcity, rationing ended and disposal practices made it easier to chuck whatever you no longer wanted and buy a new one. Food waste took off and became today's rampant problem with the average person wasting 220 pounds of food per year."
One estimate has it that 40 percent of all food grown goes to waste each year,while another data approximation from the Environmental Protection Agency reports: "More food reaches landfills and incinerators than any other single material in everyday trash (with) over 65 million tons of wasted food from the food retail and service sectors along with residential food waste constituting some 60% of what heads for the dump."
In 2015, the EPA joined with USDA in a program called Net Zero that came with a first-ever national food waste reduction goal of 50% by the year 2030.EPA uses the overarching term "wasted food" instead of "food waste" for comestibles not used for their intended purpose because the term conveys that a valuable resource is being wasted.
Globally, the World Food Programme notes that a third of food produced for human consumption is lost or wasted. "Wasting food is also a waste of the energy to grow harvest, process, and cook," they report.
The announced mission of the annual April 26 Stop Food Waste Day is "to ignite change regarding the global food waste issue by educating consumers and sharing practical, creative, and impactful ways we can all change our behavior to minimize this waste."
California events
In California, a state that sends 11.2 billion pounds of food to landfills annually, a couple of newsworthy events took place this year aimed at fulfilling that mission.
On the specific day in question, the California Public Finance Authority issued $63 million in municipal green bonds to fund development of a renewable energy facility in Turlock designed to capture and turn wasted food into carbon negative renewable energy and bring the state closer to reaching its net-zero carbon pollution goal by 2045.
"The wasted food crisis is a major contributor to climate change and food insecurity and this is a transformative opportunity to further accelerate our vision for a waste-free future," said Ryan Begin, co-founder and CEO of the technology company, Divert, Inc.In addition to depriving hungry humans of still-consumable food now being dumped, the uneaten crops contribute up to 15% of America's methane emissions and 10% of global greenhouse gasses.
Once fully operational sometime next year, the facility can process 100,000 tons of wasted food annually contributing to a state law requiring diversion of wasted food from landfills to create renewable energy.
Supply chain digitization
Also making news headlines was the announcement by San Francisco's Full Harvest firm of a plan to reduce food waste more quickly by expanding the digitization of the supply chain.
The latest move involves enlarging the online marketplace, automating the end-to-end produce market to include all grades of produce from USDA Grade 1 down to surplus production and less-than-perfect produce.
"Everything edible should be consumed," said Christine Moseley, Full Harvests founder and CEO."While offering imperfect and surplus produce was an important first step, to maximize efficiency and eliminate waste, we're doubling down on getting real-time data access to those in the produce supply chain, regardless of produce type or grade."
With the inclusion of USDA Grade 1 products, buyers and suppliers will have a one-stop shop to manage their produce online and an option to access more sustainable options. "Our mission is to eliminate on-farm food loss and create a world of 100% full harvest by digitizing the supply chain for the first time ever, solving the $2.6 trillion food waste problem through innovation and technology."
Two Canadian firms (Rethink Food and Recycle Track Systems) with a distribution branch in California have joined forces to help divert viable excess food stock away from landfills and onto the plates of hungry families in the form of a nutritious meal.
RTS clients send their excess food to Rethink Food where it is transformed into meals in their commissary kitchen, meals that are then distributed by community-based organizations to food insecure neighborhoods.
"This partnership represents collaboration between socially like-minded organizations, diverting food materials from landfills and converting excess food from restaurants and corporations to serve millions of meals to people in need," said RTS co-founder and CEO Greg Lettieri. "Reducing waste and addressing food insecurity go hand in hand."
Subscribe to receive top agriculture news
Be informed daily with these free e-newsletters
You May Also Like
---