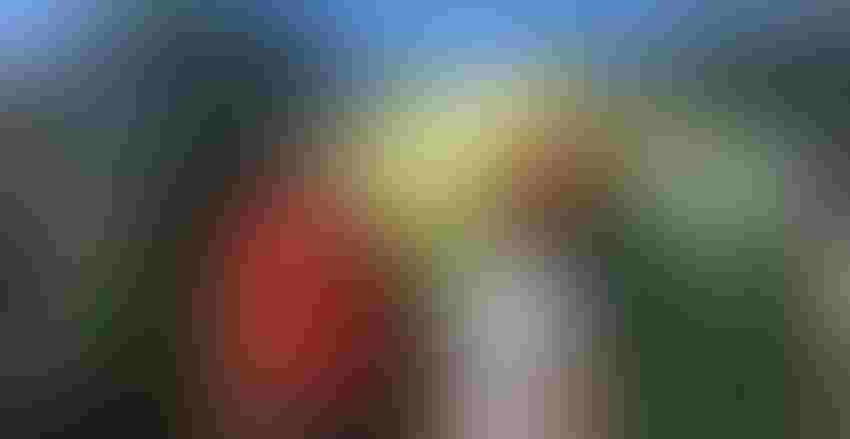 Donny Lassiter, left, and brother Mark Lassiter are committed to using both no-till and cover crops on all of their cotton, corn and soybean acreage. For peanuts, the brothers use cover crops and strip-tillage.
John Hart
For Donny and Mark Lassiter, conservation comes naturally. You might say it is engrained in their DNA, influencing all they do on their highly productive farm near Conway in northeastern North Carolina.
For the Lassiter brothers, conservation works; they are committed to it every step of the way. Donny and Mark's dedication to conservation practices such as no-till and cover crops was instilled by their father Bobby Lassiter who returned to Conway to farm with his father in 1971 after serving in Vietnam as a Marine.
Earl Lassiter, Mark and Donny's grandfather, started the farm in 1944 after returning from World War II where he was a solider in the U.S. Army in Europe. He started small with less than 100 acres of land owned by his wife Elma near the homestead in Creeksville. He gradually expanded the operation to a few hundred acres with his son Bobby, expanding it even more to well over 3,000 acres in both Northampton County, N.C., and Southampton County, Va.
"Dad was really good about growing the farm so there would be a place for us if we wanted to return to the operation," Mark explains. "He increased his acres so there would be an opportunity for us. He never pushed us to farm, but if we wanted to, he wanted to have a place for us."
"Dad was very acute to what it cost to do things," Donny adds. "He was very progressive for his time. He started no-tilling soybeans behind wheat in the 1980s. He knew you had to take care of the land."
No Tillage
Bobby and his wife Debbie Lassiter retired from full-time farming two years ago and while still present on the farm, they take time travelling the country by motor home. Mark and Donny run the operation now, but their dad still provides support and guidance.
Donny, 42, returned to the farm full time in 2001 after earning both his bachelors and master's degrees in agribusiness from North Carolina State University. Mark, age 37, has been on board since 2004 after attending at Halifax Community College in 2002.
This year, the Lassiter brothers are farming 45 percent cotton, 20 percent corn, 13 percent soybeans and 10 percent peanuts on their large operation. They use no-till and cover crops on all of their ground, except for peanuts, where they use strip-till and cover crops.
"Our progression to no-till didn't happen overnight. We started with soybeans in wheat stubble then moved on to no-till cotton and no-till corn," Donny explains.
They use mostly wheat for a cover crop, but they are experimenting with rye. However, Donny notes there are management challenges for using rye as a cover crop on such a large scale which is why they are sticking with wheat for now as their cover crop of choice. "Wheat on the scale we are doing is a whole lot easier to manage," he says.
Both Donny and Mark know that no-till is better for the land, but also better for the pocketbook.
"It's a whole lot cheaper than doing all that tillage. We save on fuel, plus we don't have the labor or all the equipment to do anything conventional. With more tractors running, you need more labor.
"When I was a kid, we made four or five passes before we planted a crop. I can't see how you could do that in this day and time and stay sustainable. The extra equipment, fuel and labor would really eat up your profit," Mark says.
Cover
At the North Carolina Commodities Conference in Durham this January, Donny was part of a panel discussion on the benefits of cover crops that also included Dr. Rachel Vann with North Carolina State University and Roian Atwood, director of sustainability for Wrangler Jeans. In his comments at the conference, Donny noted that "cover crops are the visual part of what we do. Cover crops are what you actually get to see when you drive by the field and see how it is working for you."
He said variable rate technology is a critical tool that allows them to manage soil pH, fertility and micronutrients in the soil. No-till and the residue benefits it has delivered over the years has mellowed their soil and brought in earthworms, a key indicator of soil health.
"Two to three years of crop residue sitting on top really helps. With our crop rotation and crop mix, I feel no-till really helps with soil health. Plus, constantly rotating our crops is good for soil health as well," Donny says.
Importantly, cover crops along with no-till also helps with weed control.
"Weeds are definitely on our radar. We try to stay in front of it. We've been fortunate because we've never had a huge outbreak in our area.  Most everybody around here is on the forefront, trying to get ahead of weeds. We work together. We used to have to pull a lot of weeds. But now with our seedbank down, we're still pulling weeds, but not like we used to," Donny says.
The family likes to use a three- or four-year rotation in their peanuts, rotating the crop with cotton and corn. They will often follow peanuts with wheat and double-crop soybeans then a year or two of cotton or a year of cotton or a year of corn then peanuts again. They also like to put corn behind soybeans to take advantage of some of the nitrogen the beans have left behind.
Through it all, the brothers say success on their farm comes from a team effort. They give credit to their employees who both Donny and Mark describe as "fantastic" and also credit their crop consultant Daniel Fowler. The Lassiters employ eight full-time employees and three part-time workers.
Cooperation
Both Donny and Mark stress that their employees are skilled and know how to use all of the modern equipment and high-tech tools of 21st Century agriculture. "They really deliver for us. We value them and their input in the operation," Donny says. 
Donny and Mark say they enjoy working together, adding with a smile, "we get along most of the time!" They stress that cooperation is key.
 "We complement each other very well. What I'm good at he's not; what he's good at I'm not. I'm more on the mechanical side such as maintenance and repairs. Donny is good at the logistics such as insurance and booking the crop. We don't bite each other's heads off, but ever so often. Ninety nine percent of the time, we are on the same page and get along well," Mark says.
For the most part, Donny takes care of cotton planting while Mark handles peanut planting. At harvest, Donny is in charge of peanuts and soybeans while Mark handles the cotton. With such a large acreage spread over a 20-mile radius, the spraying, spreading and other field work is a team effort.
Donny notes that they have developed a business model that works out well for them. "We break up everything by enterprise budgets for our crops. We have a marketing plan for our crops before we put the seed in the ground. We match our employees with equipment and what they are good at which maximizes our efficiency," he says.
Mark and Donny say cotton tends to be the most intensive crop to manage that delivers both challenges and opportunities every year. They credit Daniel Fowler, their consultant, who does their scouting and also writes variable rate fertilizer prescriptions targeted to each acre.
The other Lassiter brother, Adam Lassiter, though not on the farm involved in day-to day activities, has been important with the success of the family operation. With over 18 years in the ag industry, 10 in retail sales and 8 in various roles with Nutrien Ag Solutions.
"Adam keeps us in the loop of what's going on in the ag sector so we can make better decisions" says Donny. Adam is currently the Dyna-Gro market development manager for the south region for Nutrien.
"We also have great landowners who value the work we put into their farms and understand our goal is to not only produce a crop on their farm, but also improve it with our practices," Donny says.
When it comes to variety selection, they look at their own on-farm experience and turn to the North Carolina State University Official Variety Test (OVT). North Carolina State's Cotton Agronomist Dr. Guy Collins, grew up in the area and is a lifelong friend of both Donny and Mark who also provides much-needed guidance on variety selection and other agronomic practices.
"We used to plant more than a dozen varieties. But we trimmed that down to six or eight varieties," Mark explains.
Moreover, baler pickers, while more expensive, have clearly made cotton harvest a lot easier. The family currently uses two John Deere baler pickers.
"Cotton harvest used to be a circus running up and down the road. We had two basket pickers, two module builders, two boll buggies and a pickup truck or two. These baler pickers took away a lot of the stress at harvest," Mark says.
Both Mark and Donny say they believe they do a pretty good job with their yields. "Last year, we thought we had a tremendous cotton crop going into September before the hurricanes and wet weather came. We had lots of boll rot issues, but we still did pretty good, averaging right at 1,000 pounds per acre in cotton," Donny says.
"We need to be at 900 to 1,000 pounds to make cotton fit our production costs. Varieties have the potential to yield much better, but we haven't been able to see that potential because three of the last four years, we've had a hurricane, or some big rain event come in right when the cotton was cracking or was at full maturity. It's not that we can't grow a great crop, we can't seem to get it in the barn," Donny says.
Family is important to both Donny and Mark. Donny and wife Jamie have two children, Carter, age 8 and Wallace 5. Jamie, who grew up on a cotton farm in Seaboard, N.C., works as a private speech therapist. Mark and his wife Sarah have three children, Brayden, age 10, Bentley, age 6 and Brody, age 2. Sarah works as a dental hygienist in Rich Square.
Subscribe to receive top agriculture news
Be informed daily with these free e-newsletters
You May Also Like
---