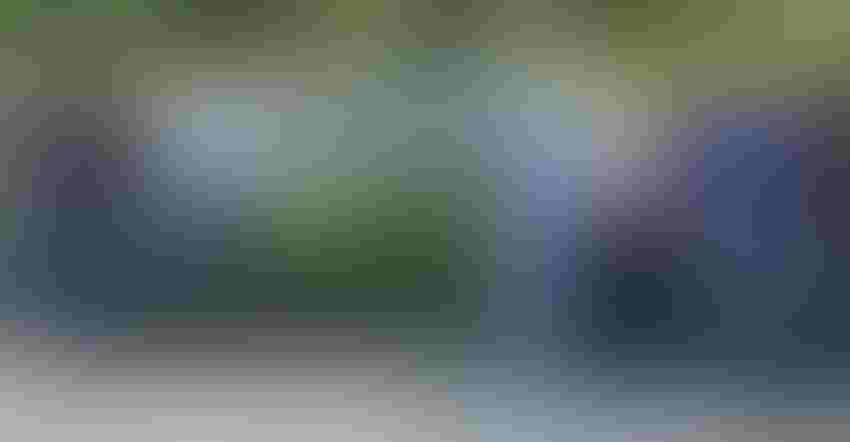 SEEK THE TRUTH: Some of the people who pushed to determine the cause of E. coli problems in a Lake Michigan watershed are Greg Birky (left), Derek Schmitt, Dean Morrow, Jim Kreiger, Keith Gustafson, Abe Maxwell, Brad Hunter and Jared O'Brien.
Porter County SWCD
By Stan Maddux
The spotlight is shining on extensive work revealing septic tanks, not agriculture, were to blame for elevated levels of E. coli bacteria in a Lake Michigan watershed. Jared O'Brien, district conservation project manager with the soil and water conservation district in Porter County, Ind., says agriculture is often blamed for environmental concerns. Yet knowing there's hardly any livestock in the watershed, the study was more about obligation and curiosity to uncover the source.
"It was just something we wanted to explore more to make sure that the agriculture community wasn't having the finger pointed at them unnecessarily,'' he says.
Why a study
The study began in 2014 after a visitor working on a watershed plan for the East Branch of the Little Calumet River showed up at the Porter County SWCD office looking for information about agriculture in the basin. She indicated there was a general perception that manure from livestock was a major contributor to impaired water quality.
Work began on forming a team of researchers that included the U.S. Geological Survey to validate or dispute the speculation. O'Brien says USGS, based on its access to involved laboratory testing and other expertise, can distinguish whether E. coli in water samples is from humans or animals. That capability helped determine the primary source of E. coli in the watershed was from septic systems.
"Some 72% of all samples were positive for a human marker,'' he says. O'Brien says work is ongoing to pinpoint the remainder of E. coil sources.
Abundant wildlife in an area that includes Indiana Dunes National Lakeshore, along with agriculture, are other potential sources in the watershed. O'Brien notes about 40% of all land in Porter County is agricultural, and most lies within the Kankakee River Basin, away from the lakeshore.
The study might not have produced results as quickly without help from Charles Morris of the Indiana Dunes National Lakeshore. Morris recommended the study focus on agriculture, urban and forested sites. He volunteered use of a laboratory and other resources in exchange for Porter County SWCD paying for supplies and a part-time contracted employee to assist with collecting and analyzing samples. His work captured the interest of USGS, which helped narrow down the primary source of bacteria.
Outcome
"It all ended up coming together at the end,'' O'Brien says.
Keith Gustafson, one of five Porter County SWCD board supervisors, says the study revealed not just the real source of the problem, but that agriculture was not at fault before finger pointing at farming could become worse.
"We wanted to get ahead of the curve,'' he says.
People helping O'Brien and Gustafson included Greg Birky, Brad Hunter and Dean Morrow, Porter County SWCD supervisors; Jim Kreiger, associate supervisor; Derek Schmitt, Natural Resources Conservation Service district conservationist; and Abe Maxwell, NRCS intern.
Another benefit of the study was the SWCD learning more about water testing to help with future monitoring countywide. Gustafson raises corn, soybeans, hay and cattle on 330 acres southwest of Valparaiso. He says failing septic tanks will be fixed over time due to laws that require septic tank inspection and repair before sale of a house.
The focus now is on educating landowners on conservation practices such as planting cover crops and the importance of water and soil quality. The district is teaming up with the Indiana Lake Michigan Coastal Program to help promote septic awareness at public events.
Maddux writes from South Bend, Ind.
Subscribe to receive top agriculture news
Be informed daily with these free e-newsletters
You May Also Like
---