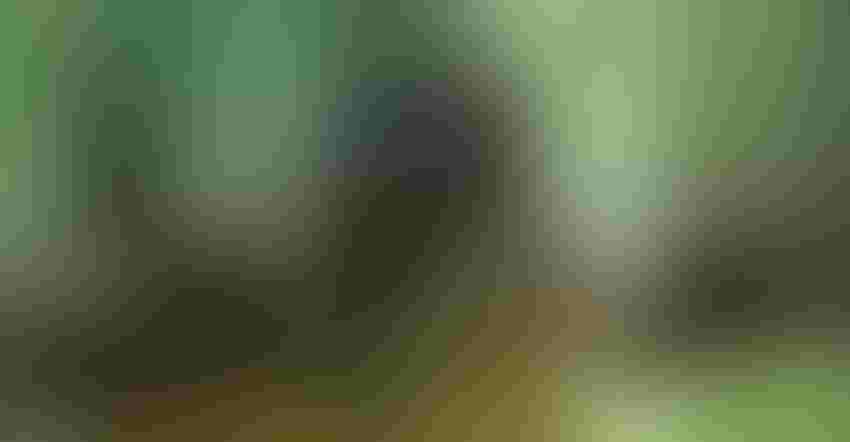 A joint sustainability project between Indigo Agriculture and Anheuser-Busch helped participating rice farmers decrease water use by more than 23 percent in 2019.
Ron Smith
A joint venture between Indigo Agriculture and Anheuser-Busch to meet the brewing company's sustainability goal exceeded expectations.
And it paid participating rice farmers in Arkansas and Missouri a premium for their efforts.
The partnership, initiated in 2019 and now expanded for 2020, was designed to demonstrate how to drive on-farm environmental responsibility, validate and reduce risks for specific conservation practices, and reward growers for their efforts.
Results from 2019 show:
• An average decrease of 23.7% water use compared to historical county averages, totaling over 2 billion gallons for one year or enough to supply the city of Jonesboro, Ark., home of Anheuser-Busch's rice mill.
• An average reduction of 13.3% in nitrogen application, or nearly 250,000 pounds, the equivalent of 10 tractor trailers.
• An average reduction of 26.6% in emissions of methane, a key greenhouse gas, equivalent to 5,296 metric tons of carbon dioxide or the annual emissions of 1,151 passenger vehicles.
Cody Corbell, vice president and general manager, rice, for Indigo Agriculture, Memphis, Tenn., says the partnership "was born of Anheuser-Busch's desire to meet corporate sustainability goals, including 10% reductions in applied nitrogen, in water use and in methane gas emissions."
Corbell adds that the brewer's sustainability focus "aligns with Indigo's core mission. We are a good partner to help Anheuser-Busch achieve its goals."
Sustainability factors
He says the partnership fits well with Indigo's corporate culture. "We hear a lot about sustainability, but we understand that sustainability has to be sustainable for the grower, too.
"Some of the best work has been in helping growers manage what they have been doing all along," he adds. "They already do resource management. We were able to support that. The partnership's agronomists and data scientists help capture data for farmers. Farmers are doing the work; being able to use captured data and to be rewarded for it is a plus."
A grower profit margin is built into the program. Indigo Agriculture and Anheuser-Busch offer a premium for growers enrolled in this program.
Corbell says the biggest challenges for participating farmers were in achieving the sustainability goals. Water and fertilizer use, he says, makes the difference.
In-season decisions
In practice, improved efficiency comes from using data to make in-season decisions, including adjusting volume and timing of both fertilization and water applications.
Alternate wetting and drying of rice is a factor. "Managing the amount of water applied and the number of dry down days helps manage subsurface moisture," Corbell says.
"Farmers are able to use fertility more efficiently, without overapplying. It's the same with water. Reducing the amount of water reduces pumping costs. But we made sure growers applied adequate nutrients and had adequate subsurface moisture to avoid plant stress. Growers meet the established metrics and reduce input costs."
He says the combination of improved water and nitrogen management helps reduce methane emissions. "We follow a tight protocol on water and fertility management."
Data capture
Anheuser-Bush data scientists work the numbers. They understand that data capture may be different for individual farms and recognize that not all growers have the same resources.
"Together, we are doing flowmeter calculations, all the data capture and all the data entry," Corbell says. "We take that on for the farmers."
He says rice farmers enrolled in the program last year did not lose yield. "Our hypothesis when we started was that we would see a slight yield drag; we did not see it."
He said Indigo worked closely with Anheuser-Busch to create a sustainability protocol that would not create a disadvantage for the growers.
Future partnerships
Corbell says partnerships of two companies with similar sustainability philosophies and different positions in the agriculture pipeline working together to achieve sustainability goals may become more common.
"We see it as an opportunity to share strengths with Anheuser-Busch," he says. "We knew what they wanted to achieve, and we had the personnel to support it. We are two highly aligned companies. It's a win for us, for Anheuser-Busch and for growers. We share expertise and strength."
He says Indigo Agriculture found a good fit with Anheuser-Busch and rice but may explore opportunities with other crops and other companies.
"We are always actively looking for opportunities across the United States. We have expanded this program with Anheuser-Busch by 20% in 2020. We have enrolled more growers and more acreage over 2019. We are looking to improve by adding 20% more sustainable rice acres for 2020.
Indigo Ag and Anheuser-Busch will expand the program in 2020 to include nearly 2.7 million bushels of rice and more growers.
"In the second phase, Indigo will also experiment with advanced data collection methods and remote-sensing technology such as drones, water sensors, and a mobile app to automate and enhance the project's data collection efforts and further optimize the sustainable production of rice," Corbell says.
"It's exciting," he adds. "We have already enrolled a few more growers over the 29 from last year. We look forward to the opportunity to put these practices on more acres, to reduce inputs and to improve profit margins on more acres of rice."
Additional information about the partnership, including enrollment information for the 2020 growing season, can be found at https://bit.ly/302yvwq.
Subscribe to receive top agriculture news
Be informed daily with these free e-newsletters
You May Also Like
---