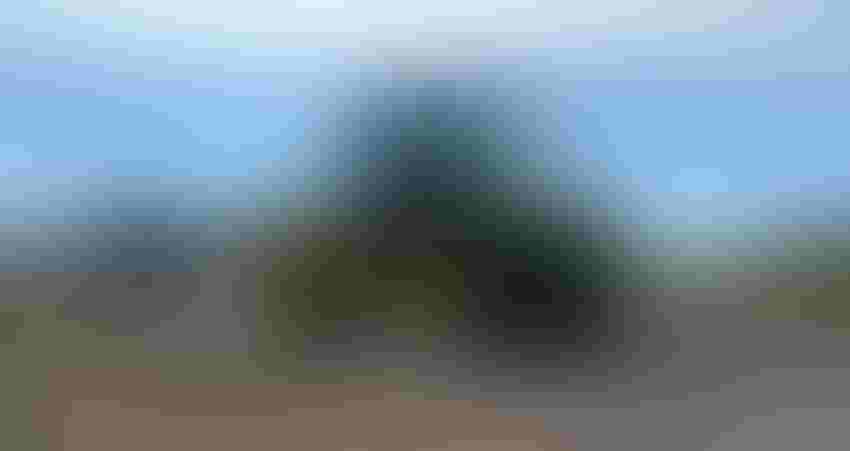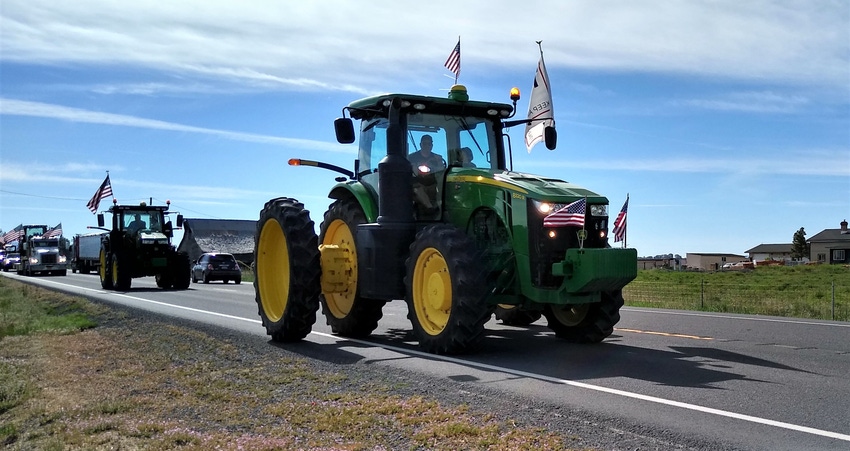 A tractor convoy is held May 29 to protest water cutbacks in the Klamath Basin. Federal regulators have complicated a key point of contention in the basin -- the proposed removal of four hydroelectric dams from the Klamath River.
Tim Hearden
Federal regulators on Thursday ruled the utility PacifiCorp cannot fully transfer ownership of four hydroelectric dams on the Klamath River in Northern California and Southern Oregon to a private entity.
PacifiCorp had planned to give the dams to the Klamath River Renewal Corp. for the purpose of removing them to improve salmon populations, but the Federal Energy Regulatory Commission approved the transfer on the condition that PacifiCorp remain a co-licensee.
"Although we are generally satisfied that the Renewal Corporation has the capacity to carry out the proposed decommissioning ... we find that the public interest would be best served by approving a partial transfer of the license and requiring PacifiCorp to remain as a co-licensee," the commission wrote in a 33-page ruling.
The full transfer of the dams was a key element of an agreement between PacifiCorp, local tribes, environmentalists and Oregon and California regulators, utility spokesman Bob Gravely asserted. A joint license holds PacifiCorp (and, by extension, its customers) financially liable for hiccups in the project, he told the Klamath Falls Herald and News.
"Our concern is that if PacifiCorp remains 'on the hook' for dam removal, that the costs of that could spiral well in excess of what the cost would have been to simply relicense the dam," Gravely told the newspaper.
Ratepayers protected?
Commissioners suggested the KRRC could indemnify PacifiCorp ratepayers against project cost overruns, according to the report.
"We are pleased that FERC has identified a pathway for the project to move forward," KRRC leaders said in a statement. "There is more work to be done, and we are working with our settlement partners on how to ensure a successful project. Our partners have indicated they remain committed to identifying a path to move forward."
The dams' removal was the centerpiece in a set of 2010 water-sharing agreements in the Klamath Basin straddling the Oregon-California state line, but the dams' removal faced widespread opposition in Congress and in the basin. Though the dams were built for power generation and aren't used for irrigation, some growers and political leaders fear their removal will drive up energy costs and perhaps lead to reductions in water for farms.
PacifiCorp wanted to remove the dams rather than undertake the more cumbersome and expensive task of relicensing them. The utility and other dam-removal proponents sought to go through FERC after failing to win congressional approval for the nearly $450 million project by an end-of-2015 deadline.
The dams set for renewal are the Iron Gate Dam and Copco dams No. 1 and No. 2 in California's Siskiyou County and the John C. Boyle Dam near Klamath Falls, Ore.
Subscribe to receive top agriculture news
Be informed daily with these free e-newsletters
You May Also Like
---