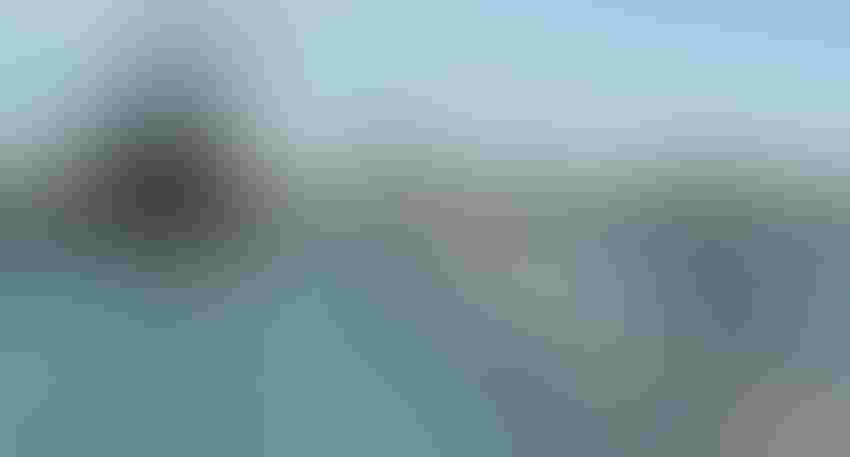 Crews hired by the California Department of Water Resources install a temporary rock wall to prevent saltwater intrusion into the Sacramento-San Joaquin River Delta in 2015. Another rock wall was installed last summer, and it's still in place.
Calif. Dept. of Water Resources
For the first time in its history, California's State Water Project is forecasting that it will deliver no agricultural water to its 29 contracting agencies in 2022.
Blaming a severe drought that has entered its third year, state officials announced Dec. 1 they were putting irrigation water fourth in line behind water for minimum urban health and safety needs and salinity control in the Sacramento-San Joaquin River Delta, water for endangered species and water for reserve in storage.
State Department of Water Resources Director Karla Nemeth said the state will keep a temporary rock wall in the Delta to impede saltwater intrusion from the San Francisco Bay while possibly sending some water from Lake Oroville to the San Luis Reservoir if hydrology improves.
Related: Drought pushes producers to adapt to a drier future
The allocation is based more on current resources than on expectations for future conditions, Nemeth said in a conference call.
"Even typically, the department starts with a relatively conservative allocation in December, but this is a really important year because we're coming off a historic set of conditions," she told reporters. "A zero allocation doesn't mean no water will be delivered, but what will be delivered will be water for critical health and safety needs."
Lowest allocation
Before this year, the SWP's lowest initial allocations were 5% of requested amounts in 2010 and 2014. Last year's initial allocation was 10%, but the final supply was reduced to 5% as the drought worsened. Agricultural districts got a zero allocation in 1991, but urban districts got 30%, the Sacramento Bee notes.
Related: Senior rights holders battle state over water pacts
In 2022, health and safety demands for the Bay Area and Central and Southern California will be met with water available from the Delta as well as water stored in San Luis Reservoir, state officials said. Water in Lake Oroville will be reserved to maintain Delta water quality, protect endangered species, and meet senior water right needs, they said.
Water for most of the 750,000 acres of farmland served by the SWP will be provided only if the hydrology permits, the regulators said.
"Despite a wet start to the water year, conditions have dried out since that first storm and we are still planning for a below-average water year," Nemeth said. "That means we need to prepare now for a dry winter and severe drought conditions to continue through 2022."
Related: La Nina, Part II: Northern U.S. set for wet, cold winter
The DWR and U.S. Bureau of Reclamation have petitioned the State Water Resources Control Board to allow the agencies to temporarily relax water-quality standards in the Delta to keep more water in the system. If needed, the state could build additional rock barriers in the Delta to keep saltwater out.
Urban controls sought
The DWR and water board are also asking the Legislature to impose an indoor water-use efficiency standard on urban suppliers. The standard – starting at 55 gallons per capita per day in 2023 and dropping to 42 gallons by 2030 and beyond – would apply to suppliers and not individual customers, the state says.
The SWP's initial allocation comes as California, Arizona and Nevada are close to an agreement on conservation measures they hope will keep an additional 500,000 acre-feet of water in Lake Mead, a chief Colorado River reservoir, according to the Los Angeles Times.
Related: Agencies escalate drought measures as hot summer looms
A Tier 1 shortage in the river has been set for next year, which will trigger more than 500,000 acre-feet of cuts to Arizona agriculture. An acre-foot is about 326,000 gallons, or enough water to serve an average household for a year.
While California's initial state allocation is typically made in early December, allotments from the federal Central Valley Project usually aren't made until February or later based on snowpack and other factors. Most contractors didn't get water from the CVP in 2021.
About the Author(s)
Subscribe to receive top agriculture news
Be informed daily with these free e-newsletters
You May Also Like
---