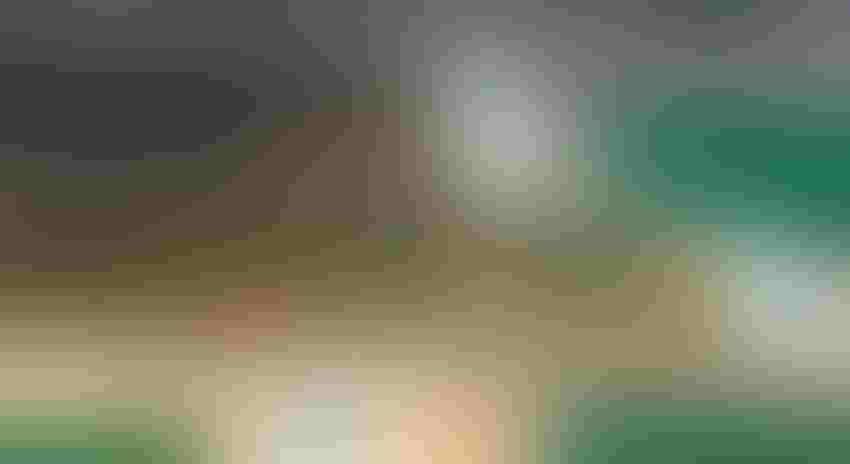 The Santa Rosa Canal in central Arizona provides Colorado River water for cotton, alfalfa, wheat and other crops.
USDA ARS
The Agribusiness and Water Council of Arizona likes to say it represents Arizona agriculture "from ditch bank to dinner plate" indicative of the fact that its members range from farmers and ranchers to irrigation groups and trade associations -- all of them concerned about water flow along the 1,450-mile-long Colorado River.
Formed in 1978, the Mesa, Ariz.-based council has had Chris Udall as its executive director for the past 15 years. The group was planning another annual conference in May, but the coronavirus prompted organizers to postpone it tentatively to July 24, at which time the topic will be "Bridging The Gap".
It's a gap -- no, a chasm really -- that needs to be bridged as monthly water flow predictions down the Colorado continue to decline. Earlier this month the Arizona Daily Star newspaper reported: "The monthly runoff prediction for April-July is 65% of average."
The Star story quoted one expert as saying: "This could be the start of a multi-year drought…the beginning of an extreme trend toward megadrought as global warming continues." 
"We'll be discussing many issues, gaps of all kinds," Udall promises. "Gaps in communication, understanding how to work together with other entities, agricultural organizations, and agencies.
"We're starting to talk about water needs and supplies along our border with California because a lot of our members in the Yuma Valley work closely with the guys in Imperial Valley and all of them are looking at kinds of crops and ways to save water as well as obtain federal funding for infrastructure."
Season underway
In the interim, another growing season is underway and Udall would like his members to know: "Agriculture is not homogenous across our state with different soil types, different water qualities, different water rights and different priorities.  Despite that, Arizona is a real leader in using less water through best management practices.
"I think this year will be a pretty good one," he says. "You can't see it across the board, but for those relying on Colorado River water through the CAP canal, this year will probably show a staving off of any kind of shortage. So at this early juncture, it's cautious optimism with farmers being adaptable as usual."
Udall expects to hear from his members in large numbers in the next few weeks as they return survey questions asking how they are dealing with the COVID-19 situation.
Likening the coping efforts with the pandemic to sailing on suddenly choppy waters, Udall suggests simply, "You're in it for the long haul."
One of the items sure to come up with the group does finally get to gather is the Fall 2019 Arizona State University Morrison Institute report on "The Elusive Concept Of An Assured Water Supply -- Difficulties in Meeting a 100-year Assured Water Supply" prepared for the Central Arizona Groundwater Replenishment District.
Impending shortages
Findings showed that "When CAGRD was established, it was assumed that there would be sufficient excess CAP water available to meet replenishment obligations at least through 2046. That assumption proved to be incorrect. Contractors and subcontractors used more of their entitlements sooner than expected, reducing the amount of excess CAP water. Impending shortages of Colorado River water supplies, coupled with greater use of CAP water by contractors and subcontractors with permanent rights to this water, will reduce even further the amount of CAP water available to meet replenishment obligations.
"Under Assured Water Supply rules, groundwater is physically available for 100 years if it will be pumped from depths that do not exceed 1,000 feet below the land surface in the Phoenix and Tucson AMAs and 1,100 feet below land surface in the Pinal AMA. Pumping groundwater from such great depths is untested and contrary to the Legislature's finding in passing the Groundwater Management Act that withdrawal of groundwater in excess of safe annual yield 'is threatening to do substantial injury to the general economy and welfare of this state and its  citizens.'"
Lots of room here for some heated discussion once the coronavirus situation mitigates to the point where other problems need to be attended to.
Find out more about the conference at https://bit.ly/3fYHuEp .
Subscribe to receive top agriculture news
Be informed daily with these free e-newsletters
You May Also Like
---