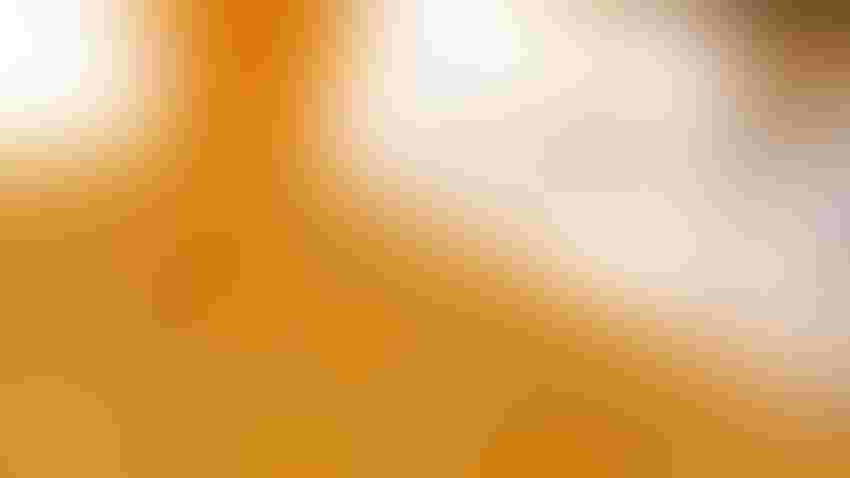 CORN AND CARBON: The goal of proposed carbon dioxide pipeline projects across Nebraska is to capture CO2 emissions from ethanol plants in order to lower the plants' Carbon Intensity Score, allowing ethanol better access to huge fuel markets such as California — where the California Low Carbon Fuel Standard is in place.
Richard Hamilton Smith/Getty Images
Landowner voluntary easements continue to be signed in Nebraska and surrounding states for proposed carbon pipelines.
At least three carbon pipeline projects — which would transport carbon dioxide captured from emissions of ethanol plants — are being proposed to cross six Midwestern states, including Nebraska. These projects would transport CO2 emitted from Nebraska ethanol plants and those in other states to deep underground storage facilities in Illinois and North Dakota. Proposed CO2 pipelines crossing Nebraska include:
Midwest Carbon Express proposed by Summit Carbon Solutions

Heartland Greenway proposed by Navigator CO2 Ventures

Tallgrass Energy is proposing conversion of its existing natural gas Trailblazer Pipeline to carry CO2, running from Gage County, Neb., to Cheyenne, Wyo.
The goal of these pipelines is to capture CO2 emissions from ethanol plants to reduce the carbon footprint. The pipelines would allow ethanol plants to lower their Carbon Intensity Score, potentially providing them with the substantial financial benefits of selling into the California fuel markets, for instance, which require all fuel sold in the state to meet California's Low Carbon Fuel Standard.
Midwest Carbon Express could reduce annual carbon emissions by 12 million tons of CO2. Heartland Greenway could reduce emissions by 15 million tons, according to company news releases.
In a February news release, Summit Carbon Solutions stated that the company, so far, had partnered with 2,500 landowners who have signed 4,000 easement agreements, accounting for 1,250 miles of the total route across five states, totaling more than 60% of the overall project footprint.
Impact on farmers
Exactly how do these projects affect farmers and landowners? Nebraska is the No. 2 ethanol production state in the U.S., with two dozen plants producing 2 billion gallons annually, along with over 4 million tons of dried distillers grains and another 4 million tons of wet distillers grains, as well as modified distillers grains and corn oil.
In addition, ethanol provides markets for about 40% of domestically raised corn, along with jobs and economic development for rural communities.
While the pipelines will be routed to connect ethanol plants, they are also crossing farmland. Most farmers and farm organizations favor ethanol, but the discussion is more mixed when debating routing, easements and pipeline construction — making for some contentious debate at times.
Deciding direction
Nebraska Farm Bureau President Mark McHargue says his organization is largely supportive of CO2 pipeline development.
"We've had a lot of conversation within the organization about this topic over the last several years," he says. "Our member-adopted policy supports development of carbon infrastructure and pipelines."
According to McHargue, that support is founded largely in working to ensure a future for Nebraska's ethanol industry, where success will likely be tied to producing a lower carbon product.
"If Nebraska ethanol plants are unable to tap into the evolving markets in California and other places demanding a lower carbon product," McHargue explains, "Nebraska corn producers will feel the pinch. The reality is that CO2 pipelines will be important to growing market opportunity for Nebraska corn into the future."

As with Nebraska Farm Bureau, Nebraska Farmers Union members can fall on both sides of the debate, according to longtime NeFU president John Hansen. NeFU took a strong opposing position to the proposed Nebraska routing of the TransCanada Keystone oil pipeline.
But Hansen notes that the organization also strongly supports the ethanol industry and efforts to reduce carbon emissions. This makes the discussion over carbon pipelines even more challenging for members.
"We support transparent pipeline routing procedures and fair and transparent treatment of landowners, without taking a clear position for or against carbon pipelines," Hansen says.
Landowner considerations
McHargue says his organization also recognizes the delicate balance of protecting landowner rights in the pipeline development process. He knows firsthand the process of siting and working with pipeline developers, as he has gone through the process with routing on his own farmland.
"It's always a sensitive subject when you are talking about someone's land. Landowners rightfully have a lot of questions," he says. "We've talked to the pipeline developers about the importance of working with landowners through this process."
McHargue says he encourages those approached about pipeline development to think through it and weigh decisions like everything else on the farm.
"Being open about concerns and negotiating specific details with carbon pipeline companies, or similar transmission projects, can help both sides in the process," he adds.
Policy challenges
Working through policy development in several other states affected by CO2 capture projects — such as Iowa, South Dakota and Minnesota — where state legislation and regulation has been an important discussion this spring, Johnathan Hladik, policy development director for the Center for Rural Affairs based in Lyons, Neb., says that in Nebraska there has been surprisingly little legislation related to CO2 projects. This leads to more variable county-by-county policies related to proposed CO2 pipeline projects, he says.
Hladik points out that the CO2 pipeline projects are unique, and place rural landowners and producers with a challenge. On one hand, they are normally supportive of the ethanol industry in general, and positive reactions about CO2 reduction strategies, such as CO2 pipelines, could come from that support. But those in favor of ethanol may also support landowner rights and the rights of those opposed to the routing of these CO2 projects across their property.
Local communication
In Nebraska especially, land use is localized, with county commissioners and supervisors deciding policy related to CO2 pipelines, Hladik says.
"That's why it is so important to be in communication with those commissioners," he adds. "And they may want to hear information from you as a landowner. It can be a two-way street."
Maintaining a respectful and open communication line between county officials who are deciding votes in the process can be crucial, Hladik says.
"It has been our experience with projects like transmission lines, for instance, that you want to be there early and often when it comes to dealing with project developers," he says. "Develop a relationship with people on the front lines that deal with the community. They can be accommodating because there is a ton of gray area here. Ultimately, you will want to find a voluntary easement that you are comfortable with and willing to work with."
Negotiate details that are negotiable early in the process before signing anything.
Are there other ways?
Besides CO2 pipelines, are there other ways for ethanol plants to lower their carbon score? Storing the carbon close to home is one solution. Bridgeport Ethanol announced a first-in-the-state partnership with Carbon America last October to capture about 175,000 tons of CO2 per year — 95% of their emissions — from ethanol production at the plant and store it in a secure underground facility nearby.
Greenhouse gas reductions for ethanol compared to gasoline are already 43% better, according to a 2019 USDA study. Some studies have that number higher, landing in a range between 40% and 50%.
While ethanol plants themselves are investing in upgrades that will apply technology to further lower emissions at the facility, many are looking at the farm level to better quantify on-farm practices that inherently lower CO2 and to incentivize carbon-reducing practices by farmers selling corn to the plants.
Subscribe to receive top agriculture news
Be informed daily with these free e-newsletters
You May Also Like
---