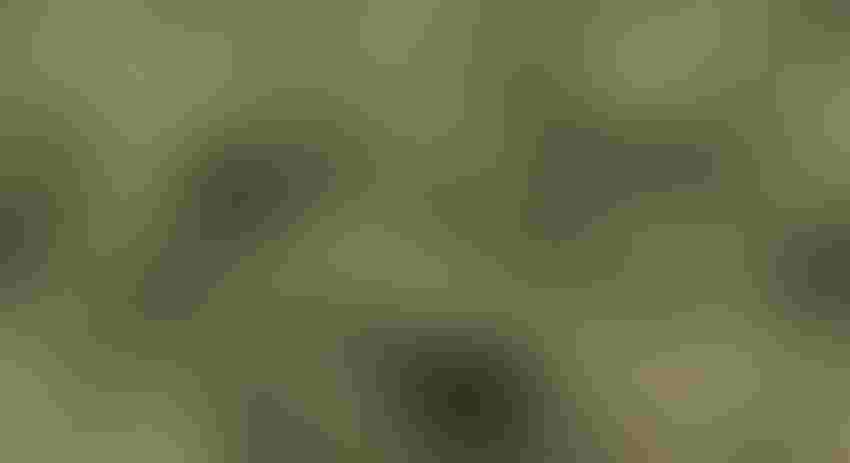 Smokable hemp is displayed at the World Ag Expo in Tulare, Calif., in 2020. A university study has found that indoor cannabis farms give the industry a giant carbon footprint.
Tim Hearden
University scientists have discovered something about cannabis that may unnerve some of its most ardent consumers: its drain on the environment is substantial.
A new study by Colorado State University researchers found that electricity production and natural gas consumption from indoor environmental controls, high-intensity grow lights, and supplies of carbon dioxide for accelerated plant growth are ballooning the crop's carbon footprint.
"We knew the emissions were going to be large, but because they hadn't been fully quantified previously, we identified this as a big research opportunity space," said lead researcher Hailey Summers, a graduate student. "We just wanted to run with it."
The study is published in Nature Sustainability. Joining Summers as authors were her adviser, Jason Quinn, and Evan Sproul, a research scientist in mechanical engineering.
The trio performed a life-cycle assessment of indoor cannabis operations across the U.S., analyzing the energy and materials required to grow the product, and tallying corresponding greenhouse gas emissions, according to the university.
"The legalization of cannabis has caused a substantial increase in commercial production, yet the magnitude of the industry's environmental impact has not been fully quantified," the scientists wrote. "A considerable amount of legal cannabis is cultivated indoors primarily for quality control and security."
Emissions vary widely
Emissions vary widely from state to state, and the researchers developed a GIS map that allows users to enter a county name and find local emissions estimates. In Colorado, emissions from cannabis cultivation add up to around 2.1 metric tons of carbon dioxide equivalent (CO2e) -- higher than coal mining, which emits 1.8 metric tons, and about half as much as waste management at 4.2 million metric tons, researcher Quinn told Farm Progress in an email, 
Indeed, the Denver Department of Public Health and Environment reported that electricity use from cannabis cultivation and other products grew from 1% to 4% of the city's total electricity consumption between 2013 and 2018.
On average, the researchers determined that U.S. indoor cannabis farming results in life-cycle greenhouse gas emissions of between 2,283 and 5,184 kilograms of carbon dioxide per kilogram of dried flower. Emissions from electricity use in outdoor and greenhouse cannabis growth were considerably lower, at 22.7 and 326.6 kilograms of carbon dioxide, respectively, according to the New Frontier Data 2018 Cannabis Energy Report. That report only measures electricity use while the CSU research was more comprehensive, the university cautions.
Heating, ventilation and air conditioning systems were the biggest drain on energy, with numbers fluctuating depending on the local climate. For instance, Florida requires excessive dehumidifying, whereas heating is more important in colder climates like Colorado, the university noted.
The study comes as the nascent but rapidly growing cannabis industry has been competing with beer, wine and spirits for Millennial and younger consumers, many of whom have shown a preference for farming practices that don't harm the environment.
Since Colorado was the first to legalize non-medical uses of marijuana in 2012, 14 other states have done so, including California, Arizona, Oregon, Washington, Nevada and Montana. In all, 36 states allow it for medical use, including Utah. The drug is illegal in Idaho and Wyoming.
A $13 billion industry
As the crop has largely shed its clandestine history and gained legitimacy, it has become a $13 billion industry in the U.S., the CSU researchers note. They assert that consumer demand for cannabis is insatiable and shows no signs of stopping as more states sign on to legalization.
Quinn partly blames cannabis' high energy consumption on the way the product is regulated. For example, many grow operations in Colorado are required to be close to retail storefronts, and this has caused an explosion of energy-hungry indoor warehouses in urban areas like Denver, the university explains.
Evan Mills of the Lawrence Berkeley National Laboratory notes that 40% of producers grow exclusively indoors, many in Walmart-sized, windowless warehouses. He points to one planned 55-acre indoor cannabis industrial park in Blythe, Calif., with its own power plant that will provide up to 80 megawatts of electric power and 16,000 tons of refrigeration.
In an article in Slate, Mills, like Quinn, argues that regulatory policies are partly to blame for the large number of indoor farms. In California, he writes, many jurisdictions actually encourage indoor grows by basing license fees on the size of the growing area (indoor yields are higher, he notes). Some areas bar outdoor grows altogether, he adds. Utilities often give energy-saving rebates to indoor farms, putting outdoor growers at a competitive disadvantage, Mills observes.
He also faults environmental groups for remaining silent about a crop he calls a "sacred cow" to many of the groups' core constituents.
"Outdoor cultivation has sufficed for five millennia," Mills writes. "In a warming world, indoor cultivation is an unessential and unaffordable luxury."
CSU says it is seeking more funding for the team with hopes of doing a comparison between indoor and potential outdoor growth operations. The scientists say they'd like to help the industry tackle environmental concerns while legal cannabis is still relatively new in the U.S.
"We would like to try and improve environmental impacts before they have become built into the way of doing business," researcher Sproul said.
[This article has been updated.]
Subscribe to receive top agriculture news
Be informed daily with these free e-newsletters
You May Also Like
---