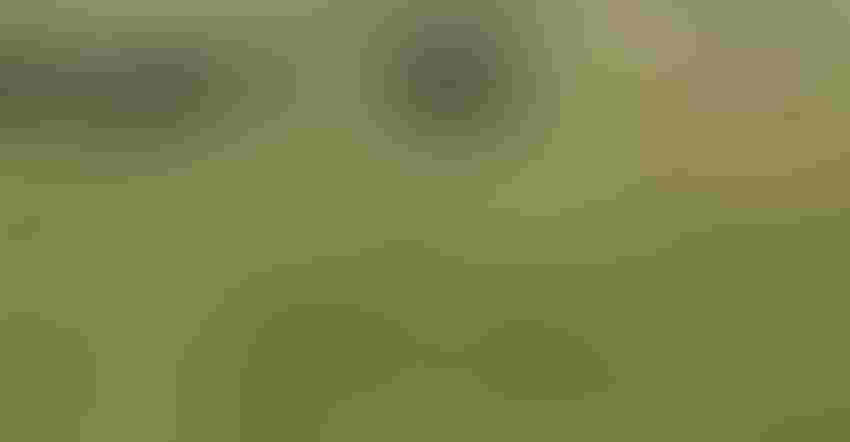 GRAZING BENEFITS: Adaptive grazing can bring rapid improvement in the quality of both pastures and cropland, Allen Williams tells those attending the No-till on the Plains Winter Conference in Salina.
If there is a single specter that hangs over every farmer when tillage practices and conservation are discussed, it is the Dust Bowl.
It was that image that Allen Williams, founder and president of Grass Fed Beef LLC of Starkville, Miss., evoked when he addressed the 2017 No-till on the Plains Winter Conference in January.
He showed first an image of the rolling black clouds crossing the Plains in April of 1935, followed by an image of less severe, but disturbing, rolling dust clouds photographed in January of 2013.
"After the Dust Bowl, we had a period of 20 to 25 years of intensive conservation and awareness," Williams said. "More recently, we've seen less awareness of the danger that we still face."
At the same time, he said, we face a growing issue with the hypoxia problem in the Gulf of Mexico as topsoil and nutrients wash off farm fields and into the Mississippi River.
He said there are conflicting ideas on how to help the farm economy.
On the one hand, you have headlines on the proposed Monsanto-Bayer CropScience merger, with farmers expressing hope for technology that will bring greater yields. On the other, you have headlines in the Omaha World Herald on the same day that read "Bumper yields plow farmers under: more crop for less cash."
Meanwhile, Williams contended, one of the biggest problems is that "we're treating soil like dirt."
The solution, he said, is healthy soil, which is the foundation of healthy agriculture and a healthy environment.
One great tool to get to healthy soil, he said, is adaptive grazing, which provides rapid improvement of both grassland and cropland.
Adaptive flex grazing allows for multiple goals and objectives that are not routine or rigid, he said.
"Frequent movement and frequent rest allow for plant root system recovery," he said.
The system is reliant on temporary fencing technology.
He said grazing systems can make a big improvement in soil organic matter in a short amount of time.
In a Mississippi study on continuous cotton ground, the first season saw a lot of weeds and ironweed, with a major infestation of fire ants.
The cattle turned on the field ate the weeds and gained body condition.
He said the field was fenced with single-strand polywire to form multiple paddocks.
"You can put on a 'blot latch' to open the paddock and let cattle move from one paddock to another," he said. "You can buy one for $400 or make one for $30."
Building paddocks is simple and effective, he said.
The Mississippi study also fenced cattle out of a pond by putting a hard-surface ramp down to the pond and stretching polywire a short distance into the pond, allowing cattle to walk down to drink, but preventing them from wading into the pond.
Williams said trials in South Carolina, Ohio, North Dakota and Tennessee showed similar results from rotational grazing.
Farmers who want to reap the benefits of rotational grazing but don't want to go into the livestock business for themselves can still take advantage of the system by partnering with neighbors and allowing them to move their livestock in.
"We conducted a series of field days on each of the farms where we conducted trials," he said. "In many places, neighbors thought they were ruining the land. When we showed them the results, how in just a year or two years there was a huge difference in the health of the land, they were amazed."
He said he does not expect to replace the feedlots, but the reality is there is enough grassland to finish more than 40 million head of grass-fed beef annually.
"The challenge we have to remember is that ag is global, and markets are global. We aren't growing the only grain-fed beef; we must look at how to be competitive and still rebuild our soil," Williams said.
Subscribe to receive top agriculture news
Be informed daily with these free e-newsletters
You May Also Like
---