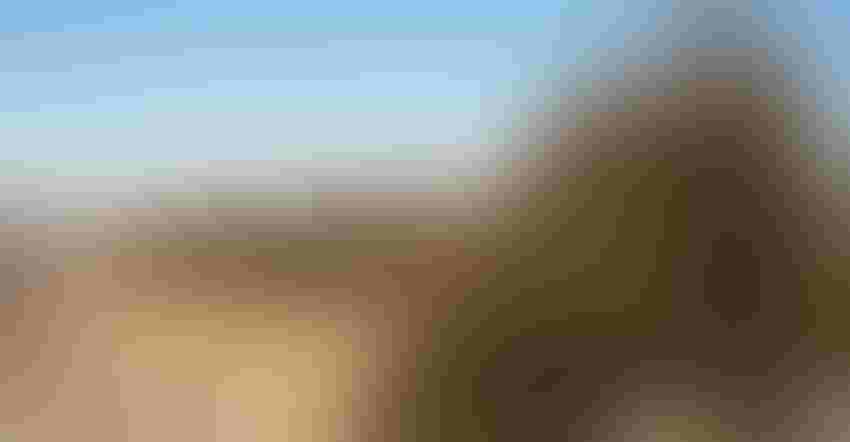 WINDBREAK ASSISTANCE: USDA conservation programs like the Environmental Quality Incentives Program can help with the cost of renovating and establishing windbreaks, which have declined due to age and climate challenges.
Courtesy of K-State Research and Extension
At the height of the 1930s Dust Bowl, the federal government invested $13.8 million to establish more than 200 million trees and shrubs in windbreaks throughout the Great Plains. Today, those important conservation tools are in decline, due to age and climate challenges, and steps need to be taken to bring them back, says forester Bob Atchison.
Atchison is the coordinator of the Kansas Forest Service's rural forestry program, and he says the Great Plains Initiative 2 — a 2019 inventory of windbreaks in the Great Plains states of Kansas, Nebraska, South Dakota and North Dakota — shows more than half are in fair to poor condition.
Windbreak benefits
The Great Plains Initiative 2 is the second stage of Great Plains Tree and Forest Invasives Initiative that was conducted in 2008-09 to search for emerald ash borers. The second stage is counting the trees outside of forests that don't meet the USDA Forest Service definition of forestland — or commonly known as windbreaks. They account for 5.1 million acres in the four Great Plains states.
According to the GPI 2, windbreaks 80 years ago were a tool to reduce severe soil erosion and dust storms across the Plains. Cumulatively, windbreaks provide a big bang for the space they take up. For example, more than 118,000 windbreaks are in Kansas, covering more than 261,000 acres and stretching 31,348 miles. That's enough to cross the state east to west over 76 times, according to Atchison.
"However, an average windbreak in Kansas only takes up a little more than 2 acres and is generally around 1,500 feet in length," Atchison says. "So, they don't take up a lot of ground.
"But the great benefit of windbreaks is the extended protection they provide beyond their footprint, which is a distance and area at least 10 times their height on the leeward side and two times the height on the windward side. In Kansas, that adds up to almost a million acres for which windbreaks provide protection to livestock, cropland and farmsteads."
The GPI 2 offers information on windbreaks on these states:
Nebraska. Windbreaks here provide increased crop yields and energy conservation worth more than $100 million per year. Based on annual soil loss, it is estimated that wind erosion costs Nebraska farmers more than $46 million per year in increased fertilizer costs.
Kansas. The Kansas Forest Action Plan identified 2.9 million acres of cultivated cropland in the southwest and south-central part of the state that exceeds tolerable limits for erosion because of loss of windbreaks or declining health of windbreaks.
South Dakota. The state estimates it loses 2.4 tons of soil per acre per year due to wind erosion. While 71% of its windbreak trees are in fair condition, the age of the state's inventory predicts that condition will decline in the next two decades.
North Dakota. The state lost 3.7% of its 55,000 linear miles of windbreaks in 2010-15, with the greatest losses in agricultural areas of eastern North Dakota.  
Kansas status
According to data from the 2019 GPI 2, 45% of Kansas' windbreaks are in good condition, 37% in fair condition and 18% in poor condition. Windbreaks are planted for three purposes in Kansas:
61% at farmsteads to protect homes and outbuildings

26% near fields to reduce soil erosion and aid crop yields
"Since 55% of our windbreaks are in fair to poor condition, it suggests that there is a real need to encourage our farmers and ranchers to renovate and manage windbreaks before they lose their ability to provide protection," Atchison says. "Fortunately, we have USDA conservation programs like EQIP [Environmental Quality Incentives Program] that can help with the cost of renovating and establishing windbreaks."
Rehabilitation help
Atchison says farmers and ranchers interested in renovating windbreaks should first contact a district forester, who can provide on-site advice for renovating the windbreaks and connect producers with EQIP assistance to help get the work done. Foresters can advise farmers on the species of trees to be planted, the windbreak height, porosity and more.
For example, eastern red cedar is a dominant species in many windbreaks across the Great Plains. The tree makes up 54.4% of Kansas windbreaks, according to GPI 2. That's a concern because the tree tends to spread when unmanaged and can be a fire danger.
Scotch, ponderosa and Austrian pine trees were also popular species when these windbreaks were established, and they can be susceptible to disease, according to the report.
Foresters can help farmers choose the right tree to match their needs — whether that's for protecting fields from wind erosion, providing shelter or odor abatement for cattle and other livestock, or protecting the homestead and serving as living snow fences.
"Clearly, there is still a need for field windbreaks," Atchison says, "and the Great Plains Initiative 2 provides the information we need to sustain and manage them."
To connect with a Kansas Forest Service forester, call the state office at 785-532-3300 or visit kansasforests.org, where you can also read the full GPI 2 report.
Kansas State Research and Extension contributed to this article.
Subscribe to receive top agriculture news
Be informed daily with these free e-newsletters
You May Also Like
---