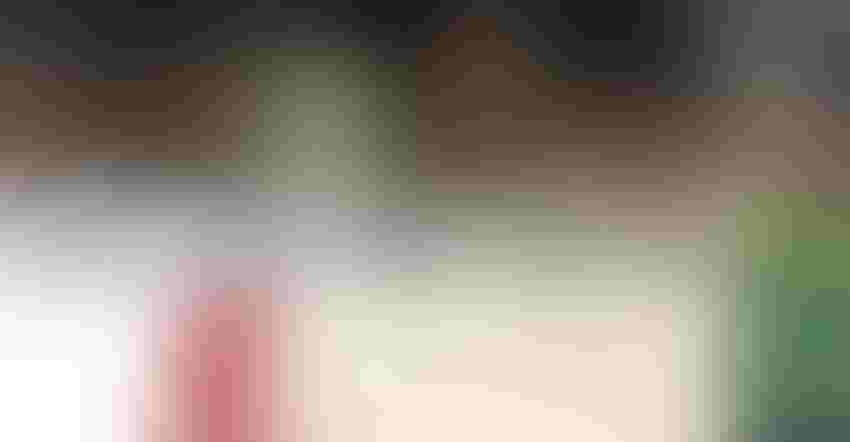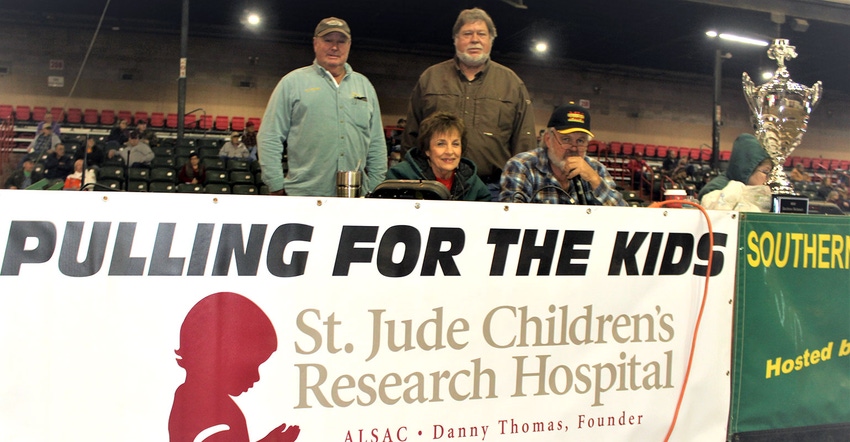 Raymond Crossno, standing, left, Cleveland, Miss., John Roberson, standing, right, and his wife Beverly, seated, left, and Sammy Hyman, seated, right, Fayette, Ala., stand close to the trophy that was awarded to the winning puller in the St. Jude Class of the 20th Annual Southern Nationals Antique Tractor Pull held in Tunica, Miss.
Brad Robb
It is nearly impossible to find someone whose life or family has not been impacted by cancer. According to the National Cancer Institute, over 1.7 million cases of the disease were estimated to be diagnosed in 2018, and nearly 610,000 people would succumb to it.
Cancer can affect anyone no matter their race, gender, or age. The American Cancer Society says men have a 40% probability of developing cancer. The probability for women is slightly lower.
St. Jude Children's Research Hospital was founded by entertainer Danny Thomas in 1962. Research conducted at the world-renowned facility has led to pediatric treatments that have escalated the overall childhood cancer survival rate from 20 percent to above 80 percent since St. Jude first opened its doors.
Several years ago, I toured the facility. I saw children in wheelchairs being pushed because they were too weak to walk from the treatments they were undergoing. Artwork created by some of the children currently at St. Jude, and from a few of those whose lives were taken much too soon, adorned hospital walls.
Many tour participants wept as they read statements on bulletin boards from the brave little patients expressing how they felt during their fights to beat the disease. It was difficult to see, but it put my minuscule problems in perspective.
This past December, I traveled to Tunica, Miss., and covered the 20th Annual Southern Nationals Antique Tractor Pull. Over 400 tractors, model years 1959 and older, owned by pulling teams from 24 U.S. states and across Canada were represented. I interviewed several contestants pulling in the event. They developed their interest in and love for tractors honestly — through farming.
For the fourth year, many of the pullers paid extra money to again participate in the special "St. Jude Class" where all entry fees go straight to St. Jude.
Mississippi farmer and founding member of the Mean Green Pulling Team, Tutt Sullivan, worked diligently to bring the antique tractor pulling event to Tunica's Paul Battle Arena. Sullivan was a toy tractor enthusiast and had one of the most impressive collections in Mississippi. He died on May 1, 2018.
Mean Green Pulling Team president John Roberson spoke highly of Sullivan, his love for St. Jude and how the work Sullivan did prior to his passing is being continued by so many others. This year's St. Jude Class, raffles and auctions delivered over $141,000 to ALSAC, the fund-raising arm of St. Jude.
Kevin McClung, from Parma, Mo., made the largest donation of the event, paying $1,000 for a blanket decorated with tractors and a St. Jude logo.
In a tractor pull, the winners are the drivers in each class who pull the weighed sled the greatest distance. At St. Jude Children's Research Hospital, the winners are the children who walk away from the hospital free of cancer.
Subscribe to receive top agriculture news
Be informed daily with these free e-newsletters
You May Also Like
---