Farmer-led watershed groups offer water quality collaboration
Farmer-led watershed groups offer water quality collaboration
Think differentThe Hewitt Creek (Iowa) Watershed Improvement Association farmer group is the model for watershed performance-based groups (pdf) across the Corn Belt.For 10 years, 75% of its local watershed farmers have voluntarily collaborated to solve water-quality issues locally before regulators step in. Its grassroots governance, voluntary nature and collective learning style allow farmers to own and solve local water quality problems with scientific measurement tools and feedback. "The watershed group is about 60 farmers taking responsibility for what leaves their farm and learning what they can do to improve things," says Hewitt Creek Watershed Chairman and farmer Jeff Pape, Dyersville. The group's main goal is to improve water quality to the point of watersheds being removed from the EPA Impaired Waters list (303d).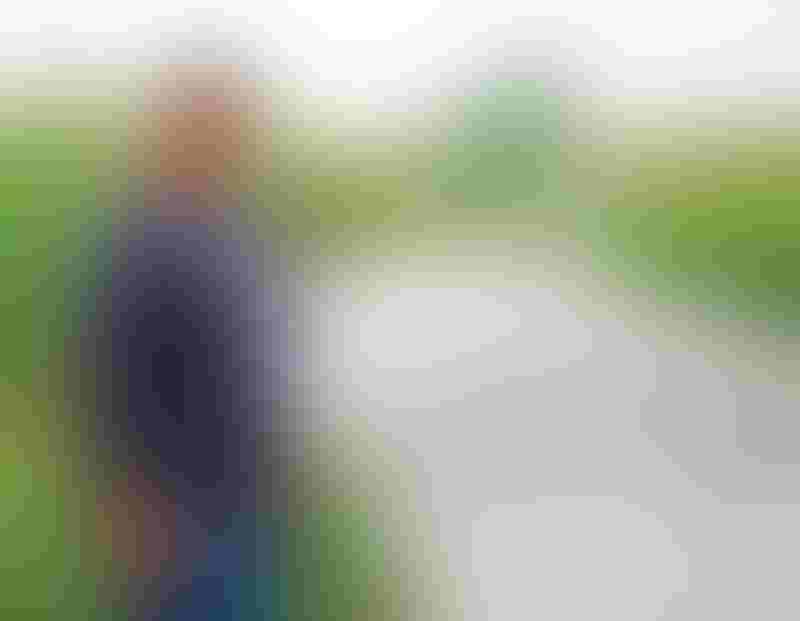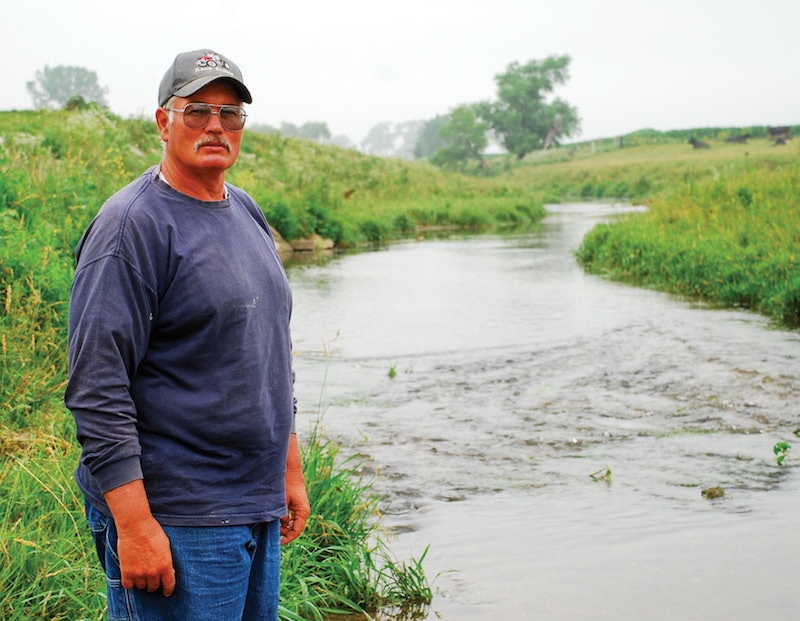 Wayne Kramer cut his nitrogen use by 33% and has applied no commercial phosphorus or potassium to his corn since joining his local farmer-led watershed group in Iowa five years ago. The Farley dairyman collaborates with his Hewitt Creek neighbors to voluntarily improve water quality with best management practices.
Five miles downstream near Dyersville, a pair of eagles nest along the confluence of Hewitt and Hickory Creeks, which pass the property that John Rahe farms with his son Andy.
 "I see a more bald eagles, blue herons, frogs and swallows in local streams now than I ever did as a child," he says. These water-quality indicators resulted from the innovative Iowa Performance-Based Environmental Management program. Local farmers set water-quality goals, incentives and priorities for their watersheds. Chad Ingels, Iowa Extension watershed specialist, helps them organize and secure funding and provides technical expertise and education. The grassroots approach is so successful that Ingels was invited to a White House roundtable to share how it works.
Each participating farmer in the 23,000-acre Hewitt Creek Watershed group selects nitrogen-, phosphorus- and erosion-reducing practices from a list of nutrient-management tools to implement on their farms in east-central Iowa. Test results from their farms, reported only by numbers and not by names, measure their individual progress toward reducing stream phosphorus, sediment and nitrogen levels.
"We anonymously post everyone's soil conditioning index and phosphorus index scores, then corn stalk nitrate levels in the fall," says Jeff Pape, Watershed chairman and Dyersville farmer. "Each farmer knows his number and can see how his performance compares to his peers. Human nature encourages us to improve without compromising identities. That's when the conversations start about what works and what doesn't."
Pape sees "some of the best corn crops ever in the Hewitt Creek Watershed, yields above 250 bushels, grown with little or no commercial fertilizer because cooperators began taking manure and legume credits and using late-spring nitrogen sampling and stalk nitrate sampling to help guide their applications. These are practices that many didn't do before," he says. "We've learned we can back off the nitrogen quite a bit and be really happy with our crop."
He's no-tilled since 1995 and applies most of his 32% N with his planter, sidedressing with dry nitrogen later when the corn is 4-5 feet tall based on late-spring nitrogen test results. Other nutrients are applied as needed based on grid soil sampling. He uses rye and oat cover crops to control erosion and radishes to aerate the soil. Pape also uses grass headlands, filter strips, riparian buffers and grade-stabilization structures to prevent runoff. After 19 years of no-tilling, during the drought year he dug a soil pit and found roots below 6 feet. "That's when you know the no-till system is working to make healthier soil," he says.
Craig Recker, New Vienna, achieved 280-bushel continuous corn without any commercial nitrogen, phosphorus or potassium in 2013, with only his analysis-tested feedlot manure. Similarly, in different years, he won first and second in a local yield contest without any commercial nitrogen. "I've gotten phenomenal yields with manure by testing it and spreading it where it's needed," he says.
And when it comes to cleaning up the stream, his neighbor-to-neighbor grassroots approach costs pennies on the dollar compared to federal programs.
Financial help
State grants of approximately $52,000 per year from Iowa's Watershed Improvement Review reward watershed farmers for cleaner water. Detailed stream and tile-water sampling records helped them to secure funding over the years, Pape says. $90,000 in initial seed money came from the state Farm Bureau.
Each farmer makes their favored choice from a list of nutrient-management practices, earning a per-farm incentive for hitting environmental targets. The group voted to fund two watershed bioreactors, which denitrify tile-water nitrates by 30-60% as water passes through a woodchip filter. They cost $6,000 each to install and could last for up to 20 years.
Kramer uses the late-season stalk nitrate test to assess his nitrogen sufficiency for each season. He seeds alfalfa and oats as a cover crop after chopping corn silage, anchoring erodible soil that might otherwise carry phosphorus into the stream. The oats die off by spring, and his alfalfa has a head start, giving him four cuttings.
Like many local livestock producers, Kramer also calibrates his manure spreader for more precise phosphorus and potassium application, preventing extra nutrients from entering the creek. Computer modeling predicts how improved manure storage structures and spreader calibration reduce his soil erosion and phosphorus index.
Jack Smith, Epworth, now applies nitrogen only in the spring (with stabilizers) and sidedresses with a slow-release coating according to his late-spring tissue test results and grid sampling results. "We variable-rate our nitrogen, phosphorus and potassium and seeding rates, where they can make us money and keep us ahead of the EPA," he says. The only phosphorus he purchases is for his hay crop and corn starter. "We use the phosphorus soil conditioning index and the phosphorus index as part of the watershed, only applying as needed, and grid-sample everything."
He's learned a lot in his years of watershed group involvement, such as aerial cover crop seeding tricks and seeding after a late corn harvest. When this year's crimson clover in a turnip/radish cover crop mix died mysteriously, he had technical and moral support to tweak it next year. "We all learn together," he says. At meetings, he and his watershed neighbors compare notes on grid sampling, cover crops, manure-spreader calibrations, soil testing and many other daily decisions that cumulatively reduce water levels of nitrates, phosphorus and sediment.
That team and moral support approach encouraged Tim and Matt Daly, Bankston, to retry no-till continuous corn a second time after giving up. "The last two years (since returning to no-till continuous corn), I've had some of my best corn ever, using a different planter with liquid 32% nitrogen," Tim says. He and his father Matt variable-rate apply nitrogen, variable-rate plant on the contour and seed cover crops (also used for grazing) on their 550-acre corn and 750-head cattle operation.
"Our group saves each of us from having to reinvent the wheel or repeat one another's failures," he says. "Before this group brought us together, I'm not sure how likely we'd have been to share our goofs with one another."
Ingels similarly values the way watershed farmers "lean on one another, especially with cover crops. One or two people try something new and then share with the others," he says.
Sediment control
The watershed's farmers set a goal of reducing sediment delivery to Hewitt Creek. The incentives were 50¢/feet of waterway up to 1,200 feet, anchoring an estimated 5,235 tons annually through 2013 from the highly erodible landscape.
Intensive livestock production and water quality indicators prompted phosphorus-index calculations on almost 10,000 acres in the watershed. Tools for lowering phosphorus indices include extending rotations; converting to no-till; planting more waterways, in-field and edge-of-field buffers; contour planting; and attentive manure and commercial phosphorus fertilizer management. Farmers soil test to identify which fields most need the nutrients.
"Working together this way is a simple concept: When water comes onto my farm, how does it change before it leaves?" Smith says. "We all share this watershed, and we each do what's needed to avoid contaminating it."
Management tools and activities
Hewitt Creek Watershed farmers chose from the following list of cost-share activities and tools to manage excessive nitrogen, sediment and phosphorus flow into their streams without compromising farm income. The following is a partial list:
Maintaining a farm's phosphorus index below a level indicating phosphorus loss. The index measures the risk of phosphorus moving from fields to streams. Contributors are soil loss, high soil-test values, phosphorus rate and method of application, field distance to water and tile drainage. Computer modeling identifies a farm's phosphorus movement potential.

The Soil Conditioning Index predicts the effect of crop rotations, cover crops and tillage systems on soil organic matter. It discourages unnecessary tillage. Erosion control is important, as the watershed was cited for high phosphorus and nitrogen levels.

Controlling sediment loss through tillage practices, fall cover crops, rotations and conservation structures and practices.

Installing new grass waterways.

On-farm comparison of tillage alternatives with yield results.

Testing corn stalk residual N levels. The test indicates how much N is left in the stalk after harvest to assess the sufficiency of applied N rate.

Testing late-spring nitrate levels to indicate proper N levels before rapid growth stage.

Manure spreader calibration.

Manure analysis to determine available N, P and K.

Making seed headlands and stream buffers.

Cover crop seeding after soybean harvest and corn silage. 
Subscribe to receive top agriculture news
Be informed daily with these free e-newsletters
You May Also Like
---