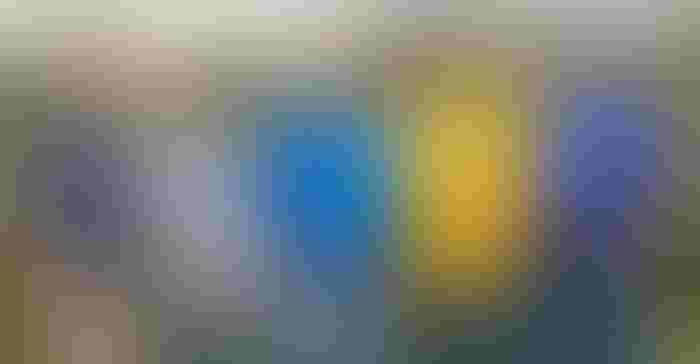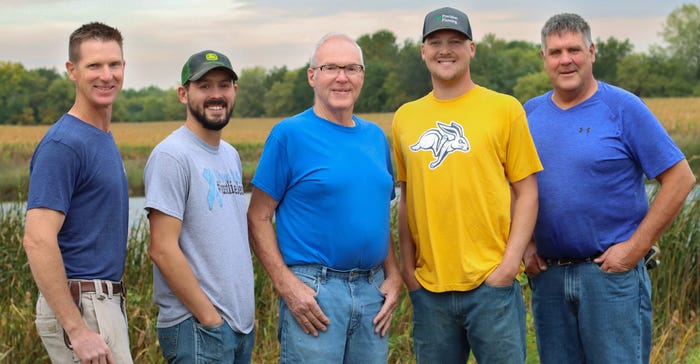 Conservation and community figure prominently in management at Fultz Farms Inc.
From on-farm control basins and berms to local collaborations that protect soil and water for area residents, the Fultzes of Tracy, Minn. — Dennis, Eric, Jay, James and Brian — are intent on keeping soil healthy and clean water in place. For their efforts, the Fultzes were honored as the 2022 Outstanding Conservationists of the Year at the Minnesota Association of Soil and Water Conservation Districts' annual convention Dec. 14 at the Double Tree Hotel in Bloomington.
Farmers, landowners and other conservation-minded stakeholders from more than 60 local SWCDs were recognized during the program. The MASWCD state winner, along with area finalists, were selected from applications submitted by the local SWCD staffs. The Fultzes also were the Southwest Area 5 winner. The Farmer magazine is a longtime sponsor of the conservation awards.
Three generations of conservation
Installing a living snow fence of trees and shrubs in the early 1960s was the beginning of conservation practices started by Bernard and Eleanor Fultz on their 140-acre family farm. Sons Eric and Dennis, along with Dennis' son Jay and Eric's sons James and Brian, continued through the years to add windbreaks and farmstead shelterbelts to guard against wind erosion on their prairie landscape. They have planted more than 3,000 trees.
Over time, the family expanded its corn and soybean operation and now farms 7,300 acres, using minimal tillage on both crops. They also finish around 58,000 pigs a year. Having swine provides a handy source of nutrient-rich manure, which they inject into the soil with variable-rate technology. They rely on Central Crop Consulting to conduct routine soil grid sampling to monitor soil nutrient levels and to assist with pest management.
To protect surface waters on their farm, the Fultzes maintain buffer strips along streams. Most were already in place prior to the state's buffer law enacted in 2017.
Major rain events that caused gully erosion in a field prompted them to work with Redwood SWCD to install three farmable water and sediment-control basins and one grade stabilization structure. Cost-share through the SWCD and the Natural Resources Conservation Service covered three-quarters of the project.
Since their acreage is in an area with elevation, they also keep an eye on neighboring land. Water coming off one of their fields was causing erosion in adjacent fields of a neighbor, so they decided to place a berm on the fence line. Water will be backed up on the Fultzes' property, and temporarily held and metered out.
"We wanted to slow it down after heavy rains," Eric says. "We want to do our part."
Community impact
Possibly the most impactful collaborative conservation project that involved the Fultzes was flood reduction at the Tracy Country Club golf course. For a decade, residents talked about what could be done to solve flooding issues at and downstream of the course. With the Fultzes owning and renting land along three sides of the golf course, they have been considering some form of flood control, too. Yet, numerous roadblocks kept popping up. Eventually, with help from other watershed SWCDs, Redwood SWCD designed a grade stabilization project estimated at $436,000. Cost-share would pay for 75% of it. That left $110,000 to be covered.
"A couple years ago, we held a meeting to discuss having to tax the watershed to pay for it," Eric recalls. "Then seven or eight of us said, 'Let's just do this and pay for it ourselves.' By the time it was all said and done, around 19 people put money in toward the 25%." In the fall of 2021, construction started on the project. It was completed that year before winter set in.
Wildlife enhancements
Even though the Fultzes are not heavily into hunting, they do appreciate wildlife and enhancing habitat. Non-cropped acreage is managed for naturalization. One 17-acre plot, enrolled in the Conservation Reserve Enhancement Program and Reinvest in Minnesota easement program, was seeded with a 15-species native grass mix. Another portion of land had an old grove of cottonwoods that were flattened by a tornado. Rather than allowing invasive vegetation and trees to take over, the Fultzes worked with SWCD staff to plant more than 350 trees and shrubs valuable to wildlife — spruce, maple, walnut, dogwood, chokecherry and cranberry.
Redwood SWCD staff noted in the award application that the Fultzes' conservation efforts over the last 75 years made the decision to nominate them an easy one.
They wrote: "We admire their efforts to keep pushing forward with projects even when it seems like an uphill battle to get them implemented and does not directly benefit their operation."
Says Eric: "We do conservation to protect the land. We're fortunate to be a multigeneration farm, and we want to do our part."
Additional MASWCD area finalists honored at the convention were:
Northwest Area 1. Brent and Samie Gilbertson, Detroit Lakes, Minn.; nominated by Becker SWCD. Brent and Samie Gilbertson operate a 1,000-acre livestock farm where they raise 80 head of Angus cow-calf pairs. Through the federal Environmental Quality Incentives Program, they implemented prescribed grazing on 100 acres of pasture with fencing, pipeline and water tanks. They also gave no-till and cover crops a try with EQIP funding and now annually convert 100 acres of cropland to no-till. To control pests, they use a diverse crop rotation of field peas, flax, alfalfa, wheat, beans and corn. They also try to keep full-season cover on the soil. Livestock, which enhance their soil health practices, are now able to graze into fall and sometimes winter. Other conservation measures include water and sediment-control basins, along with a grassed waterway installed to control erosion.
West Central Area 2. The Tschida family, Pierz, Minn.; nominated by Morrison SWCD. The Tschida family, on the farm since 1925, transitioned from dairy to broiler chickens in 1993, and later added beef. Don and Mary, along with son Calvin, manage the farm. They have planted more than 1,000 trees over the years and established native pollinator buffers along the Skunk Platte River to allow wildlife to thrive. Their cropland is sensitive to nutrient loss due to coarse soils, so they closely follow their Certified Nutrient Management Plan, storing manure in stacking slabs, and using irrigation moisture probes and plant cover crops. They also work with local agronomists and rotate crops, including corn, soybeans, teff grass, alfalfa, millet and oats. They have been certified in the Minnesota Agricultural Water Quality Certification Program and have participated in EQIP and the Conservation Stewardship Program.
Northeast Area 3. Ann Gustafson, Leaning Barn Farm, Esko, Minn.; nominated by Carlton SWCD. Ann Gustafson and her family operate Leaning Barn Farm. They raise and sell potatoes, vegetables and Christmas trees at local farmers markets. They also have a 2-acre U-pick blueberry field. They have integrated pollinator habitat on their farm through the Carlton-Fond du Lac Lawns to Legumes Program. Native plantings offer blooms, nesting and resting for beneficial insects. Their farm is also MAWQCP-certified. As a sixth-grade science teacher at Cloquet Middle School, Gustafson has integrated pollinator education into the curriculum. Students helped plant a half-acre pollinator meadow. A local artist, with student help, painted a pollinator food sovereignty mural at the school.
Metro Area 4. A&L Peterson Farms Inc., Clear Lake, Minn.; nominated by Sherburne SWCD. A&L Peterson Farms Inc, operated by fifth-generation farmers Ryan and Nick Peterson, grows corn, soybeans, edible beans and small grains. The Petersons were early adopters of multispecies cover crops and are planning to build their own equipment to custom-seed cover crops. They practice strip till and are active in irrigation water management efforts, both on the farm and in educating others about the practice. They achieved the irrigation enhancement designation for their MAWQCP certification. The brothers have also been a strong voice on the advisory team for the Minnesota Department of Agriculture's Nitrogen Fertilizer Management Plan. They continue to carry on the conservation legacy of their late father, Alan.
South Central Area 6. Scott and Janet Hermel, North Mankato, Minn.; nominated by Blue Earth SWCD. Scott and Janet enrolled 114 acres into the Conservation Reserve Enhancement Program for a wetland restoration, completing the project in June. They also have planted more than 1,000 trees, installed five grassed waterways and planted buffer strips well before the state Buffer Law was enacted. They enjoy the benefits of their CREP easement, which allows them to enjoy such outdoor activities as hunting, fishing, kayaking and training dogs.
Southeast Area 7. Eric and Michelle Heins, Altura. Minn.; nominated by Wabasha SWCD. Eric and Michelle Heins of Hoosier Ridge Ranch raise grass fed and finished Normande beef and grow small grains. The cattle are moved daily through a managed grazing system with a goal to continue fencing the entire operation to allow for grazing throughout. The Heinses are interesting in crop diversity and participated in a small-grain pilot program with Oatley in 2022. They plan to work with kernza this season with the University of Minnesota's Forever Green program. They continue to work on planned grade stabilization structures, expanding grazing and woodland management.
North Central Area 8. Kristie Roedl, Crosslake, Minn.; nominated by Crow Wing SWCD. Kristie Roedl promotes and supports native shoreland restoration projects surrounding the Whitefish Chain of Lakes. Since 2019, she has partnered with the SWCD to complete 28 landowner site visits and 17 shoreline projects, impacting 74,000 square feet. She has coordinated five community-build projects that enlist area landowners help to plant and install projects. She organized the Whitefish Area Property Owner Association Shoreline Open House, which trains, engages and supports landowners in transforming their shoreline from turf lawns to long-rooted native pollinator plants.
About the Author(s) Paula Mohr has been editor of The Farmer since 2004. She enjoys covering a wide range of topics that are of interest to Minnesota producers.
Subscribe to receive top agriculture news
Be informed daily with these free e-newsletters
You May Also Like
---